The Best 3 in 1 Multi Game Table: Our Top Pick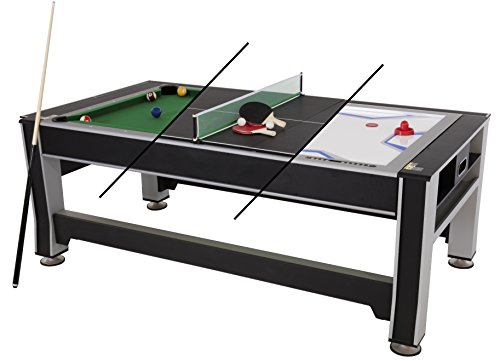 Looking for a fun way to entertain your family and friends? Look no further than a 3-in-1 multi game table! These tables offer the perfect solution for game lovers who are short on space but still want the option to play a variety of different table games.
In this article, I'll give you a review of our top pick for the best 3-in-1 multi game table, and provide an overview of its features and benefits.
I've also included a shopping guide so you know what to look for, and I've tackled some frequently asked questions to help you make the best choice for your needs.
Our Top Pick: The Triumph 3-in-1 Multi Game Table
Our top pick for the best 3-in-1 multi game table is the Triumph 3-in-1 swivel multi game table. This table includes three popular games: pool, air hockey, and table tennis (ping pong).
Here are the key features and benefits you can expect from this gaming table:
Durable construction: The table is made from high-quality materials, with a sturdy frame and legs that provide stability during gameplay
Easy game switching: The table's innovative swivel design allows for quick and easy switching between games, so you can switch from pool to air hockey to ping pong in minutes
Compact size: Despite its 7-foot length, the table is relatively compact, making it a great option for smaller rooms or apartments
Accessories included: The table comes with all the necessary accessories for 2 players for each game, including pool cues, pucks, paddles, balls, and more!
Triumph 3-in-1 Multi Game Table Review
The Triumph 3-in-1 multi game table is an excellent choice for anyone who loves table games. It comes with three popular games: pool, air hockey, and ping pong, all in one compact package.
The table is built to last, with a sturdy frame and high quality materials. It's primarily a mix of metal and MDF composite wood. The feet have levelers which allow you to adjust for any uneven surfaces you may have.
The pool table has a felt surface and comes with two cues, a set of balls, a triangle, and a brush.
On the other side, the air hockey table has a powerful fan and comes with two pucks and two paddles. Note that to use the air hockey function, you'll also need access to a 110V (US) power outlet to plug the blower in.
As a topper option for either side, the ping pong table has a smooth surface and comes with two paddles and two balls.
Switching between games is easy and only takes a few minutes, only requiring releasing the locks and flipping the tabletop (once you clear loose accessories of course).
The table is also easy to clean and maintain!  Simply wipe down smooth surfaces after use, or use the included brush to rub the pool table felt back to perfection.
Overall, I found it easy to set up, switch games, and maintain. The largest hurdle with the table is delivery and setup, as it's heavy and needs a lot of assembly.
Once you get everything put together, the table is great. Over a year of use and other than some slight wear to sticker aesthetics, I have no complaints with it at all.
Price Comparison: Where to Buy
How to Choose the Best 3-in-1 Multi Game Table for Your Needs
While the Triumph is a great choice, there's always a chance that it won't work for your space, or perhaps there's something about it that's just not your favorite.
That's perfectly alright!  Let's dive into more about how to choose the best 3-in-1 multi game table in general, so you can do some research on your own.
When choosing a multi game table, there are several factors to consider. Here are some aspects you'll want to consider to help you make the best choice for your needs:
Size and Weight
The first thing to consider when shopping for a multi game table is the size and weight. You'll need enough space in your room for the table and additional space around it to move and play. 
Game tables are often a little on the heavy side, too. You'll want to consider what room you envision the table in and then evaluate doorways and stairs needed to get it there. If it's a complicated installation, don't buy a supremely heavy table!
Take the Triumph table for example, which is 84" L x 44.5" W x 32" H and weighs 316 pounds! It's very sturdy, but also going to be difficult to move up stairs, and definitely not without help.
If you have a tricky area to get the table into, or a lack of floor support, then you may want to look for something more lightweight or modular.
Learn more about choosing table games for your home with my guide on Standard Ping Pong Table Sizes.
Swapping Mechanism
As a multi game table, there is going to need to be a way to swap different game tops onto the table. The most common options are:
Swivel. This option allows you to release a pin and flip the table top from one side to another
Swap. With swappable tops, every game top is separate and you slide the one you need into place as you need it
Stacking. Stacking tables actually "nest" the different game tables under the others. You'll get a variety of different heights, but all will sit within the same footprint when stowed
It's also important to look where spare tops may be stored when not in use. Many tables have onboard storage options which are great. If you need to store them elsewhere, though, that takes up additional space so be aware.
I personally think the swivel tops are best. I find them to be the easiest to change over, especially if you only have 1 adult present. Plus, everything is stored in one location so it's nice and compact.
Games Included
Another important factor to consider is which games are included with the table. Most standard 3-in-1 game tables offer pool, air hockey, and ping pong.
Some, however, may offer additional games like foosball or chess. This gives you the option to choose a table with the games that you, your family, and your friends will enjoy the most.
You're not limited to 3-in-1 either, as there are options with as many as 10 games in one!
There are even very unique multi game table options, like the Infinity Electronic Board Game Table, which boasts 45 board games in one convenient package, if that's more your style.
Quality
The quality of your multi game table is also important. Look for a table with a sturdy frame and legs, a smooth playing surface, and high-quality accessories for each game.
Metal and wooden frames will be sturdier (but also heavier) than plastic. Metal warps less than wood, which may be better for longevity of the board and keeping your playing surface flat.
As long as you choose a table with sturdy construction that fits your space, you'll be in good shape!
Price
The last (but certainly not least) important thing to consider is the price of the table. While 3-in-1 multigame tables can be expensive, they offer great value when compared to purchasing 3 individual tables in both price and space constraints.
An average 3-in-1 game table price ranges anywhere from $700 to $2,000. The price will vary based on the size of the table, materials it's made from, and included games and accessories.
Of course, as an average, there are outliers as well that may be more or less expensive. However, this is a pretty safe range to budget for.
Frequently Asked Questions
What are the Benefits of Owning a 3-in-1 Multi Game Table?
The benefit of owning a 3-in-1 multi game table is that it allows you to enjoy multiple games without taking up too much space in your home. Instead of 3 separate gaming tables, everything is stowed into one. They are also generally less expensive than purchasing 3 different gaming tables would be.
Game tables are a great way to entertain guests, and are appropriate for children and adults alike.
Who Should Buy a 3-in-1 Multi Game Table?
Anyone who enjoys playing active table games should consider purchasing a 3-in-1 multi game table. They're fun, engaging, entertaining, and teach skills like hand eye coordination.
Game tables are a great way to entertain guests, spend time with your family, or just kick back and have some fun with friends. If you're looking for a versatile table that can provide hours of entertainment, then a multi game table is definitely worth considering.
What to Consider When Buying a Multi Game Table
Before you buy a 3-in-1 multi game table, there are several factors to consider:
• Size: Make sure you have enough space for the table. Measure your room and make sure there's enough room for the table and players to move around comfortably
• Quality: Look for a table that's made of high-quality materials and is sturdy and durable. A well-built table will last for years and provide a more enjoyable gaming experience
• Games: Consider which games you want to play and make sure the table includes them. Choose a table that offers a variety of your favorite games and allows you to easily switch between them
• Accessories: Some tables come with accessories like paddles, balls, cues, and other items you'll need to play the games. Make sure the table comes with everything you need, or be prepared to purchase accessories separately
What are the Most Popular Games that can be Played on a Multi-Game Table?
The most popular games that can be played on a multi-game table are pool (billiards), ping pong (table tennis), and air hockey.
Other game tables may include less standard options, such as foosball, basketball, chess, backgammon, checkers, or shuffleboard.
What are some Additional Accessories that can be Purchased for a Multi-Game Table?
Most multi game tables come with accessories for the games that they include. However, you can often purchase additional table tops to add other games, and the accessories to use with them. Snack or drink holders that attach to the table are another great option.
For example, it's very easy to get a card table topper that slides on the table to convert it for poker night. Cup holders prevent drink marks on your table when people set down a beverage to take their turn.
How to Maintain and Care for a Multi-Game Table to Ensure its Longevity?
The most important part to maintain and care for a multi game table to ensure longevity is keeping it in a dry place. The biggest thing that hurts these tables is the presence of water or humidity, which can warp, peel, and deteriorate the table.
Aside from that, make sure to spot clean messes with a dry brush, or use a slightly damp rag to address stains.
Take care when moving the table or other items around the room, always watching the corners to prevent dings and dents.
What is the Average Price Range for a Multi Game Table?
The average price for a multi game table ranges from $700 to $2,000. The price will depend on the size of the table, number of included games and accessories, and the materials.
This is, of course, an average range. It is possible to find very budget options below this, or very complex high quality tables above. However, this range should give you a good estimation of what to budget.
What are the Dimensions and Weight of a Typical Multi Game Table?
Most typical multi game tables come in 48", 54", 72" or 84" lengths, and the width will be proportional based on the chosen length. The average height is around 30", though smaller kids versions are available.
The weight of a multi game table varies widely based on size and materials, but as an average, you can expect it to weigh between 100-400 pounds.
How Long does it Typically Take to Assemble a Multi-Game Table?
It typically takes 2 adults anywhere from 2-6 hours to assemble a multi game table.
The time will depend on your specific table and how much assembly is required, as it varies widely between tables. The more modular the table is to get into unique spaces, the more time will be needed to put it together.
Are there any Safety Concerns when using a Multi-Game Table?
Safety concerns when using a multi game table are primarily around the switching mechanism. Small children may pinch their fingers if the lock is released. Additional tops not in use should also be secured so as to not fall over and hurt a child.
Additionally, the tables are not designed to support the weight of a human on the top. Do not attempt to sit or stand on the top of the table, as it may collapse.
Conclusion
Overall, the Triumph swivel 3-in-1 multi game table is a great investment for anyone who loves playing table games.
This high quality table switches games easily for versatile play. It's sure to provide hours of entertainment for years to come.
If you're in the market for a multi game table, the Triumph 3-in-1 is definitely worth considering. However, if it's not for you, there are a lot of other great options out there to choose from.
Now that you know what to look for, I'm confident you'll find one you love as it could be the centerpiece of your new finished basement game room!
Other Unique Table Game Options to Check Out