Can You Send an Amazon Gift Card Anonymously?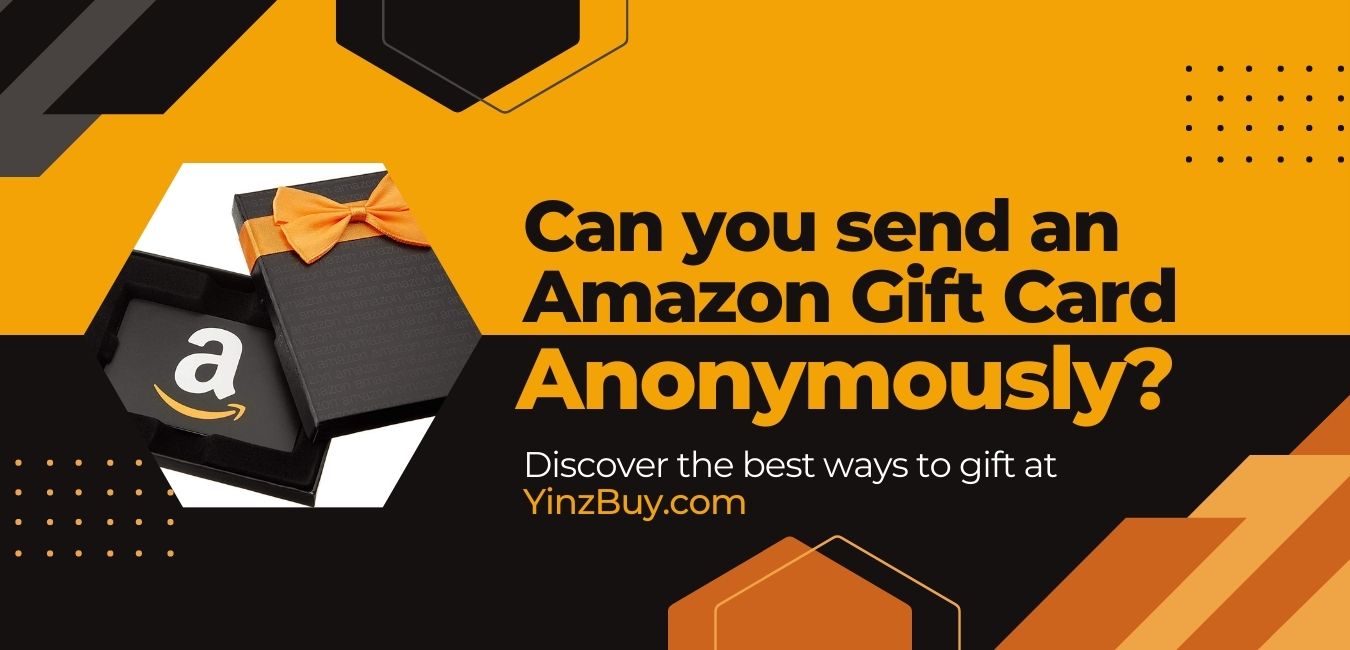 I'm sure we've all been there before: you've got a friend, family member, or someone who just needs a little help. Add in some pride, shame, or other feelings, and there they are brushing off your offer. The last time it happened to me, I came up with a brilliant idea: just send something without them knowing it was you. Which brought me to the question: can you send an Amazon gift card anonymously?
The answer is, yes, you can send an Amazon gift card anonymously. While there's no special button to send anonymously, there are other options that work to keep you incognito. This is applicable to both physical and digital gift card formats.
Why did I choose Amazon? Well, for me it was a parent in need. I didn't know what they needed, but I wanted to help. Since I knew if I asked I'd be refused, I decided to give them a gift card to Amazon since they would be able to pick nearly anything necessary. That said, I'm sure some of these methods would work for other retailers as well!
Giving A Physical Gift Card From Amazon Anonymously
If you live near the intended recipient, prefer physical cards, or just want to dodge Internet sleuths, then the good news is that it's easy to send a physical Amazon gift card anonymously. The downside is that this process will take longer than it does to generate an e-code.
There are 3 ways to obtain a physical Amazon card for anonymous gifting:
Purchase from Amazon and ship to yourself
Find and buy one from a third party retailer
Gift ship a physical purchase from Amazon
The first two options are going to require you to physically drop off the card, or at least re-address and place it back in the mail to the recipient. The last option allows Amazon to do that for you – with a few steps, that is.
Purchase and Ship To Yourself
Probably the easiest way to give a physical Amazon gift card anonymously is to just order it and ship it to yourself. The gift cards ship in a gift box, and are available in any amount between $25 – $2,000.
Here is what to do:
Select the desired gift card amount, then add to cart
Complete the purchase, selecting your own address for shipping
Upon arrival at your home, remove all exterior packaging and receipts
Make sure to check inside the gift box just to be sure
Drop off or mail anonymously to the recipient
If you mail it in another package, don't include a return address. There will be a postmark indicating the city it is shipping from, however, in this instance. You could drive to another city, or ship to another friend to mail on your behalf to work around this if mailing is the only option.
When you're nearby, the easiest way to eliminate the postmark conundrum is to simply drop it off. I find the hardest part here is not getting caught – make sure the person isn't around! Leave it in a location where they'll find the gift card, such as:
Office desk or chair (for a coworker)
On their porch or garage (out of sight from the street, though, so it doesn't get stolen)
Between a storm door and the front door
In the mailbox (only if it's a door slot that you can pass through – a street box is actually illegal to use for this)
Assuming you don't get caught in the act, you'll be off scot free with your good deed done!
Buy A Gift Card at a Third Party Retailer
Buying a gift card at a third party retailer works basically the same way as the former option for sending an Amazon gift card anonymously. However, in this scenario, you won't need to wait for it to be shipped to you. So, if you need something same-day, this is the better option.
If you choose this option, locate a participating third party retailer near you. Thankfully there are a lot, many of which are big box options that are sure to be nearby. Complete your purchase there instead, then follow the same dropoff options as before.
Of course, if you live in a remote place like where I grew up and the closest store is an hour away….well, that shipping option looks better and better.
Gift Ship a Physical Gift Card From Amazon Anonymously
It's also possible to have Amazon ship a physical gift card anonymously directly to your recipient, if you prefer. However, this will require a few more steps to complete:
Add the gift card to your cart
In the cart, mark the box next to the item that says "this is a gift"
Proceed to checkout
Set the shipping address as the recipients
Under gift options, it will display a gift message and your name automatically
Delete your name and replace it with something else (fake name, a friend, anonymous, etc) – it cannot be left blank. The message portion is optional
Complete checkout
I recommend adding an additional layer of anonymity by purchasing a gift card for yourself, and then using that gift card to purchase the gift card for your recipient. This eliminates the existence of billing data as well.
However, I also want to note that Amazon has changed the way they present gift slips several times over the years. While it's possible to have anonymity now, always make sure to check their terms and conditions. If it's possible, I strongly recommend using one of the first two options, just to be safe.
How To Give A Digital e-Gift Card from Amazon Anonymously
Who has time to run to the store, post office, or someone's house with an actual gift card? If you're thinking any of these things, then you'd probably prefer to send a digital gift card instead. Thankfully, there are a couple ways you can send a digital gift card from Amazon anonymously:
Use a burner email address
Send directly via Amazon
I'll note that both these scenarios require your recipient to have an email address (or a text capable phone), and you to know what that email address or number is.
If it's a family member it's probably pretty simple, but if you're helping a neighbor two doors down, you may not have the information to make it work without blowing your cover.
Using An Unknown Email Address to Send An Amazon Gift Card Anonymously
Using an unknown email address is a reliable way to send an Amazon digital gift card anonymously, and here's how to do it:
Select an e-gift card. Digital Amazon gift cards are available in a variety of themes, and from quantities of $1 – $2,000
Put your own email in the 'To' box, make the 'From' box anonymous, and leave the message box blank
Add to cart
Complete the checkout with whatever payment method you'd like
Wait about 5 minutes to receive the digital gift card. You'll receive it in a secondary email, apart from the purchase confirmation
Open your alternate email account that the recipient doesn't know
Copy and paste the gift card code graphic into the body of an email
Enter the recipient's email address, and send
Don't forward the original message to yourself at the other email address. I know it's an extra step, but emails have a funny way of embedding data which will allow someone to find the original information.
If you need to open a new email account entirely to preserve anonymity, thankfully there are a lot of sites that offer free email addresses.
This method can also be used to send gift cards purchased on third party sites, or to send codes from a physical card, making it a pretty versatile option! However it's also pretty easy to be perceived as spam or a scam, so that's a downside to this method.
Having Amazon Directly Send a Digital Gift Card Anonymously
Amazon can also directly deliver the digital gift card anonymously, using these steps:
Select the digital gift card desired
Enter the recipients' email address into the 'To' field (or phone number if you're using the text option)
Make sure to anonymize the "From" field
Add a message, or leave blank if preferred
Then, add to cart
Complete checkout as desired
The recipient will then receive an email from Amazon with the gift card, using whatever name you provided in the 'From' box:
When they open it, you'll even get a notification that it was received!
So, why isn't this the method I recommend? Well, I do, but just like with the physical cards I caution you to always check their policies. Amazon has changed the way they've offered gift delivery in the past.
I always tend to air on the "fool proof" plan with a few more steps! However, this is a pretty easy way to send a digital gift card anonymously.
Just like the physical cards, you can always use a gift card to make the purchase to remove billing data, and/or login on a secondary burner email account to add an extra layer of anonymity to things.
Wrapping Up
Well, just like a gift, that's a wrap. I learned that you can, in fact, send an Amazon gift card anonymously, and I hope I've given you some needed intel if you're trying to do the same.
Whether it's a good deed, a surprise, or just helping out someone in need, I'm sure they'll appreciate it.
Now it sounds like you're in need of a well-deserved break. If you're a fan of Amazon, then you probably have an Alexa home assistant. Find out what games you can play on Amazon Alexa and put it to work helping you unwind!
Plan to travel or send a gift to a friend or relative in another country? You might wonder "Will Customs unwrap presents?", and we discuss the best practices for your gifts!
If you end up deciding to deliver a more personal gift, then check out our guide on the 71 best small gifts to go with a gift card!
You can also keep the mystery alive and learn 7 easy ways to hide a gift card inside a present!
As noted on our Affiliate Disclaimer page, links to products inside this blog could lead to sales commissions which allow this site to continue operations.