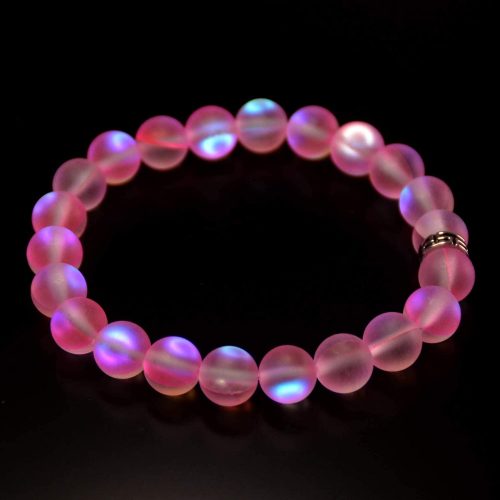 I decided to finally treat myself to a brand new piece of jewelry. Since it's summer, I thought a mermaid glass bracelet would be a great choice. Not only does it fit great, but it looks beautiful in a wide array of colors!
Mermaid glass is made from glass that has been coated or combined with Moonstone or a similar material. The base glass itself may be clear or colored, allowing for a huge variety of colors. The Moonstone adds an iridescent shimmer layer on top of the base color.
Enjoy dazzling, eye-catching everyday jewelry with a mermaid glass bracelet!
One look at this mermaid glass bracelet, and you'll understand why I thought it was a must-have for my accessories. It's made from gorgeous 8mm mermaid glass beads, sometimes also referred to as Aurora Borealis beads due to its impressive iridescent nature.
Turn the bracelet in the light, and the beads will shine and reflect a huge array of different colors. Combine that with the base color of the beads themselves, and you've got a truly unique look.
This versatile accessory goes with nearly any outfit and is appropriate for all seasons. After all, mermaids love the summer sun, but the Borealis is a winter phenomenon!
Choose between six different base bead colors:
Aqua
Pink
White
Gray
Yellow
Blue
Both matte and clear finishes are available, depending on your preferred look. I personally enjoy the matte, as I think it reminisces of the sea glass I loved to collect as a kid!
How do you measure your wrist for a mermaid glass bracelet?
Grab a piece of string or a flexible measuring tape
Loop around your wrist (where you would wear a watch)
Read the measurement, or, if using string, hold it up to a ruler to get the measurement
Add .25" to the measurement, then select the closest bracelet size
The bracelet is available in full and half inch sizes ranging from 6" to 8.5" wrist size. An elastic band allows it to slide easily over your hand, so you should measure your wrist and choose the coordinating size for a snug fit. Always size up if you're in between sizes.
Additional Notes
Weighs about 3 ounces
Connector is silver-plated zinc
Rated 4.5 stars with over 350 reviews!
Great gift for Mother's Day, Valentine's Day, a birthday, or an anniversary
You may also enjoy this personalized Morse Code bracelet to share with a friend or loved one

Personalized Morse Code Bracelet - Custom Name Jewelry - Hidden Message Bracelet for Women - Sterling Silver Gift for Her - Customized with your own word, name, date or phrase

For the other wrist, grab a USB charging cord bracelet and be ready to charge your phone anywhere!

Type-C Leather Bracelet Link Charging Cable Braided Wrist Band USB Sync Data Charger Cord for Samsung Galaxy (Rose Golden, L(8.2"))

Keep close together with a loved one even when you're apart with these Bond Touch bracelets 

Bond Touch - Bracelets That Bring Long-Distance Lovers Closer Than Ever

Bring the party with you with the help of a flask bracelet 

Hillside-Kit Bracelet Bangle Flask Handmade Crystal Lid Creative 304 Stainless Steel Wine Flask Gift for Women Girls Men Party Flask Hidden Liquor Flask Bracelet Funnel Set 3.5oz

Store all your jewelry in your Doctor Who Tardis jewelry box. It's bigger on the inside!

Doctor Who Tardis Wooden Jewelry Box with Drawers, Hooks and Ring Inserts