Talk Flirt Dare Game for Adult Couples – A Date Night Adventure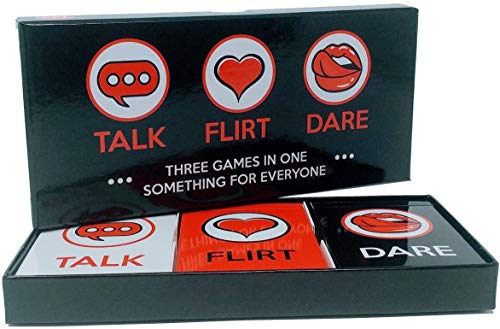 I know we haven't been able to get out for date night in a while, with our busy lives. So, I thought I'd bring date night to us instead! I got us the Talk Flirt Dare game to play at home together. It's a board game designed specifically for couples! There are no complicated rules either; the instructions for Talk Flirt Dare are simple.
Talk Flirt Dare is a card game designed for couples. Players draw a card and take turns answering the question posed or completing the assigned task. There are no points and no designated winners. The goal is to learn more about your partner and improve your relationship.
It's like having three great card games in one box when you play Talk Flirt Dare!
Talk Flirt Dare is the card game that is made just for couples! You play either as a single couple, or you can use it for board game night with other couples as well. There are three levels of closeness in the game – talk, flirt, and dare. Each level ups the "heat" in the room a little bit more. The talk category lets you and your partner learn more about one another. Flirt is still based on conversation, but makes it more flirty and intimate. The dare category introduces action into the scenario, with fun, flirty tasks to complete.
The instructions for Talk Flirt Date are simple. One person chooses a card from whichever category you like. Then, the couple takes turns answering the question. If you're playing in a group, the whole group gets to participate. Then, the next person takes a card and the process repeats. There are no points to keep track of and no overall "winner" in this card game. The point is only to learn more about your partner and build a better bond.
What are some examples of questions I might see in Talk Flirt Dare?
Talk is the category that's designed to get the conversation flowing and learn about your partner (or your group of friends). Some examples of questions in the talk category are: What do you think is one thing your partner would never forgive you for? If you and your partner quit your jobs to become bloggers, what would you blog about? What do you think your partner would do if they had an extra $1,000 a week to spend on themselves? Where do you think your partner would want to retire, and what would they do with their time?
The flirt category keeps the conversation going, but looks at more intimate details and secrets. Here are some examples of questions in the flirt category: Which of your partner's outfits is your favorite one? What song reminds you of when we started dating? What is your favorite perfume for your partner to wear?
Dare is the final category of questions in Talk Flirt Dare. These cards will have actions that you and your partner must perform together. Here are some examples of questions on the dare cards: Feed your partner something delicious. Give your partner a seductive massage. Play a song your partner will love, and slow dance together.
Who is Talk Flirt Dare appropriate for?
The game of Talk Flirt Dare is designed for adult couples. The talk category is fairly 'safe' to play among your adult friends in a group setting. Flirt and dare are a little more intimate, so you'd have to be pretty comfortable with your friends to play together. More often, these are designed for the couple to play with each other.
While we certainly detailed some examples of questions you might see in Talk Flirt Dare, there are plenty more racy questions that are suited for you and your partner. Don't play it with the in-laws – you've been warned.
Talk Flirt Dare is a perfect stay home solution for date night. It's a great choice for Valentine's Day, an anniversary, or as a wedding gift for a couple. The design of this card game helps build knowledge about your partner and makes your bond even stronger!
Additional Notes
Recommended for ages 14+ (though we think 18+ is more appropriate for flirt and dare)
#9 best seller in Collectible Card Game Decks & Sets on Amazon
4.4 stars with over 5,000 ratings – buy with confidence!
If you're looking to buy a present, you might wonder if perfume is a good gift for a girlfriend. Luckily, we discuss a few important things you should know before buying!
Take a look at this 100 dates scratch off poster if you want some fun ideas for your next Date Night in or out!

Enno Vatti 100 Books Scratch Off Poster - Top Reads of All Time Bucket List (16.5" x 23.4")

If you're just looking to have a few drinks while playing with your partner, then try out the Tic Tac Toe drinking game!

Matty's Toy Stop Tic-Tac-Toe, Three in A Row Shot Glass Drinking Game with 9 Shot Glasses and Glass Game Board (10" x 10")

For a rowdy and sometimes inappropriate time, check out the incoherent IncoHEARent game!

WHAT DO YOU MEME? Incohearent - Adult Party Game

Made by the same designers as IncoHEARent, become the Meme King or Queen with the What Do You Meme game!

What Do You Meme? Adult Party Game

When Halloween comes around, this inflatable eggplant and peach emoji costume is perfect for couples going to an adult party. No explanations needed for the kids!

Spooktacular Creations Adult Peach and Eggplant Couple Inflatable Halloween Costume - Adult One Size

Lovers of classic Cluedo will enjoy our guide on TV and Movie Clue games! We discovered all the franchises that received a murder mystery treatment including the rare versions