11 Ways to Fill Gift Bags Without Tissue Paper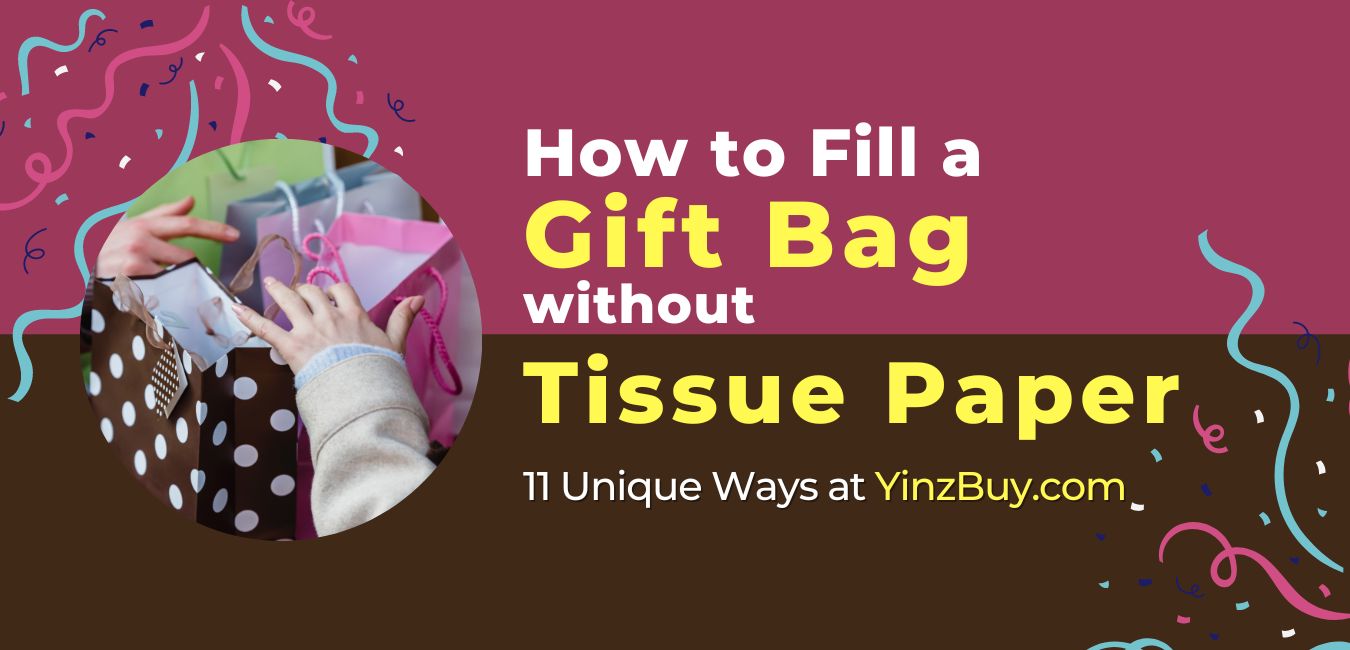 We've all been there. You got invited to some sort of event, and you're putting together a last minute gift bag so you don't look like a schmuck. But oh no, you're out of tissue paper! Don't fear, we'll teach you how to fill a gift bag without tissue paper and keep your sanity.
I'm bringing you 11 ways to fill gift bags without tissue paper. The best part is, somewhere on this list, I'm sure you'll find something you have handy. Whether you're going for fun, fancy, or homey, we've got you covered!
1. Newspaper or Magazine Pages
That's right. Did you know weekly periodicals such as newspapers or magazines that normally make their way to your recycling bin are actually a great tissue paper alternative?
Grab a few pages and crinkle or ball them up and stuff gift bags just like you would with tissue paper. This even works with book pages too, though I don't particularly recommend ripping up your library just to stuff a gift.
If you're reeling at the idea of using printed pages instead of tissue paper to stuff your gift bag, what if I told you you could glam them up with some dye?
Using fabric dye (or food coloring), or even coffee or tea allows you to dye paper. You'll be left with uniquely colored sheets in various shades, and it makes it easy to color coordinate for the occasion if you like!
2. Kleenex, Paper Towels, or Similar Paper Products
One thing that you're sure to reliably have around the house is some form of paper product. While there's nothing glamorous about a tissue or paper towel, they make a great tissue paper alternative in a pinch.
Much like the first option, I suggest dying your paper products so they don't appear quite so plain. Plus, you'll again be able to color match the season or occasion!
If you're looking for an easy, reliable way to fill a gift bag without tissue paper, your standard bathroom and cleaning products likely have your back on this one.
3. Small Balloons or Plastic Balls
Do you have a bag of unfilled water balloons the kids didn't use last summer, or a ball pit they never play with that you can raid? Well, then you've got yourself something you can use instead of tissue paper for gift bags!
If you're going the balloon route, you won't even need helium, as you probably don't want them to float in this case. Just blow into them with your own lungs, tie them off, and stuff the little balloons in the gift bag.
Alternatively, if you do have leftover helium handy, you could carefully pack them in the bag and staple the top. When the recipient opens the bag, the balloons would then fly out for a fun surprise!
4. Tulle
If you're at all into crafts or recently threw a wedding or engagement party, I'm willing to bet you've got tulle (Amazon link) laying around. It's a great lightweight material that's ideal for tying bows or creating draped looks around a room.
Do you know what else tulle is good for? It's perfect for using instead of tissue paper in gift bags. While it's not as crinkly as paper, it does a great job of filling the space and adds a nice pop of color as well.
Tulle is nearly the same price per square foot as tissue paper, so you won't need to feel like you're wasting an expensive crafting material!
5. Fabric or Ribbon Scraps
Similarly to tulle, if you're a crafter or sewer you likely have a pile of excess fabrics or ribbon at your disposal. Since you'll be packing them into a gift bag, the pieces don't have to be perfect shapes or matching sizes.
That's what makes it so easy to use fabric or ribbon scraps as a tissue paper alternative. Just wrinkle them a little and toss them in the bag. Don't ball or squish your scraps too much, as then you'll be wasting material to fill the space.
I like to use craft scissors to cut a fun edge along the top of the fabric that sticks out of the bag for a finishing touch.
6. Packing Materials
Did you recently receive a package in the mail? Then it's quite possible you've got some packing materials laying around. They're a great alternative for how to fill a gift bag without tissue paper.
The little pillow-shaped air pocket varieties aren't classy for sure, but they keep things in your bag from shucking around.
However, I prefer the packing peanut (or similar) option. It's easy to use packing peanuts as a tissue paper alternative. They're great for hiding the actual gift, and fun to dig through.
Especially if you happen to have the biodegradable packing peanuts, it's possible to color them and class them up a little. You'll just need a little chalk to do so, and it's a great task to set the kids on!
7. Honeycomb or Craft Paper
Nope, I'm not talking about the stuff bees make. Honeycomb paper is a variety of paper that has hexagonal shapes added to it. It's mostly used in packing as it adds weight strength, but you'll find it used in sign and furniture making and crafts often as well.
Whether you have or opt for traditional flat craft paper or honeycomb, it's a basic brown paper that you can use instead of tissue paper for gift bags. The flat variety also makes great homemade book covers for your school-aged kids!
Since it's a pretty generic "cardboard brown" color, feel free to add some fun designs to it, or let the kids. Draw on it with crayon, marker, colored pencils, etc to add some pizazz! 
If you've got the honeycomb variety, which is harder to color on, add some extras instead. Tuck faux greenery or flowers into the hexagons, add some ribbon strands, or anything similar to add some color and character to the material.
8. Deli, Wax, or Parchment Paper
We're busting into the kitchen for our next tissue paper alternative. If you use your oven regularly for cooking or baking, it's likely that you have a roll of deli, wax, or parchment paper around. The good news is it's a great way to fill a gift bag without tissue paper.
Just like some of the other paper options we mentioned, deli and parchment may be colored using crayons, markers, or colored pencils. It's for this reason that I prefer them to wax paper, whose coating makes that tricky.
However, if you're in a total pinch anything will do! Know that parchment paper tends to be semi translucent like tissue paper, while deli paper is on the opaque end. However, all of them are a great tissue paper alternative.
9. Wrapping Paper
Wrapping paper is an obvious choice to me to use instead of tissue paper for gift bags. However, it's so often overlooked! Often, we simply think of using wrapping paper just for wrapping boxed gifts.
Instead, cut some pieces up or use up some of those odd sized scraps you have sitting in the closet. Gently crinkle it up, or add some accordion-like folds to create a fan shape for an extra pop.
I prefer using double-sided wrapping paper for this route, so you're not left with a blank white side or the grid lines showing. If you don't have double sided, try to carefully fold it so the off side doesn't show, or tape two pieces back to back!
10. Cotton Balls
Ah, the cotton ball. Every time I buy them they come in nothing but giant bags. While they may be great for crafts, makeup removal, and cleaning, cotton balls make a solid  tissue paper alternative as well.
Cotton balls do an excellent job when it comes to how to fill a gift bag without tissue paper. They take up space, conceal the gift, and offer some cozy padding. For an added bonus, hide some wrapped candies (like peppermints or Kisses) among them!
If the "cloud" or "snow" effect of plain white cotton balls isn't appealing, they're pretty reliable at holding color from various fabric dye, markers, paints, and even food coloring. If you've got the time and patience, dye your cotton balls to add a pop of color.
11. Confetti or Glitter
Last but certainly not least, our last tissue paper alternative would be confetti or glitter. Now, especially with the latter, we have to ask if you actually like the person.
Giving someone a bag of glitter may make them never talk to you again. But, depending on the circumstance, maybe that's not a bad thing.
I think that confetti is the much safer route for how to fill a gift bag without tissue paper if you still want to be friends afterwards. Whether you opt for the traditional paper bits or a more modern metallic mix, confetti is a fun and festive pick instead of tissue paper.
The only other con to this option is that it does generally take a pretty good quantity to fill the space, depending on the size of your particular gift bag. Thankfully, biodegradable confetti is a thing now, making cleanup even easier.
Do You Have to Put Tissue Paper in a Gift Bag?
No, you do not have to put tissue paper in a gift bag.
As I hope you've seen, there are at least 11 other creative, alternative options for how to fill a gift bag without tissue paper.
If you don't want to put any fillers in at all, just close the top of the gift bag off using tape or staples. Tie a bow, ribbon, or small balloon to the handles instead!
Whatever way you go about doing up a gift bag, I'm sure the recipient is going to love it!
Related Guides
Here are some other gift wrapping guide you may find useful:
Learn how to put tissue paper in a wine gift bag in 7 easy steps. Don't let those tall, skinny bags deter you from looking great!
Having trouble with your soft items? Check out how to gift wrap a weighted blanket for your coziest of gifts!
You'll be singing in the rain when you learn how to gift wrap an umbrella with our simple guide!
Explore 11 creative ways to wrap tickets as a gift that are better than sticking them in an envelope!
As noted on our Affiliate Disclaimer page, links to products inside this blog could lead to sales commissions (at no additional cost to you) which allow this site to continue operations.