Stranger Things Eggo Card Game – Escape the Upside Down
Are you a fan of the hit Netflix series Stranger Things? Do you love strategic card games like Uno that test your skills against friends and family? Then you need to get your hands on the new Stranger Things Eggo Card Game from Hasbro!
Inspired by the pop culture phenomenon, this card game immerses you in the world of Hawkins, Indiana and the mysterious alternate dimension known as the Upside Down. Play as Eleven, Mike, Dustin, Lucas, Will, Chief Hopper, or even Barb as you try to get rid of all your Eggo cards before the dreaded Demogorgon appears.
I recently had the chance to play this exciting new game and let me tell you, it certainly delivers an authentic Stranger Things experience! Keep reading for my full review including gameplay, components, fun factor and more.

on Amazon
Help Eleven and her friends escape the Upside Down in this Netflix inspired card game!
Overview of the Stranger Things Eggo Card Game
The Stranger Things Eggo Card Game is a fast-paced, suspenseful card game suitable for 2-6 players ages 14 and up. Games last around 10-30 minutes depending on luck and number of players.
The board game includes:
106 Eggo-shaped cards
7 Character cards
Instructions
Custom box with a toaster-shaped card holder
The objective is to escape the Upside Down by getting rid of all your Eggo cards before the Demogorgon attacks. It's an easy-to-learn press-your-luck style game with fun Stranger Things theming.
I actually really enjoyed the theming of the box where it looks like your Eggo waffle cards are poking out of a chrome toaster ready to be played.
Instructions on How to Set Up the Stranger Things Eggo Card Game
Here's a quick rundown on how to set up your Stranger Things Game:
Each player chooses a character card to represent them
Flip character cards to the Upside Down – this is the blue side you need to escape
Remove the 4 Demogorgon cards from the toaster deck and shuffle
Draw one card from the toaster, placing it face up on the table. This will be the starting character card for play
Deal 4 cards from the toaster to each player
Shuffle the 4 Demogorgon back into the remaining toaster cards
How to Play the Stranger Things Eggo Card Game
Here is how you play the Stranger Things Eggo card game:
The player born farthest from 1983 goes first, then play rotates counterclockwise
On your turn, play an Eggo card matching the color or character on the discard pile.
If you can't play, draw a card from the toaster hoping not to get a Demogorgon! You can draw up to twice per turn
Alternatively, play a Specialty card which lets you flip your character or all players between Upside Down and Rightside Up.
The player who escapes the Upside Down with no cards left wins. However, play continues for remaining players until they all escape, or until all 4 Demogorgon cards are drawn
If all 4 Demogorgon cards are revealed, anyone who has not escaped is "eaten" and the game is over
Again, it's important to note that winning the game means you escape the Upside Down without any cards left in your hand. Sometimes you will achieve one of these two, but you do not win unless both conditions are fulfilled.
The Specialty Portal card allows you to flip your own character card between Upside Down and Right Side Up. The All-Players Rift card has the same effect, but for all players.
There's a healthy amount of both luck and strategy involved. You need to carefully manage your hand while dealing with the uncertainty of the draw pile.
Custom Stranger Things Components
One of the best parts of the Stranger Things Eggo Card Game is its components. Fans will delight in the accuracy and attention to detail.
The stylized Eggo cards feature the names and faces of key characters like Eleven and Hopper. Their expressions and poses capture the spirit of the show.
The 7 detailed character cards also feature actual photos from the series.
Even the box itself is designed to look like a retro Eggo Frozen Waffles box. And the inside has a toaster-shaped card holder which I think is really clever!
These custom components really elevate the theming and nostalgia. It feels like you're living in the world of Hawkins while playing.
Capturing the Magic of Stranger Things
Beyond the components, the Stranger Things Eggo Card Game infuses the spirit of the franchise throughout its gameplay.
The mechanics incorporate iconic elements like the menacing Demogorgon, portals between dimensions, and the importance of Eggos.
Fans will enjoy slipping into the roles of their favorite characters. The game even adds humor regarding poor Barb's fate.
While accessible for all, those familiar with the show will get the most enjoyment. Inside jokes and references make it feel like an authentic extension of the story.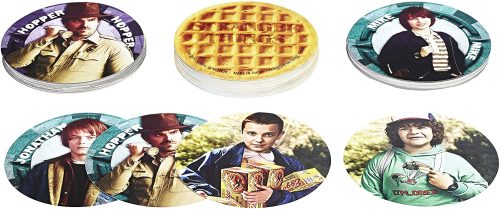 Easy to Learn, Fun to Play
A great party game should be easy to pick up for new players since it follows rules similar to classic Uno while still offering enough depth to stay engaging. The Stranger Things Eggo Card Game delivers on both fronts.
The rules are quick and simple to explain to new players. After just one round, everyone understands the basics. But there are still meaningful decisions each turn to keep it interesting.
Do you play it safe and draw cards until you get a match? Or take a risk playing a specialty card to flip your status?
The gameplay keeps everyone invested in the outcome, even those eliminated earlier. You're always excited to see if someone can defeat the dreaded Demogorgon!
Thrilling Press-Your-Luck Mechanics
The most compelling aspect of the Stranger Things Eggo Card Game is its suspenseful press-your-luck mechanics.
Your goal is to empty your hand of Eggo cards before drawing all Demogorgons. But the only way to get rid of cards is to match the discard pile…forcing you to draw blindly from the deck over and over.
You never know if a helpful character match or deadly Demogorgon awaits you. This creates a thrilling risk/reward dilemma on every turn.
Do you keep pushing your luck against the odds? Or play more cautiously to avoid awakening the monstrous Demogorgon? Finding the right balance is key to success.
And once the Demogorgons appear, that's it for your friends in the Upside Down! Well at least there will always be one player left in the twisted dimension to keep company!
High Replay Value
With so much variability in the card draw, no two games of the Stranger Things Eggo Card Game ever play out the same. This makes it extremely replayable.
The modular character cards and fluctuating player counts also mix things up. The dynamics change drastically in large groups with more draw power and specialty wild cards in play.
Since games are short, it's easy to play over and over in one sitting. You'll want to keep going for "just one more round" to try and improve your strategy.
Even when someone wins, players are often so invested that they opt to keep playing just to see who can escape the Upside Down against the Demogorgons!
An Absolute Blast for Fans
As both a card game enthusiast and Stranger Things superfan, the Stranger Things Eggo Card Game is an absolute blast to play for me.
It distills the most iconic elements of the series into an accessible party game brimming with nostalgia. The theming is spot on from the components to gameplay.
While still great for casual players, the experience is amplified if you know the characters and appreciate the references.
For Stranger Things fans, it's a must-have game for recapturing the 80's retro magic while waiting for the next season!
Drawbacks and Considerations
The Stranger Things Eggo Card Game isn't perfect though. Here are a few drawbacks to consider:
Requires familiarity with Stranger Things to fully appreciate
Round waffle cards come on a flimsy stock which may be difficult to shuffle
Can't adjust difficulty based on skill
Luck of the draw impacts outcome
No matter how lucky you are, you will never win with Barb
Eliminated players may lose interest waiting
Luck mitigation would be nice for more advanced players. And additional cards could add variants to customize the challenge.
But overall these are minor nitpicks for an incredibly fun and affordable game.
Where to Buy the Stranger Things Eggo Card Game
The Stranger Things Eggo Card Game is available from major retailers like Amazon, Target, Walmart, Best Buy, and more for around $20-30.
You can also find it at specialty hobby stores like GameStop, Barnes & Noble, and local comic book shops.
Online stores like Amazon usually have the best availability and fastest shipping if it's sold out elsewhere.
Snag a copy before they disappear like Barb! Demand is high so stock fluctuates. Don't get stuck in the Upside Down without your own Stranger Things Eggo Card Game.
FAQ
Should I get the Stranger Things Eggo Card Game if I've never seen the show?
The game is definitely still enjoyable if you haven't seen Stranger Things, but you'll appreciate it more if you're familiar with the characters and references. At a minimum watch a quick recap of seasons 1-2 to understand the context.
Why can't you play as Barb in the Stranger Things Eggo game?
Spoiler alert! As fans of the show may know, Barb doesn't leave the Upside Down. As that is a primary objective of the game to win, you would never be able to succeed. This is why you can't play as Barb in the Stranger Things Eggo game.
So, why did they include her in the game? It's just some dark humor that fans of the show will get. That's why there are 7 character cards in a game that only supports up to 6 players – she was never intended to be played!
How old do you have to be to play the Stranger Things game?
Officially it's rated ages 14 and up. But children around 10-12 can still enjoy it with adult supervision. There's nothing inappropriate, just references they may not understand. The age rating is more about the scare factor in the Netflix show.
Is the Stranger Things game better than Uno?
It's hard to definitively say one is better, but the Stranger Things game offers some nice improvements on the Uno formula. The theme and character abilities add more excitement. Just beware strange portals opening in your home after playing!
How do you win the Stranger Things card game?
To win, you need to empty your hand of all Eggo cards AND flip your character to the Right Side Up. If all Demogorgon cards are drawn first, anyone still in Upside Down loses.
How long does it take to play the Stranger Things Eggo game?
The time it takes to play the Stranger Things Eggo game may vary based on luck but expect a hand to take 10-30 minutes on average. The more players participating, the longer it will extend play time as well.
It sounds like the perfect game to play while catching up on last season!
Final Verdict: A Must-Buy for Stranger Things Fans!
The Stranger Things Eggo Card Game is an absolute delight, especially for fans of the hit Netflix series. With easy gameplay, cool components, and immersive theming, it's a blast to play at parties or family game nights.
The press-your-luck mechanics create suspenseful dilemmas and exciting variability. Short playtimes and quick setup also make it ideal for taking to gatherings or killing time between activities.
While the $20-30 price tag may seem steep for a deck of cards, the price reflects the theming. This is a collector's item made with love for loyal fans.
If you or someone you know adores Stranger Things, this Hasbro game is a perfect gift.
For an authentic Stranger Things experience you can hold in your hands, look no further than the Stranger Things Eggo Card Game. Pick up a copy and escape the Upside Down today!
More Great Card and Party Games
If you enjoy strategic card games like the Stranger Things Eggo Card Game, here are some other fun options to check out:
So expand your card and party game collection today for endless fun with friends and family!