Mojito Molecular Gastronomy Kit – Sip, Savor, and Sphere!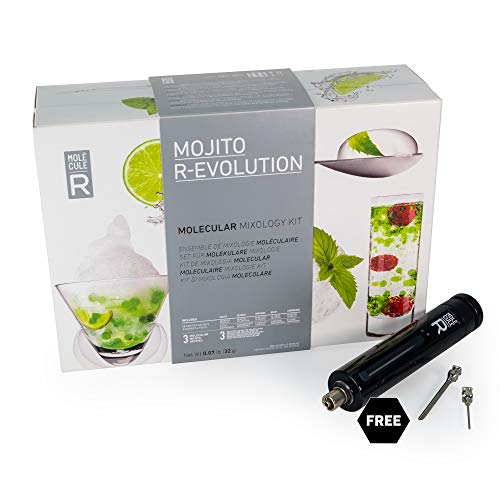 Looking to take your cocktail game to the next level? The Molecule-R Mojito Molecular Gastronomy Cocktail Kit delivers an interactive and innovative way to create elevated drinking experiences right at home.
Get ready to wow your guests with bubbles, foams, and unexpected textures that transform classic cocktails into a fun science experiment. With this beginner-friendly kit, you'll learn techniques like spherification, emulsification, and gelification to play with the elements of taste, aroma, texture and presentation.

on Amazon
Flip your cocktail game on its head with this Mojito Bubble molecular gastronomy kit
An Introduction to Molecular Mixology
Molecular mixology, also known as molecular gastronomy, is the process of using science to transform the composition, texture, and presentation of cocktails. This field combines creative bartending with food science techniques like spherification, emulsification, gelatinization and more.
The Molecule-R kit makes the world of molecular mixology easily accessible for home mixologists. With the included ingredients and tools, you'll be able to:
Encapsulate fresh flavors into caviar-like bubbles
Transform liquids into light and fluffy foams
Capture cocktails into ready-to-burst spheres
Turn watery ingredients into jelly-like solids
Keep reading for a complete walkthrough of what's included,key features, benefits, and how to create show-stopping cocktail transformations with this kit.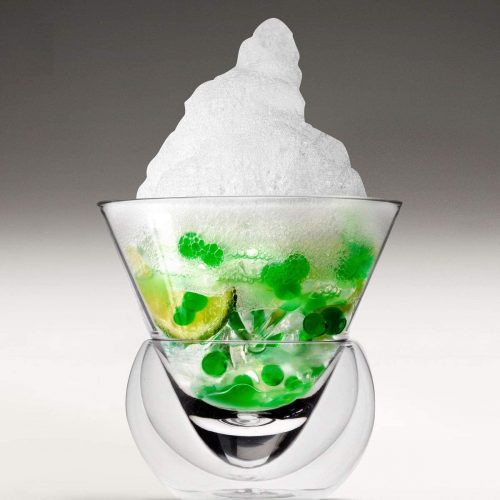 Molecule-R Mojito Molecular Gastronomy Kit Overview
The Molecule-R Mojito Molecular Gastronomy Cocktail Kit includes everything needed to explore the science of mixology. Learn fundamentals like spherification, gelification and emulsification to completely change the look, feel and taste of drinks.
What's Included in the Box:
1 Silicone Mold
2 Piping Tubes
1 Slotted Spoon
1 Recipe Booklet
4 Calcium Lactate Packets
4 Sodium Alginate Packets
2 Soy Lecithin Packets
1 Culinary Syringe
With these tools and ingredients, you'll have endless opportunities for culinary experimentation. Follow recipe cards to create mojito bubbles, mint caviar and mojito foams or get creative with your own concoctions.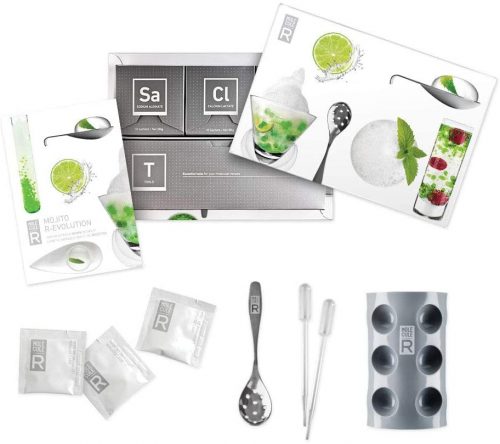 Key Features:
Beginner-Friendly: Easy to follow instructions make molecular techniques accessible for first-timers
Interactive Fun: Discover the science of spherification and gelification through hands-on learning
Cocktail Innovation: Take favorite drinks to the next level with unexpected textures and presentations
Flavor Encapsulation: Lock in and intensify tastes by turning liquids into caviar bubbles or jelly spheres
Endless Possibilities: The kit empowers creativity for crafting personalized cocktail experiences
Whether you're looking to become a molecular mixologist or just want to surprise guests at your next party, this kit unleashes opportunities for culinary adventure.
Benefits of Molecular Gastronomy Cocktail Kits
Why should you add a molecular gastronomy cocktail kit into your bar setup? Here are some of the biggest benefits you'll enjoy:
1. Interactive Fun
Molecular gastronomy turns cooking into a hands-on science experiment. The wow-factor of seeing liquids magically transform into bubbles, noodles, foams and jelly spheres makes it exciting for kids and adults alike. Playing with unexpected textures brings an interactive element that makes the cocktail experience even more lively.
2. Elevated Presentation
Serving spherical caviar bubbles or a drink topped with a light and fluffy foam is sure to impress. The unusual shapes, textures and appearances take your drink presentation to the next level.
3. Fresh Flavor Encapsulation
By using hydrocolloids to capture ingredients in gel form, you can intensify and preserve flavors. Encapsulating fresh herbs, juices or spirits locks them in and delivers potent taste explosions.
4. Texture Transformation
The magic of molecular gastronomy is taking liquids and turning them into caviars, foams, noodles or other unexpected textures. Playing with different mouthfeels makes each sip interesting.
5. Creative Fun
It's incredibly satisfying to learn techniques that transform your favorite cocktails into something new. The kit unleashes opportunities to channel creativity and come up with innovative recipes.
Adding a molecular gastronomy kit into your home bar lineup brings an exciting new element to cocktail culture. Keep reading for an in-depth look at how to execute foundational techniques.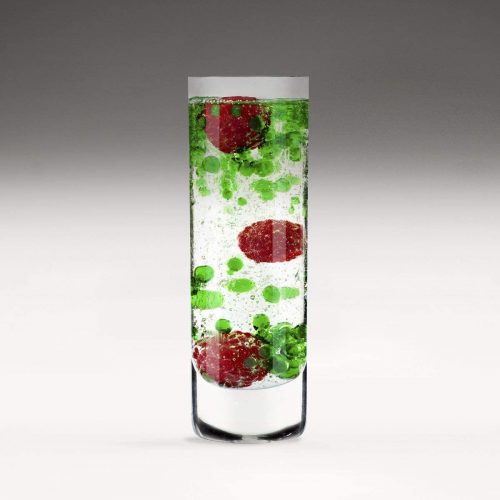 Molecular Gastronomy Techniques Made Easy
The Molecule-R Mojito Molecular Gastronomy Cocktail Kit makes it possible for even complete beginners to learn fundamental techniques that change the shape, texture and taste of drinks.
Follow included recipe cards or get creative with the 3 main methods:
Spherification
What it Does: Turns liquid ingredients into jelly-like spheres encapsulating flavors
How it Works: Sodium alginate is mixed into the liquid flavor you want to capture. Then, the mixture is dripped into a calcium lactate bath which causes it to form into spheres through a reaction.
Uses: Create mojito or cocktail caviar, burst-in-your-mouth flavor bubbles, or large spheres holding whole portions of drinks.
Emulsification
What it Does: Transforms liquids into light and airy foams
How it Works: Adding soy lecithin emulsifiers allows you to blend air into liquid mixtures until they take on a foamy consistency.
Uses: Top cocktails with foams made from ingredients like melted sugar or juices for added flavor and texture.
Gelification
What it Does: Solidifies liquid ingredients into jelly-like solids
How it Works: Gelling agents like agar agar or gelatin are dissolved into liquids, then cooled until they solidify.
Uses: Create flavored jello shots, make custom garnishes by turning liquids into solids, or capture spirits into flavored jelly cubes.
With just these 3 techniques, you can completely transform the look, feel and taste of cocktails! The ingredients for spherification, foams and gelification are conveniently included in the kit so you can start experimenting right away.
Recipe Ideas Using the Molecular Gastronomy Kit
Looking for inspiration to get started? Here are just some of the molecular masterpieces you can create with the Molecule-R Mojito kit:
Mojito Bubbles – Encapsulate rum, mint and lime juice into mojito-flavored caviar using spherification
Melon Balls – Turn melon juice and vodka into bursts of fruity flavor
Yogurt Foam – Emulsify yogurt into an airy topping for cocktails
Agar Jello Shots – Solidify spirits into flavored jelly cubes
Passion Fruit Caviar – Transform passion fruit puree into little flavor bubbles
Pomegranate Martinis – Create a garnish of reverse spherified pomegranate juice
Champagne Foam – Elevate a mimosa with a champagne foam topper
The possibilities are endless! Use your imagination to turn drinks into interactive flavor explosions.
For more modernist mixology cocktail ideas, check out my guide on how to learn molecular gastronomy at home.
Frequently Asked Questions
What kind of drinks work best for molecular gastronomy?
The techniques work great for cocktails, spirits, wine, juices, teas, milks, and other beverages. You can even transform ingredients like fruits, herbs and spices into various textures. Popular cocktail recipes to molecularize include mojitos, margaritas, martinis, mimosas and negronis.
Do you need any special skills or equipment?
The great thing about the Molecule-R kit is that it's designed for beginners. No prior experience with molecular gastronomy, mixology or science is required. All the tools and ingredients needed are included. The easy-to-follow recipe cards teach you how to execute techniques step-by-step.
Is it safe to consume the spherified and emulsified ingredients?
Yes, the sodium alginate and soy lecithin used for spherification and foams are entirely edible food-grade ingredients. As with any cooking, it's important to use sanitary practices when preparing molecular cuisine.
What are some troubleshooting tips for best results?
• Make sure liquid mixtures are fully blended with spherification or emulsification agents before using
• Work quickly when dripping spheres into the calcium bath before they start solidifying
• Use precise measurements for all ingredients
• Stir calcium lactate bath before making each sphere for even consistency
• Let jelly cubes and spheres fully set in the fridge before serving
Can you make preparations in advance for parties?
One of the advantages of molecular gastronomy is that many items hold up or can be prepared ahead of time. Spheres, foams, jello shots and more can be prepped hours or a day before an event. Then wow guests by pulling them out ready-to-eat!
Elevate Your Home Cocktail Hour
The Molecule-R Mojito Molecular Gastronomy Cocktail Kit opens up a whole new world of possibilities for imaginative cocktail experiences. With the step-by-step instructions and pre-measured ingredients, it makes the science of mixology accessible for any home bartender.
Bring elevated presentation, taste and textures into your bar repertoire. Impress guests with bubbles, foams and unexpected shapes that delight the senses and transform familiar drinks into creative concoctions.
So grab your safety glasses – it's time to turn happy hour into a thrilling gastronomic experiment!
Explore More Cocktail Innovations
The molecular gastronomy kit opens up a world of possibilities for creative cocktails. But there are even more cool tools and kits to take your home mixology to the next level:
With so many innovative products emerging, there's never been a more exciting time to become an at-home mixologist!