Molecular Gastronomy Kit | A Mojito Revolution with Bubbles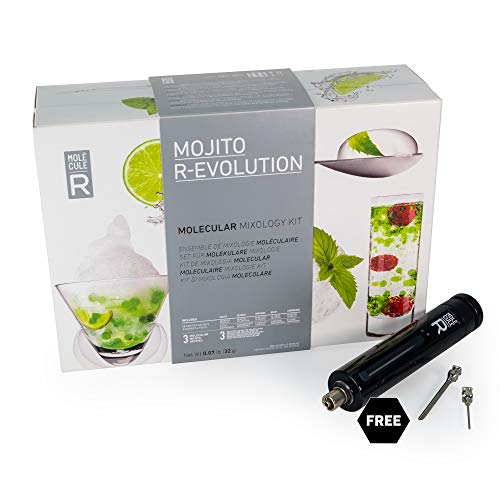 What's that floating in your drink? I hope yinz didn't forget to clean the glasses out. Oh, they're mojito bubbles? It's from your new Mojito Revolution molecular gastronomy cocktail kit. What is a molecular gastronomy kit anyway?
A molecular gastronomy kit is a prepackaged box that includes the chemicals, tools, and instructions required to perform molecular gastronomy at home. Molecular gastronomy kits are primarily geared towards food or drinks. Certain kits specialize in popular molecular gastronomy techniques, such as spherification, emulsification, or gelification.
This Mojito Revolution molecular gastronomy cocktail kit will help you party like it's definitely not 1999!
Impress your guests with unique and trendy cocktails using the Mojito Revolution molecular gastronomy cocktail kit. This kit focuses on the spherification, gelification, and emulsification techniques of molecular mixology. Not sure what that even means? Don't worry, a simplified instructional booklet and access to hundreds of online tutorials also comes as part of this kit!
In the box, you'll find everything you need to get started. There is a food safe silicone mold, 2 piping tubes, and a slotted spoon included. You'll make use of all of these utensils when creating fun drink designs from the included recipe book! This kit focuses particularly on the classic mojito cocktail, regardless of whether you're making it virgin or with alcohol. So, it can even be a fun food-based science project to do with the kids!
You'll learn how to create sugar foam, mesmerizing caviar-like bubbles, or how to turn the entire drink into a bubble! Who expects to find mint pearls in their mojito or eat a giant mojito sphere off a spoon? This cocktail kit also comes with all the "science stuff" necessary to make that happen! Four 5 gram packets of calcium lactate, four 2 gram packets of sodium alginate, two 2 gram packets of soy lecithin, and a culinary syringe round out the kit supplies.
A molecular gastronomy kit is perfect for date night as a fun activity to do together. Or, take out the alcohol and do a fun science project with the kids that you can enjoy! The kit box is easily wrappable as well, making it a perfect gift choice too! Try a molecular gastronomy kit as a gift for Valentine's Day, as a hostess gift, or wedding shower gift. It's a hands-on activity that produces unique and delicious cocktail delights!
Additional Notes
Has a 4.7 star rating – people love it!
Box measures 11 x 9 x 3 inches; total kit is 1.41 pounds
Don't like Mojito? Try the Gin & Tonic instead