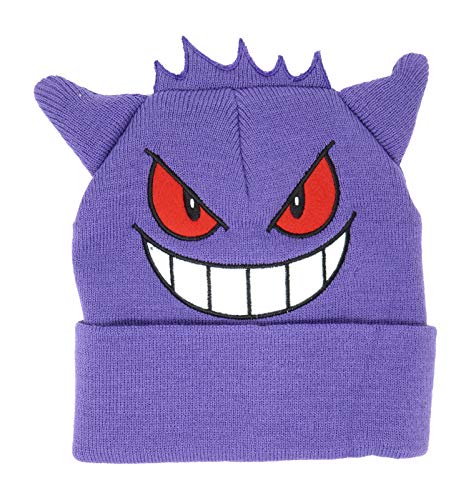 What are you doing? You better not be trying to lick me again. Just because you got that Gengar beanie with ears doesn't suddenly mean you need to emulate his moves. If you don't stop, I'll pull out Mewtwo!
The Gengar beanie hat with ears will make you look just like a Gengar, from Pokemon and Pokemon Go. Embrace his mischievous energy, and enjoy the fun you'll have with this adorable knit cap.
You'll be full of tricks and treats when wearing a Gengar beanie with ears!
This super cute Gengar beanie with ears features fan-favorite ghost and poison type Pokemon, Gengar. Your head will be warm, and your day full of smiles and mischief when you sport this spookishly adorable hat.
Made from an acrylic blend, this beanie is soft, stretchy, and comfortable. It's mainly purple in color, just like Gengar. Embroidered red eyes, a huge grin, and pointy ears finish off the authentic details. I just wish there was a big tongue too! The bottom is cuffed to sit securely on your head.
Whether you wear it for cosplay, to school, or on your Pokemon Go trips, you'll be styling with Gengar! However, if he's not your favorite (that's a Gastly proposition, I know) then check out this Charizard beanie or classic Pikachu beanie. They both have ears too!
Additional Notes
Recommended for ages 14+
Rated 4.7 stars with over 100 reviews – Pokemon trainer approved!
Keep your feet warm too with the help of these Snorlax slippers
He can keep your body warm too with this Snorlax hoodie
Towel off after a shower with a Pikachu hooded bath towel – don't worry, this one is electricity free!
Enjoy a nap on a giant Snorlax bean bag chair. Everyone knows Snorlax is the expert when it comes to snoozing!
Perhaps you'd prefer a warm cocoon to sleep in. The Metapod sleeping bag has you covered. You'll emerge feeling as beautiful as a Butterfree!
Other unique ideas to keep your head warm include the following:

Wear this Among Us beanie and have everyone question whether or not you're the Impostor!
Let your inner Barbarian roar when wearing this crochet Viking beard hat!
Infuse technology into your clothing with a Bluetooth beanie, and listen to your favorite music from your hat!