Turkey on the Table Kit – A New Family Thanksgiving Tradition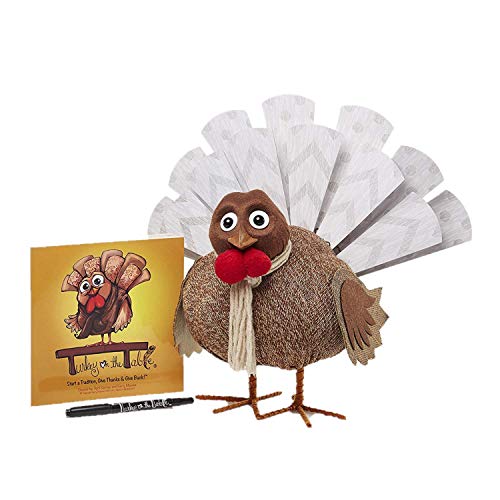 I thought it was important this year for us to think about everything we're thankful for as a family. So, I got us the Turkey on the Table kit to start a new family Thanksgiving tradition!
Use the Turkey on the Table kit to write down all the things you're thankful for, and then share them with family on Thanksgiving. It's a fun activity to do together, and you'll know you're doing good at the same time. Each Turkey kit purchased delivers meals to a family in need.
Bring the family together this Thanksgiving with a Turkey on the Table kit!
The Turkey on the Table kit will be your family's new favorite Thanksgiving tradition. You'll receive a fun book about gratefulness and all the things you might be thankful for in your life. The story is geared towards any age.
Once you've read your story, it's time to think about all the things you're personally thankful for. This kit comes with 13 double-sided paper feathers and a marker so you can write those things down. Here are a few ideas for how to best use your Turkey on the Table kit:
Write something you're thankful for every day leading up to Thanksgiving, like an advent calendar. Then, share them all together as a family.
Each year, every family member writes one thing they're thankful for. Every year, read all the past years up to the current one, and reminisce about all that's happened.
Every family member can write one thing they're thankful for, to be shared before or after dinner
No matter how you choose to use your turkey to celebrate, you'll bring family, friends, and loved ones closer together. It's also a great idea for classrooms and makes a fun group activity!
The Turkey on the Table feathers fit into heart-shaped paper clip style holders on the back of the turkey. Once all placed, it creates a tail that forms a lovely centerpiece for your holiday table. If you don't want to re-use the same feathers for subsequent years, just grab some replacement feathers for next time.
Every purchase of the Turkey on the Table kit provides 10 meals to those in need through a partnership with Feeding America. While your family reminisces on all you're thankful for, you'll also be sharing that feeling with other families in need. I love gifts that give back!
Additional Notes
Recommended for ages 12 months and up (though small children may need assistance with writing)
Turkey is 11.5 x 9 x 7.5 inches and weighs about 1.5 pounds
Rated 4.7 stars with over 500 reviews – family fun approved!
Greet holiday guests with this fun Minion Thanksgiving inflatable for your yard
After dinner, play Would You Rather Thanksgiving game book edition with the family. Don't worry, this game is suitable for adults and children alike!
Surround this turkey with some minions of its own with these adorable turkey tea light holders
Show up to dinner in style when you're sporting your turkey tie
Don't forget dessert – this pumpkin pie hat screams "more whipped cream, please"!
Interested in more products that give back? Check out the Sub Safe, which keeps your hoagie fresh, and gives back to children facing hunger
Play a game of Shut the Box on family game night. They'll donate to the Toy Foundation, to bring toys and funding to charities worldwide!
Make some treats for Fido in this dog treat maker, and a donation is made to the North Shore Animal League America pet rescue
A Bluetooth banana phone handset is awesome of course, but also benefits the rangers and gorillas of Virunga National Park, Congo
Pack some Stasher reusable silicone bags for your lunch and support high-impact nonprofits that work to protect the oceans!