Pumpkin Pie Hat – Tasty Dessert Plush Thanksgiving Novelty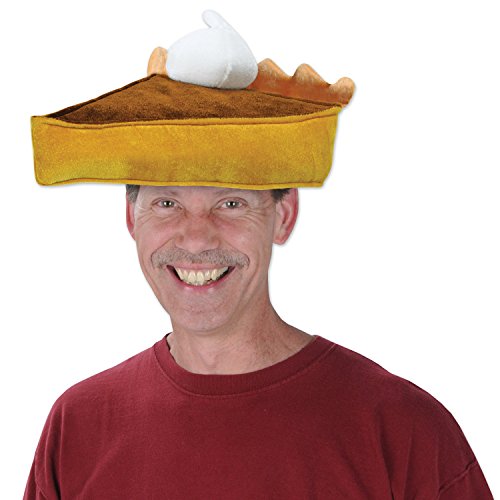 I remember Uncle Leo wearing that hilarious turkey hat last Thanksgiving. He's always a good sport and so funny! Why don't we get him another hat for this year? Maybe we'll go for dessert since that's his favorite part of any meal. I just saw a plush pumpkin pie hat that I think is absolutely perfect.
Designed to make people smile, novelty hats are available for any occasion, holiday, or special event. These unique hats come designed as creative animals, food, themed decor, and more. While they stand alone as a conversation piece, a proper novelty hat can also complete a festive costume or outfit for Halloween, Christmas, New Years, St Patrick's Day, Thanksgiving, and more.
Wear a slice of Thanksgiving dessert with this Beistle plush pumpkin pie hat!
Silly hats say a lot about the wearer. For starters, a novelty hat acts as a conversation starter, so it's easy for people to gravitate towards someone wearing one. The hat literally speaks without the person uttering a word. Simply donning a silly, novelty hat lets people know you have a sense of humor and that makes you appear approachable.
Holidays are a wonderful time to break out some silly, novelty hats. From Halloween through New Years, we have 4 holidays and holiday get togethers in roughly 2 months. When heading to Thanksgiving this year, try wearing this plush pumpkin pie hat! Is there a more iconic dessert for the holiday than pumpkin pie? In business for over 100 years, the Beistle Company offers a plush slice of pumpkin pie hat with a dollop of whipped cream on top. While this hat isn't edible, it's made entirely of a soft, plush material and will put a smile on the face of everyone around the Thanksgiving table.
Beistle has a variety of hats to choose from along with a wealth of other accessories for all your holiday and party needs. With this selection you may even decide to have silly hats for each of your guests. If you want to make a grand entrance alone though this Thanksgiving, then rest assured that this pumpkin pie hat will ensure you're a bigger deal than the turkey or football! Don't let another holiday go by without a funny hat.
Additional Notes
Available in a package of 1, 2, or full 12 piece pie pack
Rated 4.1 stars with over 250 ratings
Product Dimensions18.5 x 12 x 3 inches
Item Weight:  3.2 ounces
One size fits most
Recommended for ages 8 years and up
Pair your pie hat with a Pac-Man pumpkin pie shirt! It's important to wear a matching outfit!
If you prefer the main course, then put on this plush roasted turkey hat instead!
Need more than one novelty cap? Pick up a set of 3 turkey Thanksgiving hats instead!
If you really take your holiday attire "seriously", add this turkey tie to your ensemble!
It might not be turkey, but wearing these knee high chicken leg socks, you'll get the point across!
With a Turkey on the Table, you not only have a themed centerpiece, but also an interactive display to share with your family
After dessert, have some laughs with the family by playing Would You Rather Thanksgiving edition! This book is suitable for the entire family.