Turkey Tie – Silly Thanksgiving Novelty Outfit Accessory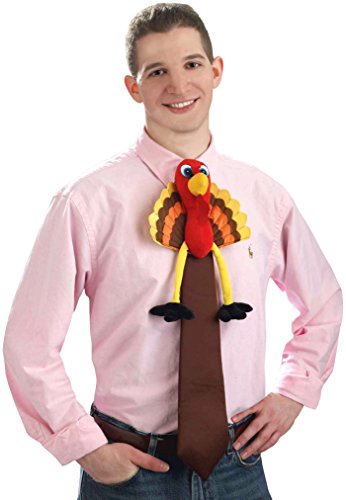 Hey Bobby, are you about ready to go? We need to leave now to make it to Aunt Edna's house on time for Thanksgiving. You'd better be wearing your Sunday best or Aunt Edna will be furious! Oh, I see you're wearing your turkey novelty tie to go with your shirt. You know what? It's going to be a good Thanksgiving.
Novelty neckties are designed to accent your button down shirt, just like a normal tie. However, instead of a solid color or a traditional pattern, they feature less formal designs. Novelty neckties can depict famous characters, animals, or even be holiday themed. You wouldn't wear one to a funeral, but a novelty necktie is perfect for many casual occasions.
Gobble 'til you wobble with your turkey novelty tie!
If you have to dress up for Thanksgiving with the family, then why not add some laughs with this turkey novelty necktie? This costume tie is made from 100% polyester material, with a foam like costume consistency. It attaches via an elastic strap around your neck – no need to know how to tie a real tie! The size is one size fits most, but you can knot or pin the elastic cord if you need it smaller.
The turkey tie is brown and falls around waist level for average height people. At the top of the tie, you'll find an adorable stuffed turkey. The turkey has a red body, yellow legs, black feet, and a mix of orange, yellow, and brown tail feathers. You can really strut your stuff!
A turkey novelty tie is perfect for anyone to wear. It's great for Thanksgiving dinner, whether you enjoy it at home or go out. You're also sure to bring smiles to the office during the fall season. It's even perfect for teachers and professors to make their students laugh. Pair with a coordinating turkey hat for even more fun!
Additional Notes
Hand wash only
Weighs 1 pound total
4.3 star rating with over 50 reviews!