Rally and Roar Giant Connect Four – Backyard Gaming Glory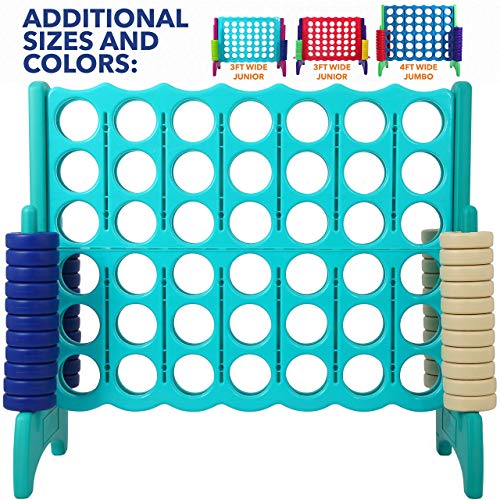 If you're searching for an oversized backyard game that offers hours of competitive family fun, look no further than the Rally and Roar Giant Connect Four Yard Game! This jumbo 4-in-a-row game is an absolute hit for parties and gatherings.
Below you'll find my in-depth review of this must-have outdoor entertainment. I'll cover the key features, pros and cons, assembly, gameplay experience, purchasing recommendations, and more to help you decide if it's the right supersized yard game for you!
Please note that Rally and Roar also sells a 3ft wide Junior version. While the dimensions and colors may be different from the 4ft wide version, the game is still built with the same materials.

on Amazon
Have a blast at your summer barbecues playing Giant Connect Four
Introduction to Oversized Connect Four
The concept of Connect Four is simple – players take turns dropping discs into a vertical grid, attempting to get 4 in a row before their opponent. But when you take this classic game and blow it up to a giant yard-sized version? The fun factor increases exponentially!
Rally and Roar's Giant Connect Four Game transforms the standard tabletop into an exciting oversized backyard activity. At 4 feet wide and over 2 feet tall, this plastic game board is truly gigantic compared to original Connect Fours.
My family recently got to test out this jumbo Connect Four for some warm weather backyard barbecues and parties. It's safe to say this may be one of the best investments we've made for outdoor entertaining!
Both kids and adults were instantly engaged in the lively gameplay. The oversized setup lends itself perfectly to gatherings, bringing out everyone's competitive spirit in a fun way.
If you want memorable game nights and hours of interactive entertainment for your next celebration, then this extra large Connect Four is just what you need!
Below I'll go over all the details on what makes this yard game so great. Keep reading for the full review!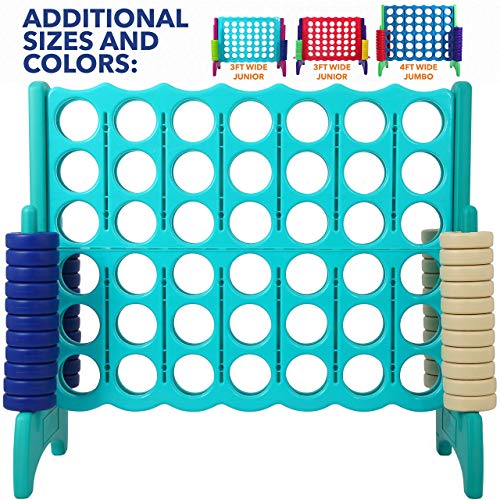 Key Features and Benefits of Giant Yard Connect Four
Let's start by looking at the top features that make this giant Connect Four yard game unique:
Massive 4ft Wide Playing Surface – Far bigger than standard size for mega fun
Durable Outdoor Plastic Construction – Built to last through frequent outdoor use
Vibrant Color Design – Eye-catching vibrant colors for visual appeal
Complete Full Game Set – Comes with all pieces needed to start playing
Quick and Easy Assembly – Tool-free snap-together setup in minutes
Exciting Fast-Paced Games – 10-15 minute playtimes means more rematches!
Easy to Learn – Simple concept suitable for kids and adults ages 6+
Indoor/Outdoor Versatile – Enjoy indoor or outdoor for maximum flexibility
With its oversized weatherproof design, bold colors, easy setup, and fun play style, this Connect Four game has it all! Now let's look at what comes included.
What's in the Box?
Part of what makes this yard Connect Four so great is that it comes with absolutely everything you need to start playing right away.
When you open the box, here is what you'll find inside:
1 Giant 4-Foot Wide Base Frame Board
2 End Frame Boards That Attach to Base
44 Plastic Playing Discs (22 blue, 22 cream)
Complete Assembly Instructions
Having all the components and accessories included without needing to buy anything extra is really convenient. This is a full yard game set ready for immediate family fun!
If you really wanted to take this game from your yard elsewhere, you could always invest in a giant carrying case.
Step-by-Step No-Tools Assembly
Thanks to the smart snap-together design, setting up this giant Connect Four lawn game couldn't be easier. Just follow these steps:
Take the base board and slide the two end leg boards into the open slots on each side.
Sturdy built-in plastic connectors hold the end boards firmly in place once inserted. No tools needed!
Add the colorful blue and cream discs over the top of the board pegs.
When the game ends, use the quick release latch to release discs and play again!
That's it! In just a few minutes you can have this exciting oversized game fully assembled and ready for action. With no tools required, anyone can set this up.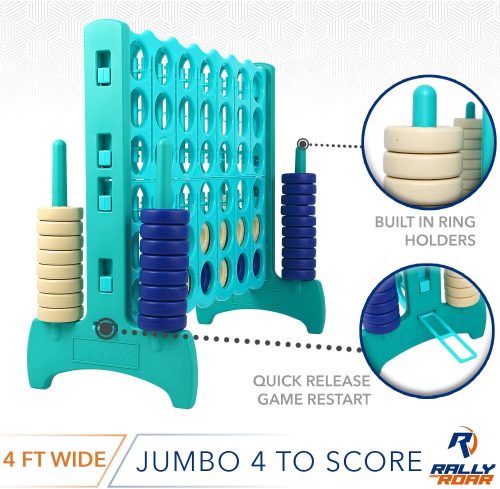 How to Play for Maximum Fun
Here's an overview of how gameplay works with this entertaining jumbo Connect Four:
Players take turns dropping their colored discs into the top of the wide slots
Discs fall into place, stacking on top of each other within each column
First player to get 4 of their discs in a row horizontally, vertically, or diagonally wins!
Games are fast paced at 10-15 minutes for lots of rematches
Kids and adults enthusiastically take turns and come up with placement strategies
Discs make satisfying clicking sounds when dropped into place
Exciting to watch the vertical stacks build up as you block your opponent
You can bring the fun anywhere outdoors or indoors!
This outdoor oversized Connect Four game was the highlight of our family gatherings and parties. Everyone wanted to get in on the action – it appeals to all ages with its combination of quick gameplay and strategy.
We must have played for 3 hours straight! With so many nuanced ways to block your opponent or set up your pieces, no two games were the same.
If you're looking for a game that will create hours of laughter, friendship and memories, the Rally and Roar Giant Connect Four delivers.
Key Pros vs Cons of Rally and Roar Giant Connect Four
In this section, I'll summarize the main pros and cons I discovered after extensive playtesting so you can evaluate if this yard game is a good fit.
Pros
Massive 4 foot wide playing surface
Complete full yard game set
Crafted from durable outdoor plastic
Vibrant color design is visually appealing
Tool-free snap together assembly
Easy to learn concept for ages 6+
Great for indoor and outdoor use
Cons
Large size takes up substantial yard area
Plastic material can get scratched over time
Discs can pop out if bumped but easy to replace
Overall, the tons of positives far outweighed the minor negatives. When it comes to hours of entertainment value for gatherings, this oversized Connect Four can't be beat!
Helpful Connect Four Gameplay Tips and Tricks
Here are some top tips I picked up for getting the most enjoyment and longevity out of this yard game:
Play on a flat, level surface – ensures discs move smoothly
Apply silicone lubricant if discs feel sticky – keeps them sliding fast
Let kids use a step stool to reach top slots easily
Team up for 2v2 or battle royale with 3-4 players
Keep discs clean by wiping with wet cloth between games
Store upright inside carrying case to prevent piece loss
With some creativity, there are so many ways to customize the gameplay for endless oversized Connect Four fun!
Rally and Roar Giant Connect Four vs. Competitors
How does the Rally and Roar Giant Yard Connect Four compare against other available oversized Connect Four options? Here is a detailed comparison:
Here is a comparison table showing the key features between the Rally and Roar Giant Connect Four, the inflatable Connect Four, and the wooden Connect Four options:
| | | | |
| --- | --- | --- | --- |
| Feature | Rally and Roar | Inflatable Connect Four | Wooden Connect Four |
| Dimensions | 4ft wide x 2.75ft tall | 3ft wide x 2.25ft tall | 4ft wide x 3ft tall |
| Construction | Plastic | Inflatable vinyl | Solid wood |
| Portability | No case | No case | Carrying case included |
| Assembly | Snap together pieces | Inflate before use | Slide pieces together |
| Gameplay Surface | Hard smooth plastic | Soft inflatable | Hard wood |
| Players Accommodated | 2-4 | Up to 4 | 2-4 |
| Disc/Ball Size | 3.9″ diameter | Small 2" plastic balls | Large wood discs |
| Storage | Folds into case | Deflates to store | Folds into case |
| Weather Durability | Outdoor and indoor use | Outdoor use only | Outdoor and indoor use |
| Noise Level | Average | Average | Quieter design -60% reduction |
| Eco-Friendly | No | No | Sustainably sourced wood |
I personally feel like the best choice depends on how you intend to use the game. I feel like for sustained outdoor use or inside a child's playroom, then the Rally and Roar Giant Connect Four stands out as the best.
If I were placing a jumbo Connect Four in a game room at home, I'd opt for the wooden version as it just looks classier. The inflatable Connect Four also works great outdoors, but you have to inflate it every time which could be a drawback.
Where to Buy Jumbo Connect Four at the Best Price
The Rally and Roar Oversized Connect Four Yard Game can be found at various online retailers:
You'll have to check for availability at the stores as well as for price variations. Even though it can be used indoors, it's marketed as a lawn game which means it's a bit seasonal.
Frequently Asked Questions
How long does assembly take?
The tool-free snap-together design allows assembly in just 5-10 minutes. Simple, quick, and frustration-free!
What are the exact game dimensions?
The playing surface measures 4 feet wide by just over 2.75 feet tall when fully assembled. Perfect giant size!
How much does the Connect Four yard game weigh?
Total shipping weight is 29.5 pounds. Designed to be lightweight for easy portability and setup.
Can this yard game be used indoors too?
Absolutely! The durable construction holds up great for indoor game room play just as well as outdoor.
Is this Connect Four suitable for adults and kids?
It's fun for ages 6+! Both kids and adults will love the friendly competition and oversized action.
How do I clean the set?
Use a damp cloth to gently wipe down the pieces as needed. Avoid submerging the plastic in water.
The Verdict: Giant Connect Four is a Must-Buy for Backyard Fun
After extensive playtime trials with my family, I can confidently say the Rally and Roar Giant Connect Four Game is an absolute must-buy for anyone looking for an exciting backyard activity.
The oversized 4-foot wide design combined with smooth gameplay, durable build, and carrying case make this a stand-out yard game that will entertain for years. It's fun, interactive, easy to set up and store, and brings out healthy competition.
For our family gatherings and parties, this outdoor Connect Four has quickly become the favorite activity for all ages to enjoy. I can't recommend it enough if you want guaranteed laughs and lasting memories!
Don't hesitate – get the Giant Connect Four yard game today and be the hero of your next backyard party or family game night! Click below to order yours now:
More Giant Backyard Games to Try