Glow in the Dark Bocce Ball Set – Amazing Summer Night Fun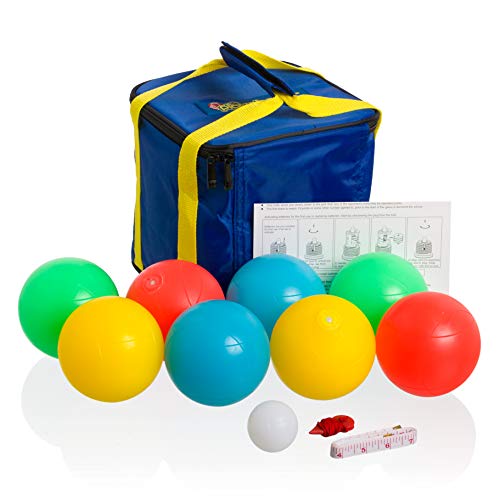 Why don't you come over this weekend? We're going to enjoy some cold ones and play lawn games all night! The fun won't stop when the sun goes down, don't worry. We're using a Playaboule glow in the dark Bocce ball set so we can continue playing when the sun goes down.
Glow in the dark Bocce balls are identical in size and weight to traditional ones. The only difference is that each contains a battery which allows them to illuminate. This makes them ideal for use when playing at dusk, versus traditional Bocce where you'd no longer be able to see.
Play all night when you break out the Playaboule glow in the dark Bocce ball set!
This Playaboule glow in the dark Bocce ball set isn't your grandma's old lawn game. The fun won't stop after dark when you use this fun and unique set. You'll receive 8 light up boccia, one light up pallina, a measuring tape, ball marker, and a carrying bag. Everything fits neatly into the bag, for easy transport anywhere. It's ideal for the backyard, park, tailgate, camping, or a day at the beach. Wherever you go, pack your Bocce set along!
Each of the Bocce balls is made from a semi-translucent polymer, which allows light to shine through. Simply push the on/off switch (which is needed to preserve battery life), and they'll begin to glow. Bright LED lights turn the yellow, red, blue, and green balls into shining orbs. Choose between a steady glow or blinking options! If one of the kids leaves the lights on all night, don't worry. The batteries are replaceable in this set, so it will work for years to come.
Bocce is designed for 2-8 players, making it an ideal choice to have at your next get together. It will adapt to suit a variety of different players. Even though this set is awesome and glowing, it's actually still a regulation Bocce set. As such, simply play according to standard Bocce rules.
Additional Notes
Recommended for ages 12+ (but is very fun for adults too)
Comes with starter batteries in each ball
Unscrew cap of ball to replace batteries as needed – takes AG-10 button sized batteries
Waterproof and sand proof, though not designed for use in water, as they will sink
Wipe with a damp cloth as needed to clean, dry completely before storing
Total set weighs about 11 pounds, fits into an 8" cube carrying case
Pair with a scoreboard for all your backyard games! It works with Bocce, cornhole, frisbee, horseshoes, and more!
#11 best seller in Bocce Sets on Amazon
Impressive 4.8 star rating with over 1,000 reviews – buy with confidence!
Looking for more great backyard games? Check out:

Kickball croquet 

4 FUN WICKET KICK - Giant Kick Ball Croquet Outdoor Games - Great Family Games For Kids, Teens And Adults - Perfect Life Size Fun For Your Lawn, Camping Or Trips To The Beach

Inflatable bowling 

Etna Giant Inflatable Bowling Set

Giant outdoor Connect 4 

Giant 4 in A Row, 4 to Score - STANDARD Plastic Four Connect Game JUMBO 4 Foot Width Set with 44 Rings by Rally & Roar – Oversized Fun Family, Indoor/Outdoor Games

Or, get a little wet as you try out this giant slip and slide bowling backyard waterslide!

Wow Watersports Strike Zone 19-2010, Giant 25 Foot Water Slide with Inflatable Pins and Sleds

Try out this light up badminton set to continue smacking the glow in the dark birdie around into the night!

Brooke and Dylan LLC YardCandy Giant Illuminated LED Badminton Set, Size 24 x 11 x 2"

Don't let the sun set on a good time! The Giant Illuminated LED Badminton Set from YardCandy is a fun and friendly game that anyone can play, day or night! Featuring two oversize, light-up badminton racquets and a brightly lit LED birdie, this set is perfect for the park, beach, or backyard...

Take some time to bounce this lava ball outside and watch the "lava" turn from yellow to red in the sun!

Waboba Lava Ball (Color Changing)

Don't forget to grab some drink stake holders to pop in the lawn. It will give guests a place to safely set their beverages while they make their shot!

Sunnydaze Outdoor Yard Drink Holder Stakes, Heavy Duty, Set of 6, Multi Colored