11 Best Bored at Work Games for Your Office and Desk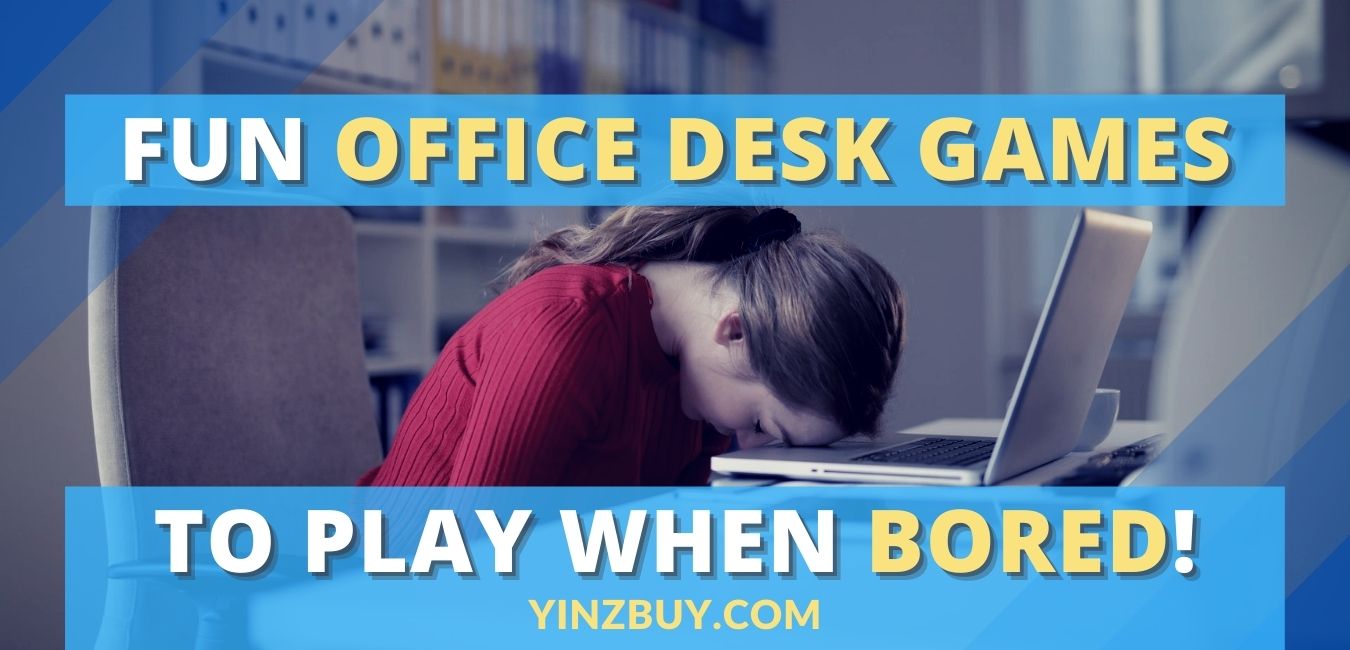 Everyone who works a desk job knows that you just need a break sometimes. We're not advocating slacking off and playing all day of course, but an office desk game can be a great way to quickly relax and clear your mind. We've put together a list of the 11 best Bored at Work games to play at your desk and office.
Desk games are small scale games you can play that sit conveniently on your desk, cabinet, or shelf in your office at work. The intent is to periodically play with the game, giving you a mental break from your job. This small amount of stress relief can help you relax and return to your work more focused. 
These small games also make a great ice breaker, often making you seem more approachable to coworkers and direct reports. That's why you'll find desk games present from the home office to the cubicle to the Executive Suite.
RELATED:
Learn how to choose the best location for your home office!
If you are working from home, we have a guide on Amazon Alexa games you can play! From music to trivia games, your Alexa smart home assistant delivers a digital work break.
Fidget & Interactive Desk Games to Play when Bored at Work
Fidget games are designed to help with stress and anxiety, making for a great desk game to play at work. They engage your mind on something to help relieve other worries and stresses so you can return to work with clearer thoughts. Fidget games are designed to be hands-on, meaning you'll use your hands to interact with the game directly.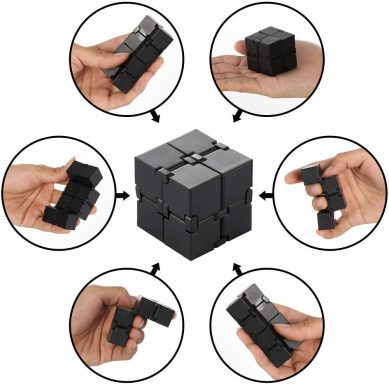 An infinity cube fidget toy is an approximately 1.5 inch cube made of ABS plastic. The larger cube consists of 8 individual cubes secured together with stainless steel rivets. It's small enough to fit in your pocket, and perfect as an office desk toy game. Due to its compact size, you can comfortably play with the infinity cube with one hand, meaning you can relieve stress with one hand while still typing or talking on the phone with the other!
You can play with the infinity cube desk game at work by flipping and folding the cubes in your hand. Lay it out in a 2 x 4 design, then roll up the sides lengthwise or width wise. You can wrap them around your fingers or twist them at a 90 degree angle. Infinity cubes are perfect for those that habitually crack their knuckles, bite their nails, shake their legs, or other fidgeting or nervous habits. It will occupy your mind and increase your focus, helping you to concentrate when you're bored at work. Plus, since infinity cubes are noiseless, they won't annoy your coworkers!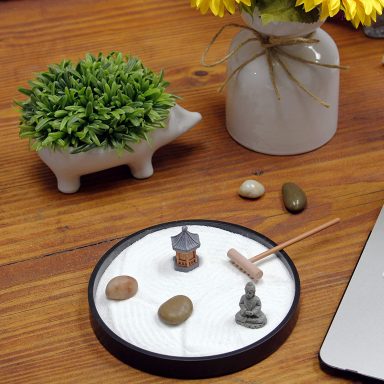 This mini desk Zen garden is perfect for playing with at work. At only 7" L x 6" W it's the perfect fit for a compact space. The kit includes the hexagon base, the sand, 4 decorative rocks, a pagoda, and a fake succulent plant. Simply pour in the sand, arrange the decorations as you like, and voila you have an instant miniature Zen garden.
If you really want to guard your succulents, I love this adorable set of baby Groot planter pots!

IKAYAS 4 Pack Treeman Baby Groot Flower Pot Groot Succulent Planter Pot Cute Green Plants Flower Pot Pen Pencil Holder, Great Birthday Gift Graduation Gift for Her Him 4 Styles (Plants Not Included)
To play with your Zen garden at work, use the included rake to draw designs in the sand. It will bring you a moment of peace, as well as let you channel something creative. Plus, it's another toy that can be enjoyed one-handed, so you can even relax while working! Bring yourself a little inner peace and relax your stress with the help of a desk Zen garden.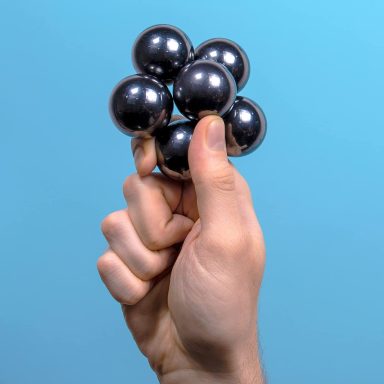 Speks Supers are a set of six large magnetic balls with a gunmetal colored coating. They're just under two inches in diameter, so comparable to the size of a large marble. To the touch, you'll find them cool, smooth, and nicely weighted. It's like a weighted blanket I can hold in my hand!
Arrange and rearrange these magnetic balls to your heart's content. You play this desk game when bored at work by using your imagination. Whether it's an even straight line, or a stack into a 3D design, there are tons of combinations to try. They even double as a business card or paper clip holder!
You can fiddle with Speks Supers one-handed or take a break to create a sculpture with both. These magnetic balls engage your mind and restore your focus. Just don't drop them on the computer – the magnets are strong enough to cause some weird happenings.
Perpetual Motion & Kinetic Desk Games to Play when Bored at Work
Perpetual motion and kinetic based desk games are more hands-off than the fidget styles. To play with these desk games when bored at work, you simply provide the starting motion. Kinetic energy does the rest! The ensuing motions helps you focus, relax, and relieve stress while observing them. Otherwise you remain hands-free to continue your office work.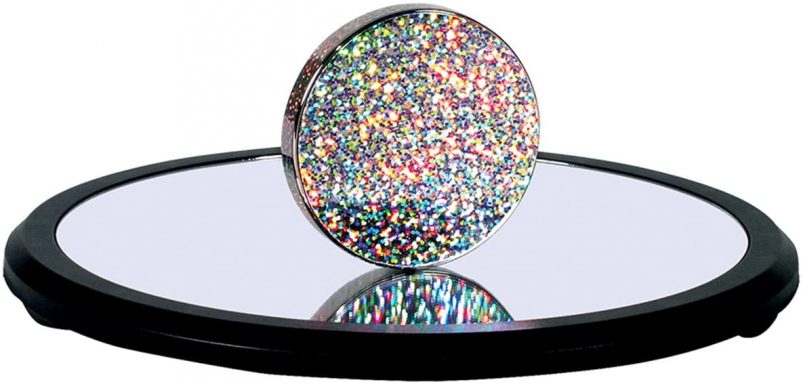 Euler's disk is a toy that intersects science with art. To play with these desk games while bored at work, simply spin the heavy steel disk on the mirror. The disk rotates faster and faster, and just when you think it's done, it spins some more! The holographic stickers you place on the disk will reflect off the mirror as it spins. The mesmerizing effect helps to stimulate your mind and cure boredom. The mirror measures about 9 inches in diameter, making it best for a larger desk, cabinet, or table display.
Since the Euler's disk only requires a quick spin to get it started, it's easy to continue working while enjoying the sounds and visuals from this game. Unlike some of the fidget style games, this one does create some noise as the disk spins around. Coworkers in shared spaces may want to consider a quieter option out of respect for their peers. Unique office games like this make for the perfect conversation starter and fun cure for those bored at work!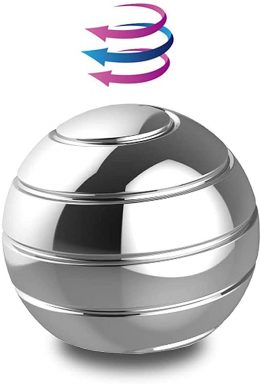 The spinner ball desk toy is a kinetic toy that creates an optical illusion. It's an aluminum sphere with a flat bottom that has a helix-shaped groove around the surface. To play with these spinner ball desk games while bored at work, simply flick your wrist and send this ball spinning on the bearings of its base. As the ball spins, it generates an optical illusion that the helix is continually flowing!
Watching this spinner ball is incredibly relaxing, allowing you to relieve stress, focus more, and brainstorm better at work. At only 1.5 inches in diameter, it easily fits on the side of your desk so you can give it a spin whenever you need a little break. Plus, since the kinetic energy keeps it rotating for a while off just one swipe, it will happily spin while you continue working. Best of all, it's quiet so you won't disturb your coworkers in close proximity!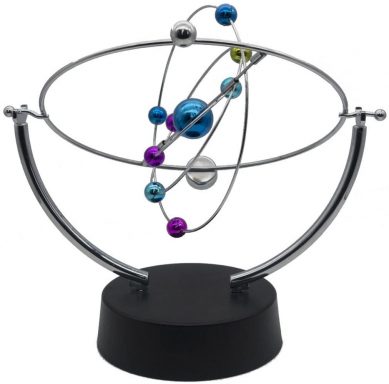 This electronic perpetual motion toy is the slightly higher tech version of the traditional Newton's Cradle or our favorite kinetic light up Newton's Cradle that's been popularized in film and television. This toy consists of a plastic base that is powered via the use of a 9V battery (not included). The upper portion is a series of four metal rings of different sizes with 10 small metal balls mounted on them, plus an additional larger ball in the center.
You can play with this desk toy at work by powering it on, and then giving the outermost ring a push to start the spin. The magnet in the base works to repel the magnet in the rings, forcing them into motion as they continually push away! It will continue to move on its own until you power it off, so you can set it and go back to work easily.
This working sculpture gives off definite space vibes, and is perfect for anyone who has a love of physics as well. The fluid motions and gentle swaying of the desk game is perfect to help you relax at work. Plus, it's quiet while in motion, making it safe for use in shared office areas as well.
Sports & Arcade Game Themed Desk Games to Play when Bored at Work
Unlike the other two styles of desk games, these sports-based desk games require more hands-on contact to play at work. These are perfect games when you're bored at work as you directly interact with them. Each game is basically a miniaturized version of a popular sports or arcade game. You, and your coworkers can play a smaller version of your favorite classics! These desk games are more social than the other types, but still easy to play quickly when you just need a break during the day.
We already did a review on on favorite desktop mini bowling game which you can read. Otherwise, learn about a few other novelty favorites!
If you want to practice a little putting during your downtime at work, look no further than this desktop golf set. In the first layer of the box, you'll find three clubs (a driver, an iron, and a putter) and a small golf ball. The second layer is exposed when you lift out the top, revealing a desk sized putting green!
You can play with this desk toy at work by using the clubs to putt the ball down the green. There's even a little pin flag for the hole! The best part is that when the boss walks in, each club is actually a pen. Pull off the rubber grip on the handle to reveal the pen tip. There is one blue, one red, and one black pen per package.
This set is a fun way to relax and imagine you're on the golf course during the middle of a stressful day. Since it also doubles as a pen set, it's the perfect desk game to have on hand, for both work and relaxation! Both of those are great for when you're looking to make your home office more comfortable!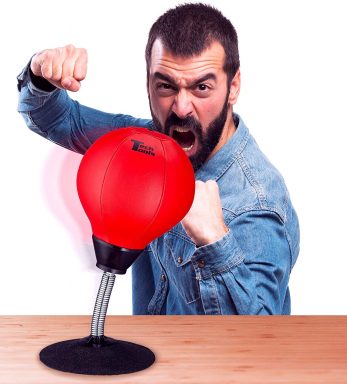 If you've ever wanted to punch out your stress, or even if you want to imagine it's your coworker (we're not judging), then a desktop boxing game might be the solution! This punching ball attaches directly to your desk with the help of a large suction cup. You can play with this desk toy by simply punching the ball with your fist, as many times as you like!
The punching bag is on a spring that will bend over with impact and then pop back up for the next round. The inflatable leather ball stays soft on your hands, but stands up to repeated hits. It's the perfect stress reliever for home or office. Just a couple whacks and you'll be feeling better, so you can get back to work!
Coming in at 13.5″ tall, 7.8″ in base diameter, and with a 7" diameter ball attached to the top, the desktop boxing set will fit most desks easily. However, if you really need a more compact solution, you can always try out this finger boxing set. It's the same concept but sized for single finger punching instead!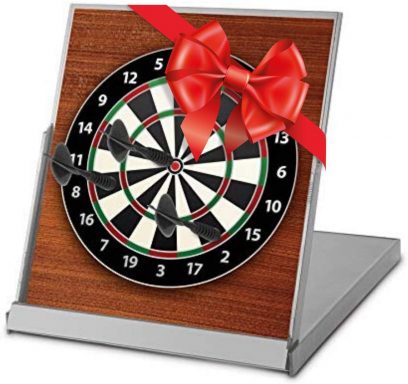 If you're looking to throw some darts on a much needed break, you don't need to head to the local pub. Just set up your desktop dartboard, and you have everything you need right in your office. This miniature dartboard folds out to a 4.5" x 5" square board and comes complete with three magnetic tipped darts.  Even if you miss, they'll bounce without doing any harm, so they're perfectly office safe!
You can play this dart desk game at work by setting up the board on a desk or nearby table. Then, simply throw the darts at the board, just like the full sized version! When you're done, it folds neatly to about the size of a CD case, so you can pack it on the go. Desktop darts are perfect for the home, office, or even the hotel room when you're traveling for work.
If you're into pub games and have a friend at work to play with, you can also try out desktop cornhole for a little bit of friendly competition. Otherwise, just practice throwing these darts anytime you need a break, and give the guys a what-for next time you see them during happy hour!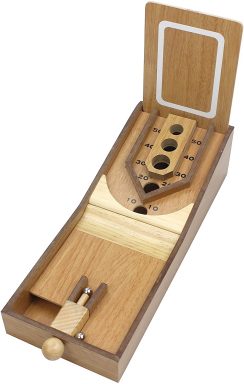 If you've ever wished you could sneak out to the arcade on your lunch break, then why not bring it to you instead? You can with this Skee-Ball desk game! This desk sized version of the classic arcade game is only 13.4″ x 5.1″ x 4.3″ so it fits easily in your office space. It's built of wood so it's lightweight yet sturdy, and comes with two stainless steel balls.
You play this Skee Ball style desk game at work by using the ball launcher in the base to send the balls up the ramp and into one of the marked holes. You can score 10, 20, 30, 40, or 50 points depending on where it lands. Best of all, it has a built-in ball return, so each shot comes right back to you!
This is one of those fun, classic games that you can play anytime you're bored and need a breather at work. Set yourself a score limit, shoot a few balls, and you'll be back to work feeling refreshed and ready to go in no time!

Last but certainly not least, we have the Document Dunk basketball hoop. This office desk game is played at work by doing exactly what you'd normally be doing! The basketball hoop is attached to a wooden stand where you place your existing waste basket. Then, you simply ball up some paper you were going to throw out (or recycle) anyway, and shoot it towards the basket. If your aim is better than mine, it ends up in the waste basket, and you've had the fun of getting to play while working!
This sturdy base accommodates most desk sized trash cans. It stands at 31.5 inches tall, so you can place it on the floor or even on top of the filing cabinet for added challenge. It's compact enough to fit in most spaces easily, and adds a little bit of fun and games to your normal office routine. You now officially turned your office into the most popular place to throw away trash!
Office Games Conclusion
We've looked at many different ways that you can enjoy playing a desk game at work. Depending on your space, your work environment, and the demands of your job, there are all sorts of different varieties of desk games to choose from. Whatever you choose, we hope we've provided you some inspiration to help make the day go by a little faster!
While it may take up more space, when you get home from work, funnel that playful energy into table tennis! You can read our full guide on ping pong table sizes and other features to consider in order to bring this classic game home. Or, take this play anywhere table tennis set, and play ping pong on your conference room table!
As noted on our Affiliate Disclaimer page, links to products inside this blog could lead to sales commissions (at no additional cost to you) which allow this site to continue operations.