Standard Ping Pong Table Size and Best Choices for Your Home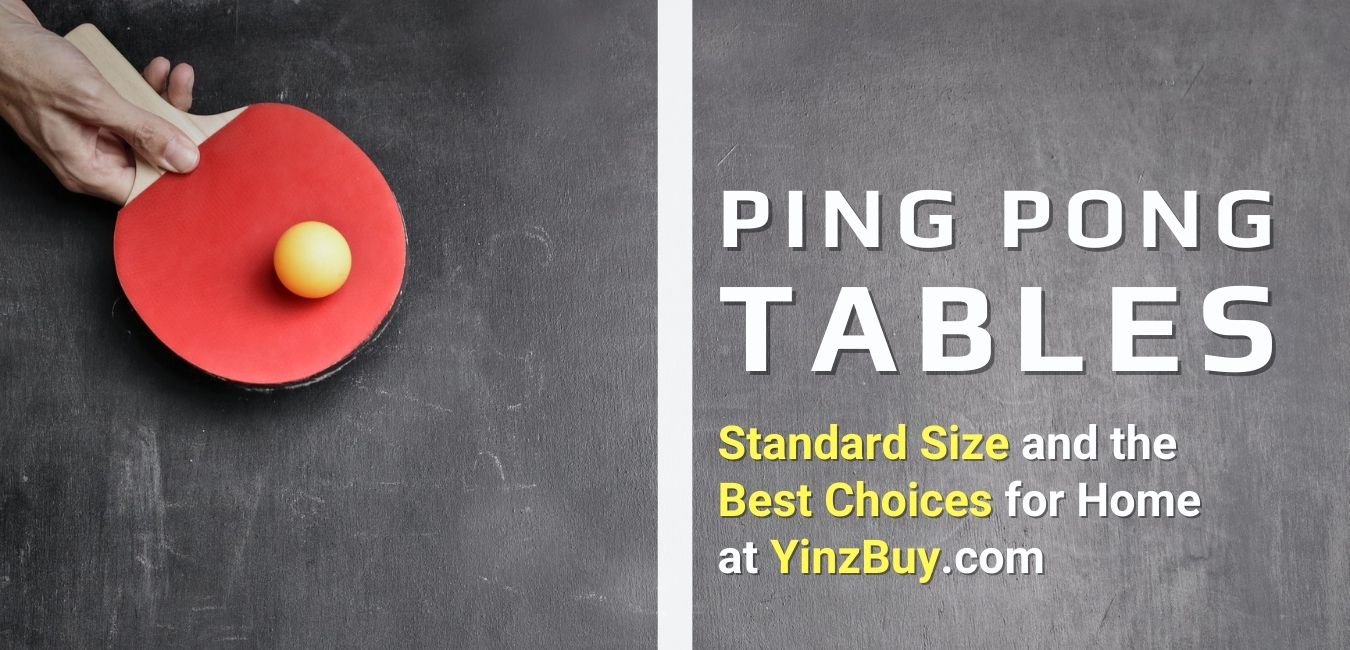 Ping pong tables, also known as table tennis tables, are a great family and party game and a way to get people talking and laughing. It can be laid back or it can be competitive, but ping pong is always fun. When it comes to getting the right ping pong table and seeing if it will fit in your game room, you may wonder, what is a standard ping pong table size?
What is the Standard Size of a Ping Pong Table?
Regulation or standard size ping pong tables come in the following dimensions:
9 feet long
5 feet wide
2 and ½ feet high
Along with these dimensions you also need to consider the area around the table. Make sure that you have enough room for expert players to maneuver around.
Even if you're not an expert, you'll still want ample space to play. Luckily, there are a variety of tables available that suit many different needs.
However, there is more to the table than just its overall dimensions. In addition to the measurements listed above, there are other size considerations that you should be aware of when looking for a ping pong table.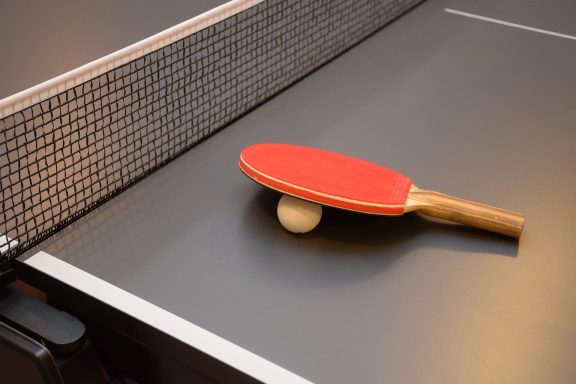 Thickness of a Standard Ping Pong Table
The thickness of a ping pong table is especially important to players, because it will affect how far the ball bounces. According to the International Table Tennis Federation (ITTF), when serving, a ball should be thrown up straight into the air at least 6 inches. Then, the player will strike it down to bounce off the playing surface.
A ping pong table with a continuous slab base that is  25 mm (about 1 inch) thick ensures the ball will bounce 26 cm (10 inches).
Why is this important? A standard net is 6 inches in height, and you'll need to clear it with your bounced ball. This obviously leaves some additional room for error, but this is why professional tables use the 1 inch thickness standard.
For home or recreational use the thickness of a ping pong table can vary, being:
No thinner than half an inch
Usually no thicker than one inch
The thicker the table the more expensive it is, but the usual recommendation is to get a table that is about 3/4 inch thick.
White Line Measurements
On standard ping pong tables, there are whites lines that go around the edges of the table as well as a white line that runs down the center.
The width of these lines is:
2 cm for the lines along the sides
2 cm for the lines at the ends
3 mm for the line that runs down the middle
Note that 2 cm is equivalent to about 3/4 inch, and 3 mm is about 1/10 of an inch.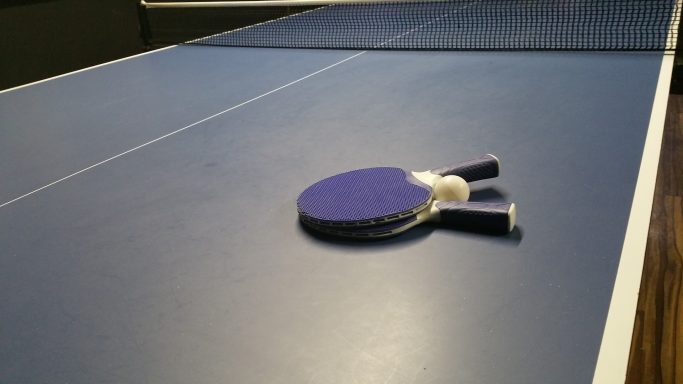 The central white line is only used for doubles play (two players per side). This will differentiate the zones for each partner.
The border lines are used to determine out-of-bounds when it comes to play. If a ball bounces outside the vertical side perimeter, it is deemed out of bounds. If the ball touches the line itself, it is still considered to be good and in play.
While this may not be as important for casual play at home, it's important to bear in mind if you have plans to get more competitive in the future.
Net Size
In ping pong, the net is a crucial part of the table because it separates the table into two equal playing fields.
According to the ITTF, a table tennis net should be 1.83 m (6 feet) long, and a white stripe of less than 15 mm (about 1/2 inch) wide should run across the top of the net. Finally, the net's height should be 15.25 cm (about 6 inches).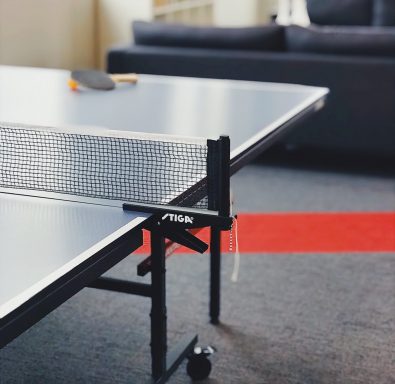 What Size Room Do I Need to Fit a Ping Pong Table?
Having a ping pong table will only be fun if you can use it! What's the perfect size room to set up and play table tennis?
Read on to see the ins and outs of room size, but before you do consider what you want to use the ping pong table for:
Individual use
Family use including 2 to 4 players with a couple people on the sidelines
Party use including multiple players and a lot of people milling around
This will help you determine what size room you need for your table.
Individual Use
If you are getting a ping pong table to use for practice, then you can get a foldable table.  You would simply fold one side up against the wall and use it as a backboard for your personal practice time. Here, regulation size doesn't matter, so you have some flexibility with space.
For individual use of a ping pong table, place it in a room in your home at least the size of the dimensions of the table. In most cases, a standard 10 x 10 ft bedroom would suffice. Ceilings at least 8 feet high are ideal to allow for bouncing.
Now, that does not mean it will be a roomy fit. Quite the opposite, but it will work for practice. Of course, you can still set up a table tennis table for individual use in a room larger than the one described above.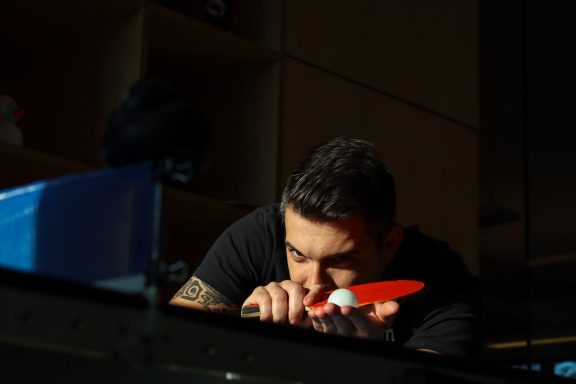 Family Use
The measurements of a room for your ping pong table depend, at least in part, on what you are willing to put up with. Will your table be in a shared space, where you'll need to move it in and out of the room?  Do you have a dedicated space such as a game room where you will leave it permanently set up?
For family use, you ideally want to put your ping pong table in a room in your home about 19 feet long by about 11 feet wide. This accommodates the table, and also a recommended space allowance of:
5 feet off the end

3 feet off the sides
Having this clear space around the table allows for play movement and to navigate around other furniture in the room.
Party Use
There is a reason why you will often find the ping pong table in a large space such as the garage for parties. There is room to play, and for spectators to wander around all sides of the table. For comparison:
An average garage size is about 24 feet by 24 feet

Competition ping pong playing field is about 46 feet by 23 feet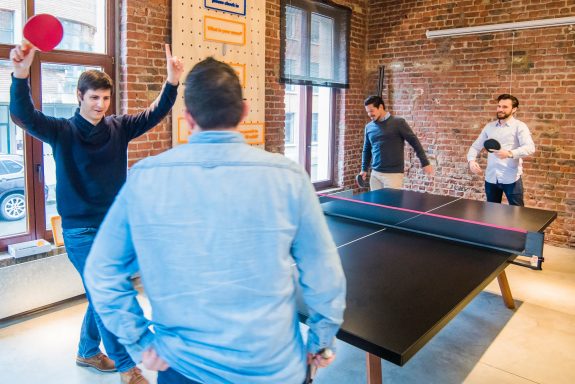 It's not likely that you'll be holding a competition game at home any time soon. However, when you factor in the size of a table, room to play, and the spectators at a house party, it makes sense why you'll need the space. This makes your home garage a solid place to set up the table if you'll have a larger group.
If your home doesn't have a garage, placing the table in another large, open space will suffice. Indoors, this is often a finished basement space. Outdoors, the ping pong table could be placed in an open back yard. Just remember to bring it inside before it rains, unless you've invested in a weatherproof table.
Where Do I Put My Ping Pong Table?
With the mention of the garage, you may wonder where you should put your ping pong table. Is it ok to put it in the garage? Is it ok to put it outside, or does it always have to be in a room or folded up in a closet?
You do not want to store an indoor table tennis table outside. Depending on the home or region you live in, you may want to consider other elements. In general, avoid putting your ping pong table in a space with:
Direct Sunlight
Moisture
Dirt
Direct Sunlight
You do not want your indoor ping pong table to be stored or played outside because of the issue of direct sunlight.
Direct sunlight can cause cracking, warping and fading on a table tennis table. It is always best to use and store an indoor table indoors. This may also be an issue in regards to the garage. While a garage is technically indoors, if you live in a climate with drastic heat and cold ranges, you may still experience warping. Garages are not often as insulated as an interior space, making the table more susceptible to environmental effects.
Moisture
Avoid playing or storing your ping pong table in places where water is going to get on it. The occasional drink spill is one thing, but regular water dripping onto the table from a leaky roof, pipe, or from rain can cause warping.
You also want to be careful with high humidity. If your table is stored near pipes that cause condensation or in a garage in a region where there is high humidity, then you will want to move it. A table tennis table does best in climate controlled environments. It can benefit from the use of a dehumidifier in the room if moisture levels are questionable, like the basement.
Dirt
You would not typically think that dirt would be a big deal for a ping pong table, but actually it is. You want to think of dirt in a couple different categories:
Ambient dirt

Dirt from the ball
Ambient dirt is the dirt that is just in the air or the environment that could get on the table. If you store your indoor table outside, then it will be more prone to getting dirt on it just by virtue of its location.
Another thing about dirt that you need to consider is the dirt that gets transferred to the table from the ball. For most recreational players, the ball may hit the ground as many times as it does the table!
If you use your indoor table outdoors, even in a shaded area on a mild day, you are transferring more dirt to the table than you would playing indoors.
Indoor Vs. Outdoor Table
You may ask yourself what is the difference between an indoor and outdoor table, and which would be better to get? Keep in mind that playing ping pong outdoors has the disadvantage of being easily affected by the weather. The balls are light and can be blown off course by the wind.
However, ping pong can be more fun outside because there will generally be more room for play and for spectators. So what kind of table should you get? It depends on what you value more: the game or the people it attracts.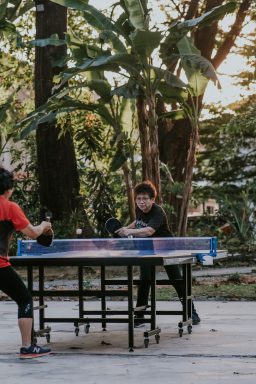 Here are the main similarities and differences when it comes to indoor vs. outdoor ping pong tables:
Regulation indoor and outdoor ping pong tables are the same width and height
They are made of different materials, with indoor being wood and outdoor being a mixture of metal and wood with a coating to protect it from the elements
Which you choose really depends on where you think you would most likely use the ping pong table. If the inside of your home is already feeling cramped, adding a table tennis table won't help. If your family enjoys backyard parties and barbecues, then the outdoor ping pong table is the right choice.
Ping Pong Table Options
Now that you know a few things about ping pong tables, it is time to look at the options for the different tables out there.
You can buy a lot of different tables, from ones that are standard size to space-saving small versions. Some tables allow you to play multiple games on them, or convert them to a space for eating dinner in between rounds. Read on to see what the options are, and which is the best ping pong table for you.
The Folding Table
The folding ping pong table is probably the most common table for home recreation. No matter how cheap or how expensive it is, they all have certain things in common. All folding table tennis tables:
Fold together in the middle

along the width of the table

Have some kind of wheel system

that allows the table to be moved from one place to another when in the folded position

Feature

a stabilizing system

that keeps the table in the place where you have set it up
Thus, the great advantage of folding tables is that they can be played in one area and stored in another. A couple of things to look for in a good folding table (other than the standard sizes) is a stout frame that does not wobble or bend.
Here are a few samples of good folding ping pong tables from a variety of price ranges that will suit every wallet.
The Stiga Advantage Pro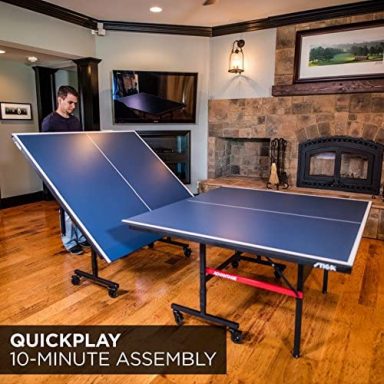 If you are looking for a ping pong table that has an entry level price while being well made, the Stiga Advantage Pro is about as good as you can get. It comes in the standard size with a top that is ⅝ inch thick and has multiple finishes. Metal frame and locking casters make this easy to transport for about $400.
The JOOLA Rally TL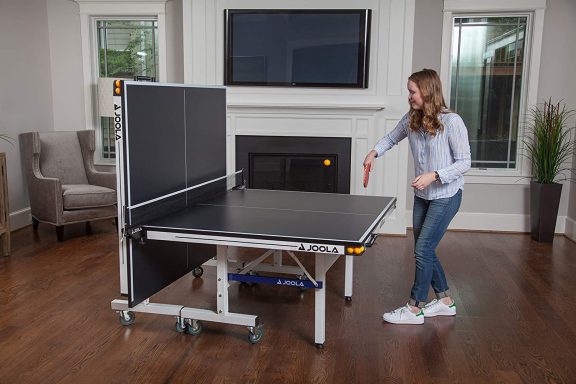 This splendid folding table is standard size with a table thickness of 1 inch and a setup time of around 15 minutes. Joola usually gets multiple entries on ping pong table lists because they are well made. Their prices are more in the mid-range category, and the Rally TL sits a little over $600.
The Donic Delhi 25 Table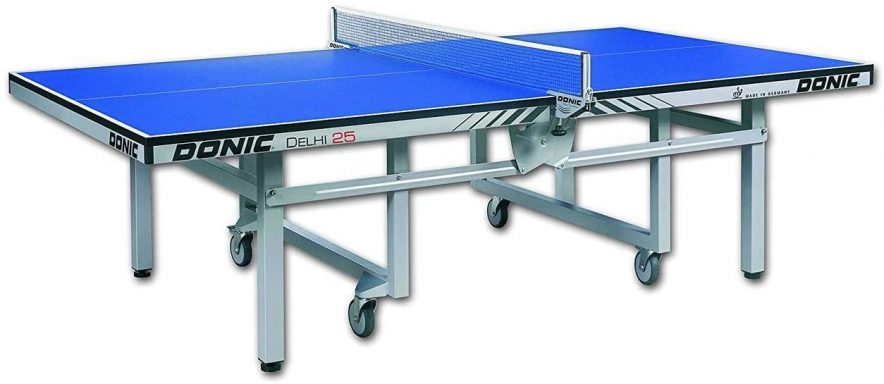 On the upper side of the budget is the German made ping pong table, the Donic Delhi 25. This table is as sturdy as they come, with a table top that has a 1 inch thickness. These guys take their ball bounce seriously. The construction is extremely durable, and the table will last for years to come for a price around $1,795.
The Multi-Game Ping Pong Table
Multi-game ping pong tables are a hybrid, offering multiple games in one table. Some are three in one, while others offer even more games. This is a great way to get more bang for your buck if you are looking for fun family entertainment.
However, the advantage of this kind of table is also its disadvantage. It has multiple games in one frame, which does not expand. This results in at least some of the games (if not all) compromising on the normal width and length. So, you are not going to find a multi-game table that offers a standard ping pong table size.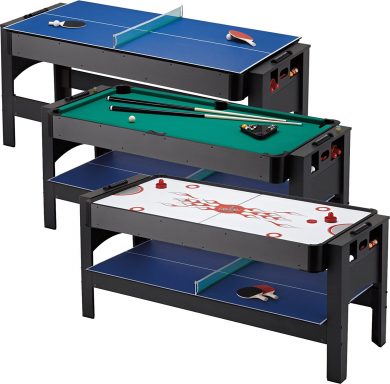 Nevertheless, you will find a lot of multi-game tables that offer a variety of cool games which will provide a lot of fun for the family. For example:
The

Fat Cat Original

3-in-1 flips between pool and air hockey and has an extra top that you can put on it for your ping pong endeavors

If more is better for you, check out the Best Choice Products

10-in-1 Game Table which includes shuffleboard, foosball, pool, air hockey, checkers, cards, chess, ping pong, backgammon, and bowling
The Mini Ping Pong Table
Mini ping pong tables are often a great place to start for kids who may not be able to get the ball over the net. They're also perfect for adults if space is a premium and you need to save some!
Ideally, a mini ping pong table should match the ratio of length to width of regulation tables. This is so that if you play on a standard ping pong table someday, you will not be completely thrown off in your performance.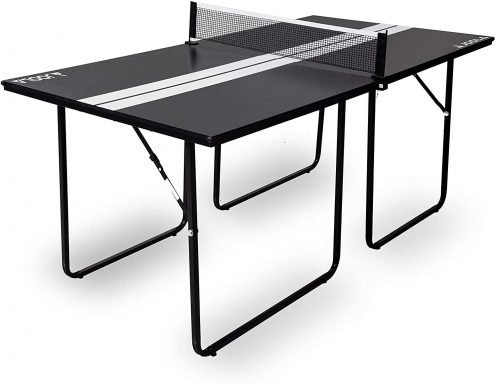 Nevertheless, some tables do not hit it exactly. Whether they do or not, it's good to know that you have smaller options available to fit your needs. For example:
Stiga makes a mini ping pong table in the form of the

Stiga Space Saver

. It features a sturdily constructed frame of powder coated steel. Furthermore, it has the desired table top ratio in its 72 by 40 inch dimensions. Note that it is a tad higher than standard table tops.

JOOLA also makes a great

mini ping pong

table. It has similar (though not the same) dimensions at 72 inches by 36 inches. A durable steel frame and MDF table top make for solid construction.
Table Top Ping Pong Table
The table top ping pong table is essentially a ping pong table without the legs. The idea behind it is to put it on top of an existing table, instead of adding another complete table to an already cramped room.
It's just another variety of space saver. Simply store your ping pong table top in a large closet or somewhere in the garage. Then, when you have an evening of ping pong coming up, you can pull it out.

Most often, you'll place a topper over another large table game, such as billiards. However, you could place one over the dinner table if guests are too full to make it to the game room!
You can get table tennis toppers from the mainstream makers, such as:
Joola, with their

conversion top

that is made to standard size with their usual stout construction and a ⅝ inch thickness. It comes complete with ten scratch- preventing pads made of foam on the bottom of the table top

The

Martin Kilpatrick Conversion Topper that has a ¾ inch thickness and weighs in at about 90 pounds. It's available in 3 colors and comes with protective foam pads as well
Different from a table topper, this play anywhere table tennis set lets you transform any flat surface into a ping pong table. The set comes with a retractable net, paddles, and a set of ping pong balls.
Conclusion
Ping pong is a wonderful game that has a professional following, but has always appealed to families in need of a fun evening together.
Whether it is family game night, a party coming up, or practice for the tournament there is a ping pong table set up out there that suits everyone.
As noted on our Affiliate Disclaimer page, links to products inside this blog could lead to sales commissions (at no additional cost to you) which allow this site to continue operations.