Basement Remodel Ideas – Tips for Your Finished Basement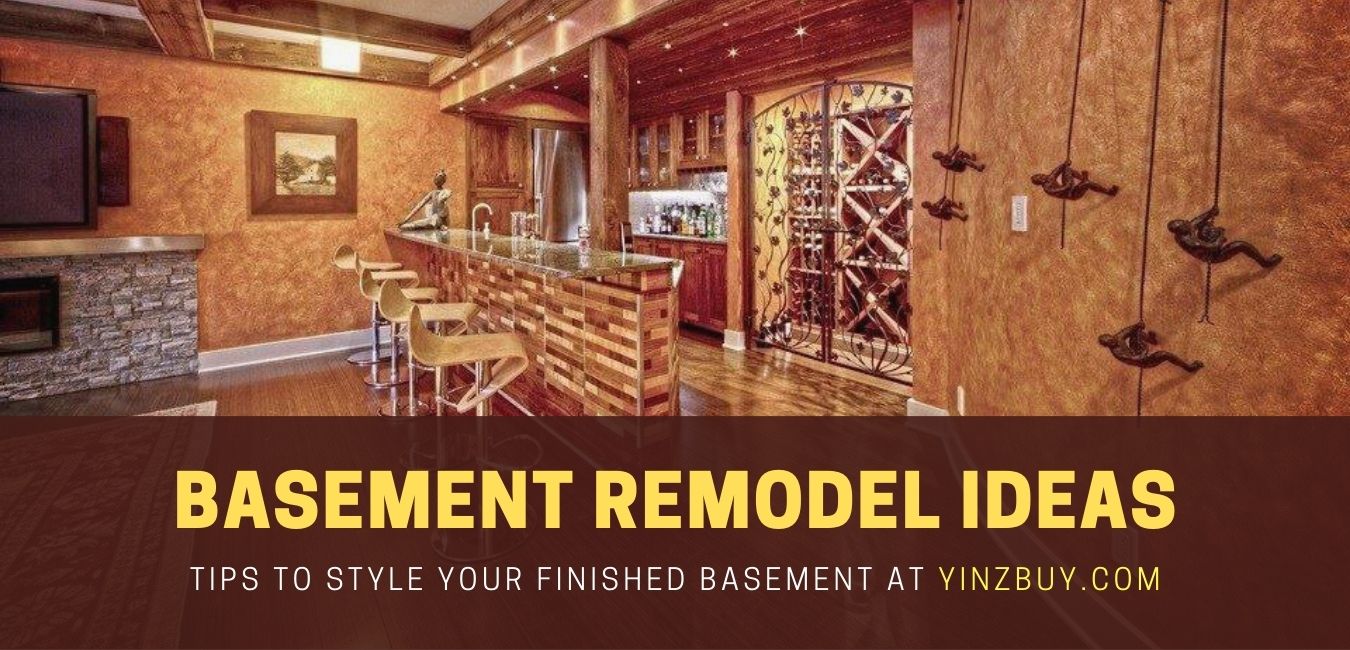 A basement is a home asset with so much potential. These large underground spaces offer up an amazing array of options for adding more living space. No matter what kind of lifestyle you lead, there's a finished basement remodel and renovation that's perfect for it.
Basements can be remodeled into several different types of spaces. These include areas to entertain, sleeping space for guests or family members, or a dedicated spot for crafts and hobbies. Planning and designing before you start renovating is the key to achieving both style and utility.
The main advantage of having a finished basement is that it's basically a bonus room waiting to be designed into any kind of space you want. Read on to learn more tips on how to create your dream basement space.
Ideas for Remodeling Your Basement
If you're ready to remodel and finish your basement space, the first thing you have to figure out is how you'll want the space to function. Basements can be used as a foundation for a wide variety of spaces depending on layout, furniture, and décor.
Below you'll find a list of some of the best ideas for remodeling your basement. These designs can act as a starting point for you to find the inspiration for your perfect finished basement.
Set Up an Informal Living Room 
Basements are a great place to set up a second living room in the home. This den style area is ideal for larger families or families with children. Setting up a second space in the basement offers up a somewhat sound-proofed option. The kids can have their own place for entertaining friends, while adults can have a separate living room. For tips on how to soundproof your room during the remodel, check out our guide.
To make an informal living room design in a basement really pop, be sure to choose accents and textures that create a cozy ambiance, such as thick comfortable chairs and sofas. Large bean bag chairs are great for lounging and easy to move. Add homespun touches like crocheted afghans or quilts to add to the dressed-down look. Fairy lights hung on the ceiling or walls will add a magical touch.
If you want to turn your basement into a living room with additional guest beds, you can try adding sofa beds to the space. This allows for the finished basement to run double duty as a living area and guest bedroom too.
Create a Guest Bedroom
If you need a spot for guests more than extra space for entertaining, consider turning your finished basement into a guest bedroom. This is a good choice for homes that lack an additional guest bedroom upstairs.
Keep in mind that often, the climate of the basement may be more humid and cool than the rest of the house. To keep guests comfortable, install insulation and a dehumidifier to keep the humidity in the air at a comfortable level.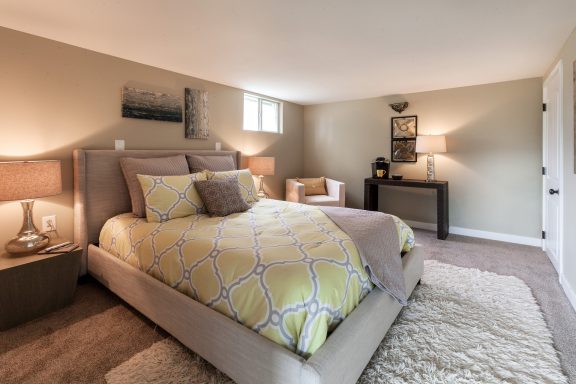 Guest bedrooms are a great option for walk-in basements or basements that contain plenty of natural light coming from the windows. Pairing natural light with a bright neutral paint color such as white or light pearl gray can help keep the space from looking claustrophobic and dark. For spaces without windows or natural light, ensure you choose bright lighting. This will make the room feel more cozy, despite the location.
If you're turning the basement into a bedroom and have a Minecraft fan in the household, then check out our guide on how to decorate a Minecraft bedroom in real life! We found loads of décor options that will cover you from floor to ceiling!
Make a Studio Apartment
Creating a studio apartment in the basement is similar to creating a guest bedroom, with the major difference being the need to include amenities such as a bathroom and kitchenette. Ideally, the heating and cooling should also operate on an independent system from the rest of the house as well. Installing a smart thermostat is a great option here. They can sense when the room is empty to save you money on heating and cooling. Plus, you control the temperature from your smartphone, to adjust in advance if someone will be there later.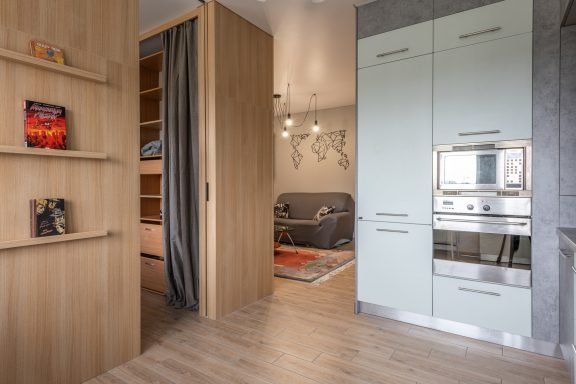 Finishing the basement into a studio apartment is a great way for homeowners to bring in a little extra money by renting the space out to a boarder or for an AirBNB arrangement. It's also great for an in-law apartment, or a space for older teenagers to have a place away from the rest of the family. Fit the door with a smart lock to give your guests a passcode during their stay. Revoke it when they're gone to keep your space safe and secure!
Before converting your basement into a studio apartment, be sure to check with a contractor to make sure your home is coded for that type of basement construction. Zoning laws vary from state to state, and some areas may not allow it.
Build a Home Gym
Designing a home gym is perfect for homeowners who are too self-conscious to work out in public comfortably. Perhaps you prefer to have all of the convenience of your neighborhood gym right in your own home. Whatever your reasons, building a gym in the basement makes it easier to stay motivated on an exercise regimen.
Having exercise equipment at your disposal at all times removes many of the mental barriers that prevent people from successfully working out on a consistent basis. Basement gyms can include whatever gym equipment you prefer to work with the most. That could be your yoga mat, jump rope, or push up system. Dedicating a space is also ideal for getting larger equipment. While most people shy away from big gear sitting in their living room, a basement gym gives it a permanent place. So, get that exercise bike, treadmill, rowing machine, or elliptical!
Having a home gym in the basement can save you thousands of dollars in monthly gym subscription fees over time. There is of course the initial cost of equipment to consider. However, the quiet environment and not having to share with strangers makes it worth it!
Design a Basement Bar
Homeowners who prefer to entertain at home might consider turning their basement into a full bar for entertaining. If you have plumbing available, this can even be elevated to a wet bar. A home bar can be as simple or elaborate as you want and your budget allows. 
When you set up your basement bar, be sure to separate the space into two major areas. You'll want one for preparing drinks and one for entertaining guests. Finish off the sitting area with some tables made from barrels for an extra touch!
It's also a good idea to invest in some classy bar accessories. Choose your favorite coasters, wall-mounted bottle openers, and a refrigerator for beer or wine. Choose a fun shelving system for storing the alcohol for cocktails. Or, for a modernistic upgrade, grab a Keurig cocktail maker to make the drinks for you!
Another option for designing a basement bar is to turn the space into a themed bar. Ever wanted your own tiki bar or bar that revolves around space paraphernalia or dinosaurs? Now that you have a finished basement to work with, you can build the bar's theme around whatever subject you like the most!
Set Up a Wine Cellar
Some homeowners enjoy wine on a deeper level than just picking up a bottle or two at the supermarket on the way home. If you're one of them, building a wine cellar can be a sophisticated way to display and preserve your collection.
Basements are a great choice for a wine cellar since wine needs to be maintained at around 55-58 degrees and 55-75% humidity. There are, of course,other considerations to make when building a wine cellar in the basement. You'll want to ensure you have adequate lighting to read labels when needed, but for the room to be dark otherwise. Ideally, you should also install a door to separate the air of the wine cellar from the rest of the basement.
For the best results, ensure that the walls and floor seal completely, and install a vapor barrier to regulate humidity. If your temperature is variable during different seasons, you may need to add a specialized cooling system. All of these components are important for taste and longevity of wine in storage.
Once room construction is complete, make sure that you have adequate shelving and storage for the wine. Secure wine cellar racks to the wall and install on a level keel to avoid the entire thing tipping over under its own weight.
Create a Basement Game Room
Basements are a great place to set up a game room in the home. They provide some sound-proofing for louder games and cheering that may disrupt other parts of the household. These spaces are also big enough to place table games that are bulky and require space to play. You'll have room for pool, foosball, pinball, shuffleboard, skee ball, and any other arcade games you've always wanted.
Learn about the standard ping pong table size and how to pick between different table tennis options in our full guide!
When setting up a game room, it's a good idea to include a variety of entertainment types to keep people playing, from board games to a PC desk. If you're planning on including an entertainment center with a PC or television and game consoles as part of your game room, make sure that you have adequate electrical outlets in the finished basement.
Board games can be stored on a multi-purpose shelving system and pulled out onto a folding card table when you want to play. If you're short on space after setting up a table game, consider putting board games on the wall. This allows storage and play to happen vertically, saving you floor space.
Other tips for creating a great game room in your finished basement are to:
 

Invest in a good speaker system. Whether you're playing video games, playing a board game that involves music, or listening to background music while you play a table game, sound is important. I love this retro full size all media jukebox that plays your old vinyl records, CD's, MP3's, and more! Or, bring home an autonomous mechanical band with this self contained hootenanny!
Choose a theme for the room.

Whether you go with a retro Space Invaders vibe or you want to create a classical feel with billiards and darts, there are game room accents for just about every person's taste in leisure activities.
Additional Game Room Top Choices
In addition to our recommended links above, here are some other favorite items that we reviewed and would perfectly fit in your finished basement game room:
Make a Laundry Center
Laundry isn't as fun or exciting as some other basement remodel ideas. However, setting up a dedicated space for getting laundry done in your house is a useful and practical application for a finished basement. If you're constantly buried under a mountain of dirty clothes, it will be your new favorite asset.
The advantage of setting up a laundry center in the basement is that you have the opportunity to spread out. Organize your space with everything you need to be efficient, such as:
When finishing a basement to prepare it for a laundry room, some considerations are to make sure that you have proper hookups. You'll need electrical and water hookups plus a drain for the washing machine. The dryer will need an electric or gas hookup as well as proper ventilation.

Build a Home Office
Basements are often one of the more quiet areas of the house, which makes them a great choice for anyone who is trying to set up an office at home. Working from home can be disruptive with the other residents and activities going on. Putting a floor and a door between you and the rest of the household can be the key to getting some real work done.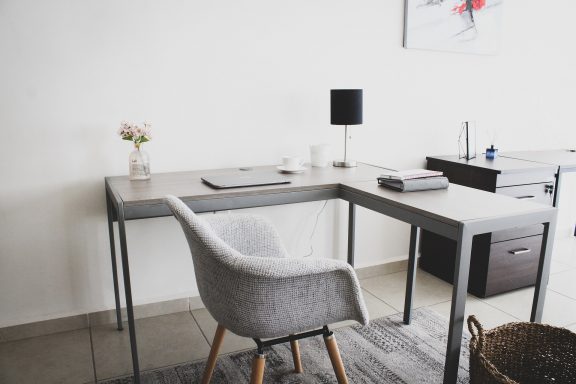 Lighting can be a challenge for basement offices that don't have adequate natural light from windows. Be sure to invest in plenty of strong lighting so that you don't strain your eyes trying to work in the basement. Basement offices will need overhead lighting installed as well as desk lamps. Including a personal nook for relaxing occasionally is smart too.
For home offices that need a PC hookup, ensure that you run your electrical outlets to the point of the basement where you'll eventually want to set up your work desk. You'll need plenty of electrical outlets for the computer and any electronic accessories. These include items such as a printer, copier, or landline telephone.
Design a Crafting Studio Nook
A crafting nook for a finished basement is great for homeowners with hobbies that take up a lot of room. Fiber arts, scrapbooking, and knitting are just some of the crafts with lots of tools and supplies. Having a designated space helps funnel all the crafting clutter out of the rest of the house, giving it an organized place to live.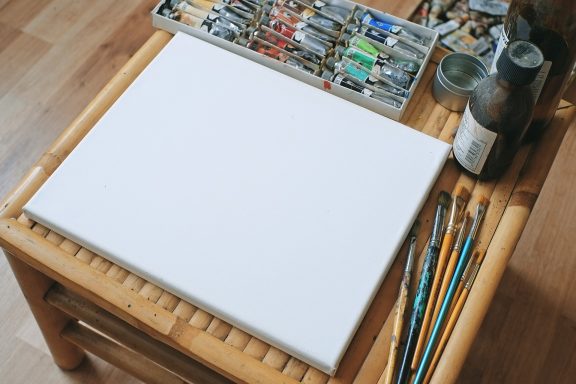 A good idea for organizing a crafting nook in the basement is installing a large pegboard to hang up measuring tapes, scissors, and other tools. You'll also need to set up a special space for larger tools or appliances, such as 3D printers, Cricut, or sewing machines. 
Two important concepts to remember when setting up a crafting nook are storage and surface area. A large, level table is perfect for spreading out piecemeal projects, while compartmentalized storage with labels can help you find the supplies you need.
Tips for Styling a Finished Basement
Regardless of what function you decide for your finished basement, there are several tips you can use for styling it. Create a space you'll be excited to go into every day! Here are some additional tips for creating a sophisticated finished basement space:
Choose an aesthetic before you begin.

 Whether you like wood, stone, or a pop art look, planning your aesthetic sets the tone for the room.

Be sure to include storage.

 Make sure you dedicate storage space that allows household overflow to be organized and out of sight.

Add architectural features.

Adding accents like crown molding or arches make the basement feel more like an additional finished room of the house.

Break up the space.

Too many walls make a basement feel small and cramped. Instead, break up space with bead curtains or other kinds of visual dividers.

Include strong lighting.

Basements often lack good natural lighting. Adding bright, daylight emulating bulbs can make a huge difference in the space.

Install drop ceilings.

Adding drop ceilings helps improve soundproofing, insulation, lighting, and the overall aesthetic of the room.

Invest in high-quality flooring.

Flooring is a major focal point in a basement. Use durable flooring accented with rugs to add a cozy feel and break up the space.

Use color to expand or contract the space.

Using light-colored paint makes a space look larger, while darker colors make it look smaller. Add a bright accent wall to make things pop.

Don't forget soundproofing.

Soundproof the room to keep quiet basement spaces like offices undisturbed, or loud ones like game rooms from echoing up through the rest of the house. 
Considering design questions early in the remodeling process can help prevent costly revisions later. Bring everything together to form a basement design that will knock the socks off household members and guests alike!
Finished Basements Can Be Almost Anything
The advantage of doing a full (or partial) remodel on a basement and turning it into a finished space is that it can be used to add additional living space to the home. A finished basement is one place in the home where the homeowner can really let their personality shine through with a special space for their interests and hobbies.
Whether you want to work out, create some crafts, or just have a place to lounge and have a cocktail, your imagination is the limit when it comes to utilizing a finished basement space.
Thanks to our friends at Creative Design Interiors for permission to use some of their photographs. For professional help decorating your space, check out their website.
As noted on our Affiliate Disclaimer page, links to products inside this blog could lead to sales commissions (at no additional cost to you) which allow this site to continue operations.