Atomic Azure Foosball Table – Cool LED Light Up Foosball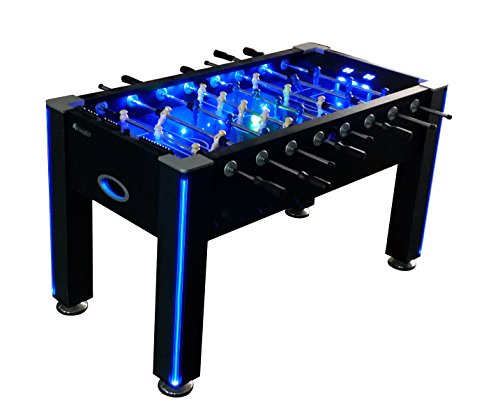 We need to get something new for the family room. Uncle Arnold wants his pool table back. We need something fun for kids and adults alike.  I know, we'll get an Atomic Azure LED light up foosball table for in here! Not only is it fun for everyone, we can turn out the lights and play in the dark. How cool is that?
LED light up foosball tables are designed to add an extra element to your regular foosball games. These foosball tables make use of LED lights along the legs, as well as the play bed and goal boxes. Paired with a glow in the dark foosball, this foosball table allows you to fully play the game in the dark. Many options pair the table with sounds or music for added effect. The lighted table adds a unique and fun element to an already great table game.
This Atomic Azure light up foosball table will let us party all night long!
You can really light up the night with this Atomic Azure LED light up foosball table. This foosball table features interactive in-line LED blue board lighting. It pairs seamlessly with in-game music, creating cascading lighting effects as you play! For ease of use, both goal boxes also light up. The legs of the Atomic Azure foosball table are also embedded with blue LED lights, allowing you to see the table even in a darkened room. No more stubbed toes!
This LED foosball table is an arcade-level game, built to be durable for years of play. It features a 47" x 27" playing field with tough 15.8mm steel player rods and counterbalanced men. It ships with two plain white balls, and an LED ball as well. The LED ball comes with a USB charger, allowing you to recharge the ball for multiple uses. In about 45 minutes, the ball fully charges and should provide about 6 hours of lighted play time! If you need spare balls, check out these black light foosballs as a viable alternative.
A built-in electronic scoring system will keep track of the action, so you can focus on the fun! This Atomic Azure foosball table is a great addition to any home looking to add a little fun to a game or family room. Great for parties too. Both kids and adults will enjoy this light up foosball table, and best of all you can play day or night!
Additional Notes
#33 best seller in Foosball Tables on Amazon, with a 4.1-star rating!
This table weighs almost 120 pounds, and will require several adults to move safely
Overall table dimensions are 58.2 x 30.8 x 34.4 inches, not including arm extension
MDF wood composite table
Want to add table tennis to your game room? Find out about ping pong table sizes and other options to consider when buying in our full guide!
If you can't fit a foosball and ping pong table into your home, check out this play anywhere table tennis set that features a retractable net to transform any flat surface into a game space!
Are you the ultimate foosball aficionado? Enjoy this foosball coffee table and turn your furniture into your favorite game!
Enjoy some sunshine and add this outdoor foosball table to your backyard! Don't worry, it's made to resist the weather and not warp.
Klask is a hit Danish tabletop game mixing air hockey and foosball!
This Star Wars pinball machine features all your favorite Original Trilogy characters with art by Randy Martinez!