Foosball Coffee Table – Barrington 42 inch Wooden Game Table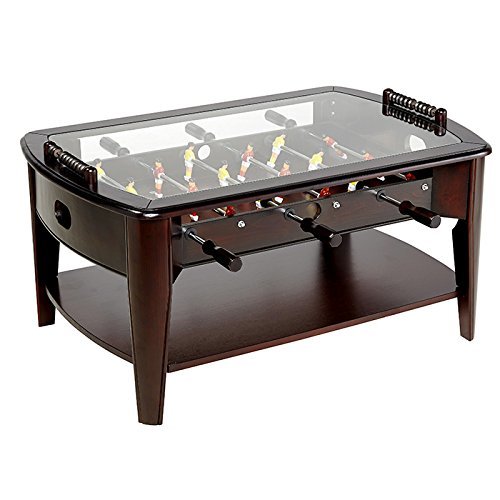 We need a new coffee table since the dog chewed the leg of the last one to pieces. It's too bad, because I was hoping to get a table for the game room this month instead. Yinz think we can do both? You found a foosball coffee table that's a functional coffee table with the game built right in?
A foosball coffee table is multifunctional as a coffee table and game table in one. Coffee tables (also known as tea tables or cocktail tables) are knee high tables made for placing drinks while entertaining. Adding a game such as foosball as part of this table is a logical addition, as guests can play and socialize simultaneously.
Your living room turns into a game room with the addition of a foosball coffee table!
This Barrington 42 inch wooden foosball coffee table is the perfect addition to any living room, waiting room, office, or game room! The dark brown color finish actually accentuates most décor styles. The top is finished in 3/8" thick tempered glass for a classic look that's also safe. This glass top also allows you to use the top surface as a coffee table, while being able to see into the game board below!
The foosball game is built right into the second layer of this coffee table. It features ½" diameter chrome plated steel rods with hand painted players. Wood hand grips make the rods easy to move and play, and you can keep score with the beads on top of the coffee table. With nearly 3" solid wood legs, this coffee stable is sturdy and perfect for both functional use and play. An included storage shelf underneath the foosball portion of the table allows for placement of other living room essentials like games, movies, or remotes.
So, if you're looking to upgrade your old coffee table to a fun gaming experience the whole family will love, check out this Barrington wooden foosball coffee table!
Additional Notes
Weighs 102 pounds and will require assistance to move safely
Measures 42 L x 28 W x 20 H in inches
Manufacturer offers a 90-Day warranty
Model Number SOC042_037B
4.1 star rating on Amazon!
Another great piece of multifunctional furniture is this dining top pool table. In a few seconds, you can go from eating dinner to playing billiards!

Playcraft Black Canyon 7' Pool Table with Dining Top

The Atomic Azure foosball table features glowing blue LED lights to keep the game looking fresh even in the dark!

Atomic Azure LED Light Up Foosball Table

There's even an outdoor foosball table made to resist the effects of Mother Nature if you enjoy the idea of getting some fresh air while you play!

Hall of Games Phoenix 56 Inch Outdoor Foosball Table, Black/Silver

Football fans will love this StadiumViews 3D NFL stadium end table featuring LED lighting!

YouTheFan NFL 25-Layer Team StadiumViews Lighted Table

You can transform a standard table into a ping pong table with a table topper. Learn about other fun options to add ping pong into your home.
This play anywhere table tennis set features a retractable net, paddles, and ping pong balls that work on any flat surface!

The Play Anywhere Table Tennis Set

This is the game set that lets you play table tennis on any flat surface. Ideal for quick matches on a coffee table or pre-dinner disputes on a kitchen island, its 6'-long net clamps to the sides of a surface up to 1 3/4"-thick within seconds. When the game is over, it disassembles just as simply...

With the Arcade 1Up Infinity game table, you can play 45+ classic board games even on your dining room table!

Arcade1Up 32" Screen Infinity Game Table

This is the table with a 32" touchscreen surface that enables individuals to play digital board games and enjoy a variety of interactive apps. Ideal for children, adults, or multi-generational families, it comes pre-loaded with over 45 Hasbro games including Monopoly, Scrabble, and Trivial...

Since you're playing foosball on the coffee table, safely place your snacks on the sofa with this wooden couch tray!

Sofa Tray Table - Long (Tropical Wenge), Sofa Arm Tray, Armrest Tray, Sofa Arm Table, Couch Tray, Coffee Table, Sofa Table,Wood Tray,Wood Gifts