3D NFL Stadium End Table – StadiumViews 25 Layer Design!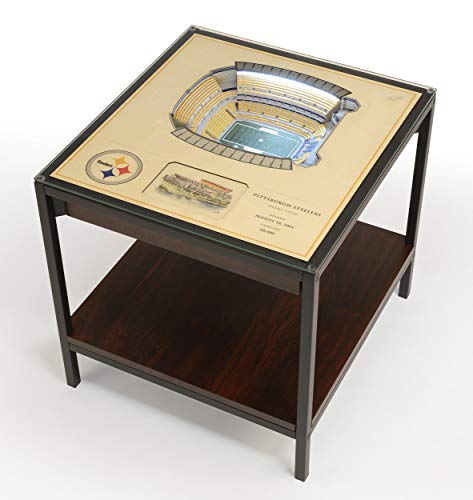 Are you coming over to watch the Super Bowl this weekend? You've got to check out the new table I got for the living room. It's a YouTheFan StadiumViews 3D NFL stadium end table. Every time I set my drink down, I feel like I'm really there watching the game!
A 3D NFL stadium end table features a replica of your team's stadium in the tabletop. It's accented by the team logo, a picture of the outside, the name and date of the field, as well as capacity. This stadium table is the perfect piece of sports memorabilia that's also functional furniture.
Bring your favorite team to your living room with the StadiumViews 3D NFL stadium end table!
This 3d NFL stadium end table is not only a functional table, but also a work of art! This incredibly unique table features a stadium replica for your favorite NFL team's stadium – right in the tabletop!
It's a two-tiered espresso colored table supported by a metal frame. The bottom is a laminated wood shelf for storage of books or remotes, while the top truly shows off the NFL stadium of your choice.
The 3D design of the stadium is completed by hand with 25 layers of composite wood, cut into perfect shape. It's finished with exacting detail to replicate your team's field and stands. The colors, logos, and scoreboard are all appropriate and exact.
At night, the stadium even lights up with the help of built-in LED lights that actually correspond to an exact replica of the lighting layout in the stadium. Simply plug the table in, flip the switch, and watch the field come to life.
A glass topper protects the stadium, as well as offering a space to use the table. Place your drinks, snacks and remotes down while you watch the game! You could even grab some matching 3D stadium coasters to go with it.
This StadiumViews table is the perfect addition to any sports fan collection. Whether in the living room, game room, or man cave, it's a great way to be able to use your memorabilia. If your team is prone to getting a new stadium, it's also an important preservation of team history.
What teams are available in the 3D NFL stadium end table?
The 3D NFL stadium end table is currently available for 19 different teams:
Atlanta Falcons
Baltimore Ravens
Chicago Bears
Dallas Cowboys
Denver Broncos
Green Bay Packers
Indianapolis Colts
Kansas City Chiefs
Las Vegas Raiders
Miami Dolphins
Minnesota Vikings
New Orleans Saints
New York Giants
New York Jets
Philadelphia Eagles
Pittsburgh Steelers
San Francisco 49ers
Seattle Seahawks
Tampa Bay Buccaneers
If your team isn't currently available, never fear. There are a variety of other items such as 3D wall art, 3D stadium coasters, and even puzzles to choose from, so you're sure to find something from your team to love.
Love more than just football? Check out the NCAA 3D stadium table or the NHL StadiumViews end table for other options. I can put one on each end of the couch!
Additional Notes
Table measures 22″D x 23″W x 22.25″H
Best seller in Sports Fan Tables with a 4.7 star rating!
Glass is removable for stadium access
Power cord is removable for easy transport
Grab a football decanter as a great accent piece to store your favorite liquor

The Wine Savant Football Decanter w/ 2 Football Whiskey & Wine Glasses

LIMITED EDITION FOOTBALL SET This is a limited edition Large Football Decanter Set. This trophy of a decanter stands for pride, glory, tradition, and history. This set is pinnacle of elite fine wine and spirits indulgence for Football lovers! CONVERSATION STARTER Complete your tailgate themed man...

Head outside and catch a few spirals from the All Pro Passer robotic quarterback!

The Perfect Spiral Robotic Quarterback

This is the football launcher that passes a pigskin up to 25 yards away. Ideal for catching-based challenges or practicing routine plays, the unit sends a perfect spiraling football to one of nine pre-programmed routes. One simply pumps the unit full of air pressure, presses the "hike" button,...

Baseball fans will love taking a seat in this authentic leather Rawlings baseball glove chair!

The Authentic Baseball Glove Leather Chair

Made by Rawlings, this is the chair crafted in the form of a gargantuan baseball glove, upholstered entirely with the same exceptional leather as the mitts used by professional ballplayers.

These whiskey bullet stones cool your drink down without diluting it – sounds like a touchdown to me!

Premium Bullet Shaped Whiskey Stones Gift Set for Men - 10 Bullets Chilling Stainless-Steel Whiskey Rocks - 11 oz 2 Large Twisted Whiskey Glasses, Slate Coasters, Tongs - Premium Set in Pine Wood Box

Keep the mini fridge nearby so you always have a cold one ready

hOmeLabs Beverage Refrigerator and Cooler - 120 Can Mini Fridge with Glass Door for Soda Beer or Wine - Small Drink Dispenser Machine for Office or Bar with Adjustable Removable Shelves