Giant Snorlax Bean Bag Chair – 6.5′ of Pokémon Plush Comfort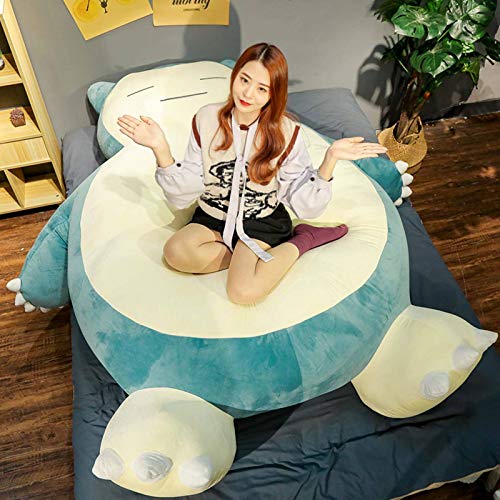 Get up sleepyhead! You sleep more than any other person I know. In fact, you were probably the inspiration behind this giant Snorlax bean bag chair. It's no wonder Snorlax is your favorite Pokémon since both of you can fall asleep anytime, anywhere!
A Snorlax pillow is a large pillow designed to look like the Pokémon, Snorlax. They are available in several sizes, in both stuffed and unstuffed versions. True to its nature, Snorlax pillows most often feature the Snorlax in a prone, sleeping position.
You can catch 'em all later – snooze in ultimate comfort with the help of this giant Snorlax bean bag chair!
This giant Snorlax bean bag chair is sure to help you sleep as soundly as, well, a Snorlax. The Pokémon pillow features a Snorlax design complete with its distinctive blue and cream color pattern and white accents. Snorlax is laying on his back, eyes closed, just snoozing the day away. When it comes to being a giant sized pillow, you won't be disappointed. This pillow is a whopping 6.5 feet tall! It's perfect for use on a bed, as a reading space, or even as a Snorlax bean bag.
It's important to note that this is an unfilled Snorlax bean bag pillow. This only means that you get to customize your filling to suit your personal tastes and needs! If you'd like to use the Snorlax bean bag as an actual pillow, polyester fiberfill or down filling are the two most common choices. For use as a bean bag or bedding alternative, shredded memory foam or bean bag beads are other great options. As a general guideline, around 66 pounds of filling is recommended for this giant sized Snorlax pillow. How much specifically you will use depends on how firm or soft you'd like it to be. An easy open zipper makes it simple to stuff your Snorlax just to your liking!
This giant Snorlax pillow is the perfect choice for the Pokémon fan in your life, from kids to adults alike! It's perfect bedroom décor, great for napping or watching TV, and makes a statement in any room. Bring one home today, but don't blame us if you suddenly get the urge to take a nap!
Additional Notes
Also available in 5ft tall and 3 ft tall models
Soft material is flammable – do not use near open flame
Newer product, perfect 5 star rating so far!
If relaxing on a Snorlax doesn't appeal to you, then maybe napping inside a Metapod sleeping bag will help you evolve!
You can also warm up as your favorite sleepy Pokémon with this plush, oversized Snorlax hoodie blanket!
When you wake up, start your day with this Pokéball waffle maker – it's the perfect compliment to a Snorlax pillow!
Why stop with just Snorlax? Set up some adorable Bulbasaur planters around the house!
When you need to relax on the water, take a ride on this giant inflatable Lapras pool float!
After bath or pool time, let your kids dry off in style with this hooded Pikachu towel!
Learn the secret to hatching Pokemon GO eggs fast in our helpful guide!