Snorlax Hair Towel – Quick Dry Pokémon Microfiber Hair Wrap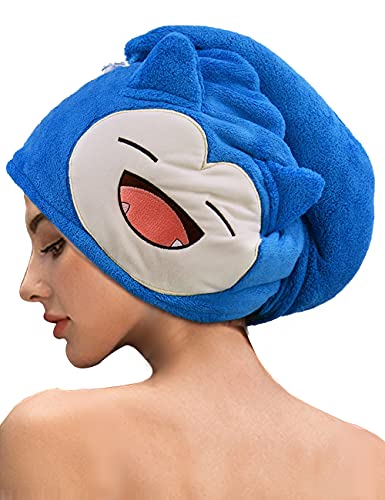 Oh no, I dripped water all over the floor again. Can I try out your Pokemon Snorlax microfiber hair towel, so I stop leaving puddles in the bathroom? We'll see if Snorlax is as good at drying hair as he is at sleeping!
A microfiber hair towel is a hands-free wrap for drying your hair. It helps remove moisture, while you can apply lotion, makeup, dress, or any other part of your daily routine. The microfiber helps eliminate frizz and prevent damage to your hair, making styling even easier.
This Pokemon Snorlax microfiber hair towel is the cute way to dry your hair!
Most times I get out of the shower, I think a Staryu has been hanging out with me based on the amount of water. Thankfully, this microfiber Snorlax hair towel is here to save the day and catch all those drips from wet hair.
The hair wrap towel is made from a soft, plush microfiber material. It's super absorbent, helping to pull all the excess moisture out from your hair. The fabric is also smoothing, helping to prevent frizz during the drying process. Plus, it's far less damaging to hair than the old vigorous towel scrubbing!
It turns out that aside from napping, Snorlax does a great job of laying around your head. This hair wrap is the same blue color as our favorite slumbering Pokemon. The top of the towel is accented with an embroidered grinning face and two adorable sewn on ears.
At 26" in length, this microfiber hair towel is great for long hair, but works equally well on short hair. Use this wrap on curly, straight, thin, thick, dyed, or really any type of hair!
Will a microfiber hair towel dry your hair completely?
No, a microfiber hair towel will not dry your hair completely. However, it does remove excess moisture, and in about 3 minutes' time your hair will just be damp to the touch. It significantly reduces the time needed with a dryer to finish the drying process.
While it's not a miracle towel that leaves you with perfectly styled hair straight out of the shower, I find it to be incredibly helpful. It does the heavy lifting while I complete the rest of my routine, and then I can quickly finish up and be ready to start the day.
How do you use a microfiber hair towel?
Here are the instructions for how to use the Snorlax microfiber hair towel:
Place the hood on top of your head
Pull your loose hair together, like you were going to make a low ponytail
Lay the hair inside the triangular end of the towel
Close the towel around the hair
Lift the end of the towel with the hair up over your head
Twist it until the hair is sealed in
Lay the twisted wrap over the top of your hooded head
Loop the elastic band around the button on the front of the hood to secure
Note that this is the opposite direction of some other hair towels, which will have you lean forward and put the hood at the base of your neck. This particular towel is this way to preserve the orientation of the Snorlax design.
Additional Notes
Suitable for children, teens, or adults
Best seller in Hair Drying Towels with a 4.8 star rating!
Towel measures 10 x 26 inches and weighs about 8 ounces
Snorlax slippers are the perfect way to keep your feet cozy on the cold bathroom floor!

chioture Home Unisex Slippers Cute Snorlax, Winter Warm Durable Anti Skid Grippers Slipper

Your littlest trainers may prefer this Pikachu hooded bath towel for drying off

Franco Kids Bath and Beach Soft Cotton Terry Hooded Towel Wrap, 24" x 50", Pokemon Pikachu

Keep your head covered outside too with a Gengar beanie 

Bioworld Pokemon Gengar Embroidered Cuff Beanie Cap Hat One Size Licensed New Purple

For another great time-saving styling tool, check out the wireless automatic hair curler 

Teleshop Inc. IGIA Smart Hair Curler in Gray

Rechargeable & cordless hair curler Built-in USB power bank Ionic ceramic technology protects scalding Automatically curls both directions Rechargeable 5000 mAh battery Intelligent temperature readings via an LCD screen 6 adjustable temperatures from 300℉ to 390℉ Great for any hair type! A must...