Autowit Fresh 2 Portable Mini USB Car Air Humidifier & Purifier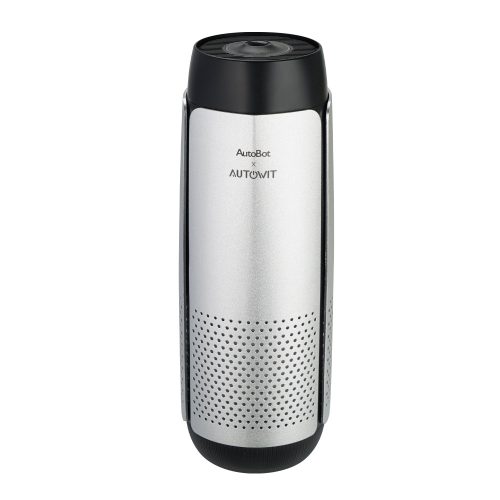 As soon as I turn on the heat in the car, I just feel like I'm drying out my skin. I'm so glad I got this Autowit Fresh 2 portable air purifier and humidifier combo to help. Not only do I feel better, but the air quality improvement also helps me breathe easier on the go.
A portable air purifier and humidifier combo is a small, USB powered unit that performs both functions simultaneously. It fits in the cupholder of a car, or neatly on a small space like a desk. You'll be able to enjoy clean, humidified air anytime, anywhere.
An Autowit Fresh 2 portable air purifier and humidifier combo improves your air quality anywhere you go!
Whether it's a stinky gym bag, dust from the vents, or just hot, dry air, a portable air purifier and humidifier combo is the best way to combat both.
This unit may be small for portability, but that doesn't mean you won't get a large benefit from it. The Autowit Fresh 2 performs 3 main air-related functions:
Humidifying
Purifying
Quality sensing
The 3-stage air filtration system removes pollen, smoke, dust, stinky odors and more thanks to nano silver, HEPA fold, and activated carbon filters.
If you suffer from allergies, or just forgot the milk in the car on a hot day, this filter has you covered. In fact, it can absorb the smoke from 10 cigarettes in under 20 seconds' time!
A built-in humidifier also keeps you comfortable with a pleasant mist. A refillable water tank makes sure you have just the right amount of moisture in the air. You'll get about 3 hours of use on a full tank and the unit will automatically turn off once depleted to prevent burnout.
An LED indicator lets you know what your air quality is looking like. It will change from green to yellow to red for good, acceptable, and poor quality warnings. This mini USB car air humidifier and purifier fits in the cup holder of a car, or has a leather strap for on the go, so you'll always be in the know.
Four adjustable air flow levels allow you to customize for your needs. Silent mode is just 35 decibels, so this super-quiet unit won't disturb coworkers if you put it on a desk. Even on a bedside table, you'll sleep right through it.
How do you use an air purifier humidifier?
Here is how to use the portable air purifier humidifier:
Unscrew the top
Remove and fill the reservoir with water, then replace
Screw the top back on
Press the power button on the lid to turn on
Short press the power button again to change the fan speed
Long press the power button to turn the unit off
Press the drop-shaped symbol to turn the humidifier on or off
The bottom of the unit also twists off, for access to changing the HEPA filter on an as-needed basis.
Can I use a humidifier with an air purifier?
Yes, you can use a humidifier with an air purifier. In fact, that's why this 2-in-1 unit contains both functions. It will clean, purify, and moisturize the air which improves overall air quality.
Since this unit is so compact, it's also a great way to humidify your car. This will keep you feeling better while driving in any season.
Additional Notes
Measures 8.5 x 3.1 x 3.1 inches and weighs under 1 pound
Only available in silver
Powered by included Micro USB cable (no internal battery)
Not designed for use with essential oils
If you need a unit for a larger room, check out this Levoit air purifier unit

LEVOIT H13 True HEPA Filter Air Purifiers for Allergies and Pets, Smokers, Smoke, Dust, Mold, and Pollen, Cleaner for Bedroom, Large Room with Optional Night Light, LV-H132, White

The Dyson Hot and Cool machine offers a heater, purifier, and fan all in one!

Dyson Pure Hot + Cool, HP02 - HEPA Air Purifier, Space Heater & Fan, WiFi-Enabled, For Large Rooms, Automatically Removes Allergens, Pollutants, Dust, Mold, VOCs, Blue

If you don't need the humidifier portion, check out this car air purifier instead

Car Air Purifier 3in1 Premium Stainless Steel Air Filter Ionizer w/Dual USB Quick Charge 3.0 USB-Eliminate Allergens Odor Smell, Smoke, Pets, Pollen Mold Bacteria w/Anti-Microbial Deodorizer

You may also enjoy this Zus smart car charger, which helps you locate your parked car!

nonda ZUS Smart Car Charger, Car Charger with App to Save Car's Location and Monitor Car Battery, 2 Ports Car Charger with Led for iPhone XS/Max/XR/X/8/7/6/Plus (ZU33BKRN)