Winter Olympic Indoor Curling Game Set with Hovering Stones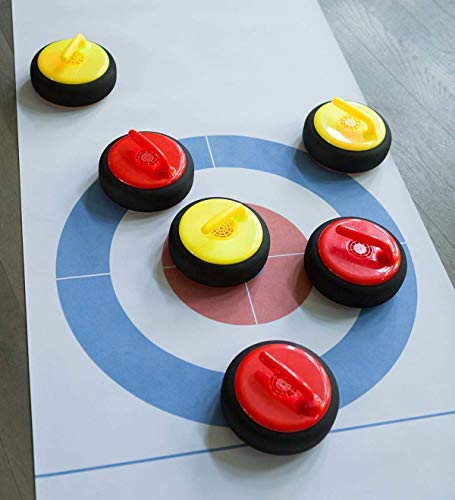 You want to take up curling? Have you been watching the winter Olympics again? Do you even know what curling is? You don't think it can be that hard to push stones around, huh? Well, it's a good thing I got this HearthSong indoor curling game. It will be great practice, and it's perfect for family game night!
An indoor curling game is a great way to practice curling without ice. While it's not identical, you can learn valuable strategies, concentration, and coordination associated with the game. Indoor curling can be played at home in a large open space by 2-6 players on two teams.
Bring some Winter Olympic action right to your living room with the HearthSong indoor curling game!
Gather the family for a good time with this HearthSong indoor curling game. This home curling game is designed for two teams with up to three people on each team and is great for kids and adults alike!
This is curling not on ice, instead using a 11½' L x 2½' W polypropylene mat. Aside from that, this indoor curling set is just like a miniature version of the actual Olympic game. You'll learn terms and rules as you play, and use the same types of concentration, coordination, and strategy as the real thing.
A hovering curling set is easy to set up for game night with family and friends. When you're done, simply sweep the mat gently to remove any debris. Then you can pack everything away in the convenient carry case for storage, or transport to the next venue.
It's also a fun Christmas or birthday gift for anyone who loves curling, family games, or has the spirit of competition!
Indoor curling game instructions:
Here are the instructions for how to set up the indoor curling game:
Place the mat on the floor
Insert 4 AA batteries into each stone and turn them to the 'on' position at the switch on the bottom of the stone
The stones will hover, emulating the flow over ice just like a real curling set!
One team uses the 3 red stone discs, while the opposing team gets the yellow set
Traditionally, curling is played with two teams of four players each. However, this home curling game works with 1-3 players per team, and each will have a chance to throw.
Indoor curling game rules:
Here are the rules for how to play the indoor curling game:
Players take turns pushing the hovering curling stones with their hands, down the mat towards the bullseye target (known as the house) at the end
If the stone leaves the board, or passes the house, it is disqualified
The object is to get as close to the center of the house, known as the "button"
Players may attempt to bump other players' stones away, similar to shuffleboard
Once all stones are tossed, the closest to the button receives 1 point
You also receive 1 additional point for any other stones that are closer to the button than any of your opponent's stones
The highest score after 10 rounds wins the game
Like regular curling, this hovering curling set has a textured surface on the mat that makes it easier to throw. You won't need any sticks or brooms for pushing in this home curling game, though. It's a game of both skill and strategy encompassing elements of bowling, chess, and shuffleboard!
Does an indoor curling game set work on carpet?
An indoor curling game set does not work well on carpet. It is best set up on a hard floor, such as wood, tile, concrete, or a similar surface.
Due to the size of the mat, you'll want to choose a large, open space with a flat surface to set up. This is most often a living room, gaming room, garage, or basement.
Additional Notes
Recommended for ages 3+
Each stone requires 4 AA batteries (for a total of 24), not included
4.4 star rating on Amazon
Comes with a handheld carrying bag for storage
After curling, set up this golf pool game and enjoy the combo of mini golf and billiards!

HearthSong Golf Pool Indoor Family Game-Includes Two Golf Clubs, 16 Golf Balls, Six Pockets, Green Mat, and Rails

If you enjoy running around a bit more, then kick around this air hover soccer ball indoors!

BROADREAM Kids Toys Christmas Stocking Stuffers Hover Soccer Ball, Rechargeable Air Soccer with Colorful LED Light Indoor Fun Toys Birthday Gifts for Boys Girl Toddlers Age 3 4 5 6 7 8 9 10 Years Old

Are you more into the Summer Olympics? If so, then go head to head with this Pop-a-Shot Basketball arcade game!

Pop-A-Shot Official Dual Shot Sport Arcade Basketball Game

When it comes time for outdoor summer fun, try out the Spikebal game set which is a hit and professional sport!

Spikeball Game Set - Played Outdoors, Indoors, Lawn, Yard, Beach, Tailgate, Park - Includes 1 Ball, Drawstring Bag, and Rule Book - Game for Boys, Girls, Teens, Adults, Family