Air Hover Soccer Ball – Play Indoor without Damaging Furniture!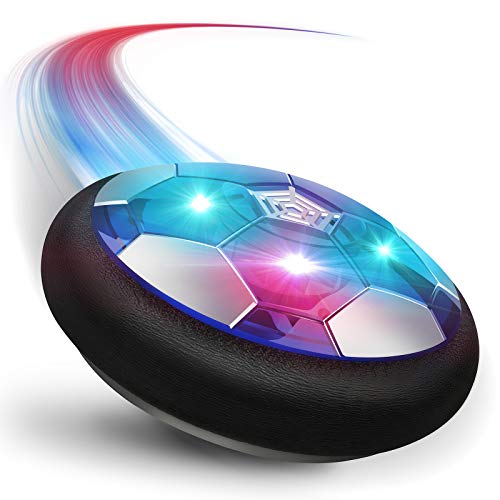 Do you or your kids love soccer? Do yinz also live somewhere that snows during the winter months? If so, then you probably only have a few beautiful months outside to enjoy your favorite sport. I suggest you check out this hover soccer ball which is the indoor approved answer to traditional soccer!
A hover soccer ball works by inflating and then sliding around on a cushion of air. This allows it to be used on any smooth surface, such as tile, carpet, wood, brick, and more. An air soccer ball is safe for use both indoors and out, and a safer alternative to a traditional soccer ball.
Now you can play air soccer indoors with the hover soccer ball!
If you've ever caught your kids trying to kick around a soccer ball in the house, I'm sure you've had visions of broken windows, lamps, vases, and more pass before your eyes. BROADREAM is pleased to offer the innovative answer to your woes with their hover soccer ball!
This air soccer ball features a padded bumper which prevents damage to walls and furniture as it bounces around your home. There's no need to worry about your hover ball flying through the air and knocking things down like a traditional ball!
Made of safe non-toxic materials, the hover soccer ball also features colorful LED lights. This allows you to play both day and night!
The hover ball is a great gift for kids of almost all ages!  Suitable for kids' parties, birthday parties, school events, summer picnics, playgrounds and more, it will provide entertainment while teaching your kids sportsmanship, hand eye coordination, and just expending some of that extra energy!
How does the hover ball work?
The hover ball works by self-inflating, and then gliding around on the cushion of air. A built-in motor powers the air cushion, which guides the ball safely over most smooth flooring surfaces.
Like a traditional soccer ball, an air soccer ball still requires someone to kick it to provide the forward propulsion. The hovering simply takes the place of the typical rolling motion that a soccer ball would have.
Does a hover soccer ball work on carpet?
Yes, the hover soccer ball works on low pile carpet. Very thick or plush carpet will tend to impede movement and prevent good floating.
This air soccer ball is also compatible with hard, smooth floors such as tile, cement, and hardwood.
Is the hover soccer ball rechargeable?
Yes, the hover soccer ball is rechargeable. Simply plug it in via the included USB charger, and in only 1.5 hours, it's fully charged and ready for play.
If you prefer, use a USB AC adapter for charging, but this is not included with the hover ball.
Additional Notes
Has 4.4 Stars with over 500 ratings on Amazon!
Ranked as a best seller in Toy Soccer products
Recommended for ages 3 and up!
Enjoy this GlowCity LED soccer ball for outside play even at night!

GlowCity Light Up LED Soccer Ball Blazing Red Edition|Glows in The Dark with Hi-Bright LED Lights - Size 5

Improve your kicking skills in the backyard with the 7' soccer scoring challenge 

The 7' Soccer Scoring Challenge

This is the 7'-tall soccer goal that challenges players to score points by kicking soccer balls into its six built-in targets. Combining the skills of soccer with gameplay similar to that of arcade bowling games, the net captures balls in one of the six holes and lets it fall to the ground for...

Play finger soccer by flicking your marshmallows into this soccer mug with a goal – perfect for hot cocoa!

The Soccer Mug With A Goal

Recreate the Winter Olympics in your living room with an indoor curling game set with hovering stones!

HearthSong Curling Zone Indoor Family Game with Six Battery-Operated Hovering Stones and 11½'L x 2½'W Mat

If you enjoy a hover sliding soccer ball, then try out this giant slip and slide bowling waterslide! You become the bowling ball!

Wow Watersports Strike Zone 19-2010, Giant 25 Foot Water Slide with Inflatable Pins and Sleds