Wine Coffee Beans – 3 Different Barrel Aged Whole Beans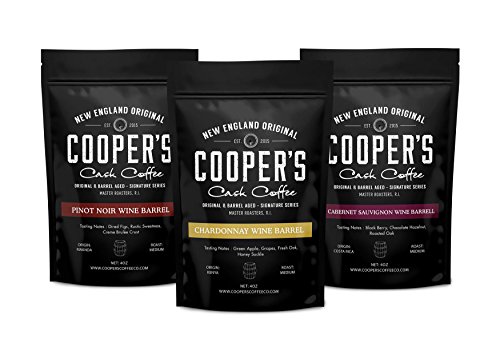 Am I drinking wine for breakfast? Well, it's 5 o'clock somewhere, right? You think I should switch to wine coffee beans instead? I guess I could use the caffeine, and that does seem more socially acceptable.
If you love wine and coffee, then enjoy a freshly brewed beverage made from wine coffee beans. These whole beans are carefully roasted, then aged in retired wine barrels to impart that delicious aroma and flavor. Get your energy for the day, while relaxing in a vineyard.
Combine your morning with Happy Hour when you brew up these wine coffee beans!
I'm right there with you. Some days, my coworkers have me reaching for a glass of Chardonnay in the morning, but no more thanks to wine coffee beans. See, these great coffee beans are truly the best of both worlds. Smooth, rich coffee accented by wine aromas and flavor profiles – I love it!
Coopers produces small batch, artisan roasted coffee beans that have aged for 45-60 days. Each one is carefully curated to bring you the best flavors out of their Grade 1 coffee beans.
In this giftable set, you'll receive three 4-ounce bags of their caffeinated cask-aged wine coffee beans:
Chardonnay, paired with a Medium roast from Kenya. It contains notes of green apple, grapes, fresh oak, and honeysuckle
Pinot Noir, paired with a Medium roast from Rwanda. Here, you'll experience the tastes of figs, rustic sweetness, and a crème brulee crust
Cabernet Sauvignon, paired with a Medium roast from Costa Rica. Experience tones of blackberry, chocolate hazelnut, and roasted oak
Please note that the coffee beans are only available in whole bean form, not ground. You will need a grinder to process them down for brewing.
If you're not a fan of wine, or prefer pre-ground coffees, check out their whiskey and bourbon coffee beans as an alternative.
Do wine infused coffee beans contain any alcohol?
No, these wine infused coffee beans do not contain any alcohol. The whole, roasted coffee bean is aged in a retired wine barrel. While it picks up some stored flavors, there is no liquid involved, nor residual alcohol left in the casks.
If the coffee beans are soaked in wine before roasting, then there will be some residual alcohol. However, that is not the case with these Cooper's Cask wine barrel aged beans.
Additional Notes
No artificial flavorings added
Rated 4.5 stars with over 200 reviews!
If you're looking to grab a grinder, check out this great Smeg coffee grinder 

Smeg 50's Retro Style Aesthetic Coffee Grinder, CGF01 (Black)

You may also enjoy this Geek Grind Goblin coffee, perfect for gamers and geeks!

Geek Grind Pathfinder Goblin Gulp Roast Whole Bean Coffee - 12oz Bag

Don't forget your coffee beaker mug to drink your crazy brew!

Caffeine Beaker Mug, Caffeine Molecule Mug - Chemistry Mug 16 oz Borosilicate Glass Coffee Mugs with Handle and Measuring for Coffee, Latte, Tea or Hot and Cold Beverage, - Tea Coffee Mug by Amugo

Not sure what wine flavors you even like? Treat yourself to a wine aroma kit and learn just like a sommelier!

Master Wine Aroma Kit - 88 Wine Aromas (Wine Game and Wine Aroma Wheel Included)
Wine Barrel Aged Whole Coffee Bean Box Set, Sample Gift Set - Chardonnay, Pinot Noir, Cabernet Sauvignon Barrel Aged Coffee, 3x 4oz Bags Box Set 12oz Total Whole Bean
as of July 27, 2022 8:47 pm
Features
Whole Bean Coffee: Get 3 Wine Barrel Aged Coffee Flavors in a handsome box set. Grade 1 coffee beans which score high in a taste profile. You won't find a blended coffee here. Our fresh beans maintain their flavor longer than lower grade beans with a flat taste profile.
Pinot Noir Paired With Single Origin Rwanda Beans: A rustic sweetness of dried figs. This medium roast coffee gives way to a heavy sweet body, like the caramelized sugar from a creme brule crust.
Chardonnay Paired With Single Origin Kenya Beans: A subtle tartness of green apples and green grape skins. A full body coffee that finishes slightly sweet with notes of honey suckle nectar.
Cabernet Paired With Single Origin Beans From Costa Rica: The honeyed process method imparts sweet flavor and complexities into this coffee. The are then roasted to reveal dark fruited notes and chocolate hazelnut with a toasted oak finish.
Individually Crafted: We are small batch artisan roasters. Our Master Roaster hand writes the roast date, lot number, and initials every bag (box sets not included). Appreciate the work of a master craftsman. If for any reason you're not satisfied with our imported, high-end coffee beans, just let us know within 30 days for a full refund or exchange for any single origin or barren aged coffee.
COFFEE ANDES EXOTIC RED HONEY (WINE) ,16oz, (WHOLE BEAN)Single Origin ,100 Colombian Coffee ,Medium Roast ,Coffee Specialty,Andres Salinas Signature
 out of stock
as of July 27, 2022 8:47 pm
Features
Medium Dark Roast | Sweet aroma, a very rich flavor, and excellent balance of acidity and body
Cabernet Sauvignon Wine Barrel Aged Coffee - Whole Bean Coffee, Guatemala Huehuetenango Whole Bean Coffee Aged in Cabernet Sauvignon Wine Barrels by Oak & Bond Coffee Co. - 10 oz
as of July 27, 2022 8:47 pm
Features
FLAVOR NOTES: The savory red fruit flavors of Cabernet Sauvignon combine with the luscious dark chocolate, plum, and candied pecan notes of our washed Guatemala Huehuetenango coffee in barrels from Napa-based wineries. The result? A sweet, smooth, rich taste profile sure to impress.
ROAST: Sourced from the finest coffee farms in Guatemala, our 100% Arabica Huehuetenango coffee beans are expertly roasted to a perfect Medium level to accentuate the luscious flavors and high-quality taste, and aged in wine barrels from Napa wineries known for exceptional Cabernet Sauvignon.
BEAN ORIGIN: The Single Origin coffee beans used in our Guatemala Huehuetenango medium roast are grown by generational farmers at an average of 1600 meters (5250 feet) above sea level. Huehuetenango, which means "Place of the Ancients," is a remote village located in the highest mountains in Guatemala. Its unique climate encourages the cultivation of remarkably flavorful coffee beans.
ROAST LEVEL: A medium roast level perfectly complements the bright, fruity flavor imparted by Cabernet Sauvignon wine barrels for a full-bodied brew that carries notes of dark chocolate, plum, and candied pecan. Enjoy it as a delightful way to wake up in the morning, or the perfect pairing with a glass of whiskey or wine at night!
FRESHNESS / QUALITY: We don't cut corners at any point in our process. Every Oak & Bond coffee is hand-crafted with passion to create a delicious, high-quality result. We continually sample and cup during barrel aging for rigorous quality control, and pack each gold-stamped coffee bag in an elegant decorative canister for sealed-in freshness.
Putri Coffee WINE COFFEE High Caffeine | The World's Most Luxurious Wine Coffee | No Alcohol | 50 Days Total Process Fermented Sundried Coffee Beans Gayo, Sumatra | By Women Farmers| 6oz Whole Bean Roasted
 out of stock
as of July 27, 2022 8:47 pm
Features
SPECIALTY GOURMET COFFEE BEANS – Rich, fruity, orange and indulgent, wine coffee is a unique flavour and process. This delicious blend is crafted to superior standards throughout a lengthy and detailed production process. The result is coffee you'll be proud to show off, but might not want to share
FERMENTED FOR A FRUITY FLAVOR – No need to nominate a designated driver as this coffee doesn't contain alcohol. The fancy-schmancy name is inspired by the crafting process. The coffee cherries including their beans are fermented and sundried for up to 40 days, depending on the weather, where they can take 50 days of total process. This gives a lusciously fruity taste, so forget the syrup and sip this coffee as nature intended
DRIED IN EQUATORIAL SUNLIGHT – We utilize Sumatra's unique climate, drying the coffee cherries in the sun. The weather dictates the length of the process, which makes for an exclusive, desirable coffee
The World's Most Luxurious Wine Coffee– From choosing the red coffee cherries to separating the green beans, every stage is performed manually by women farmers. Such attention to detail guarantees our wine coffee is of Grade A quality
LOVE IT OR YOUR MONEY BACK – We are small women owned business based in Seattle. We roast our coffee in small batch every week to maintain optimal freshness and flavor. Not satisfied? Contact us for a replacement of your choice or a full refund. If you're seeking a sophisticated brew with an interesting backstory that'll impress your friends, add our wine coffee to your cart