Wearable Sled Legs Let You Run and Slide on Your Knees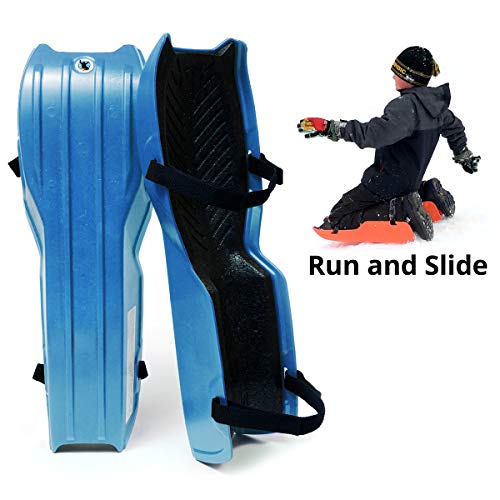 Are yinz tired of having to dig sleds out of the garage rafters year after year for a weekend of sledding with the kids? If so, then you need to check out these Sled Legs! This unique product is guaranteed to be far more effective than rubbing your snow pants down with Vaseline (not that we know from experience…)
Sled Legs are wearable snow sleds that strap on the lower half of your leg. Impact foam and a durable shell absorb ground hazards and prevent injuries. Simply secure them, then run and slide. These sleds are highly portable, carried right on your body, and space saving too.
Sledding is no longer a drag with sled legs, the wearable snow sled!
These Sled Legs are an innovative alternative to a traditional winter sled! Far more compact, you don't need to worry about space constraints. You can fit multiple pairs in your vehicle with ease. No need to fight with the bulk of carrying a full toboggan around!
Just strap on these leg sleds and go – you can run, stand and slide with them on! Two straps secure Sled Legs around both your knees and ankles. No more dragging your sled back up the hill, just walk back up and you're good to go again!
It's like taking the best of both worlds of sledding and skiing, then mixing them into one activity enjoyable for the whole family.
These wearable snow sleds are offered in two sizes, one for adults 5' and taller with a 250-pound maximum and a smaller size for kids & teens between 4' and 5' and under 125 pounds. Grab your Sled Legs today and make some new winter memories with the whole family!
Are Sled Legs safe?
Sled Legs are as safe as regular sledding, when used as directed. They are only meant to be used on snow, as ice can be extremely dangerous due to loss of control. Additionally, they are not intended to be worn over jumps or anything that creates more than minor airborne motion.
These wearable snow sleds are made from a sturdy ABS plastic exterior and lined with a comfortable molded foam interior. You know this material is shock absorbent since this is the same stuff used in car bumpers!
This prevents discomfort in your legs and knees while sliding and helps mitigate impact from minor rocks and twigs on your favorite hill.
Your feet won't drag on the ground when using Sled Legs because of the innovative built-in ramp design. This design still allows you to use your toes like a rudder for steering and stopping, offering even more safety and control than some traditional winter sleds!
As with any sled, there's always some chance of injury. It's recommended to take proper precautions when using wearable snow sleds. Wear safety gear, stay away from traffic, and avoid dangerous weather conditions. Never, ever attempt to tow someone on Sled Legs with a vehicle.
Additional Notes
Available in a variety of colors such as Blue, Green, Pink, or Red!
Only 3.6 pounds
Rated 4.3 stars with over 250 reviews!
No winter day is complete without a snowball fight, so be ready with this snowball launcher!

Cabilock Snowball Launcher Snowball Blaster Snowball Maker Mold with Safety Goggle Snowball Fighting Toy for Children Adult Outdoor Winter Games Toys

If you still want to ride something down hill, then grab this pack of 2 inflatable snowmobile sleds!

FUNBOY Giant Inflatable Snowmobile Snow Sled - Bundle, Pack of 2, Winter Snow Sled, Perfect for Holiday Adventures

The Geospace original ski scooter will let you ride down the snow or sand like you're on a snowboard!

Geospace Original LED Ski Skooter: Fold-up Snowboard Kick-Scooter for Use on Snow, Assorted Colors (Red, Green or Blue)

Slide down the hill on a T-Rex with this inflatable dinosaur snow tube!

FindUWill Inflatable Dinosaur Snow Tube, 64.9 inch Giant Winter Sled, Reinforced Handles & Double Layer Bottom Sled, Animal T-Rex Snow Sledding for Kids and Adults (Dinosaur)

The Sustain heated jacket features 3 carbon fiber heat cores to keep you warm in the cold!

HOMICREATIONS Sustain Heated Jacket in Black, Size Medium

This is the ultimate jacket that is full of features and functions but yet designed minimally. Simple and minimal lines on the outside, details all over the jacket inside out. Light weight but yet warm to keep you agile and move around without weighing on your body. 12 pockets, largest fits 9.7"...

If you already have a winter jacket, you still may find warmth wearing an Ororo heated hoodie 

ORORO Heated Hoodie with Battery Pack (Medium, Gray)