Potato Parcel as Seen on Shark Tank – Send Potato Mail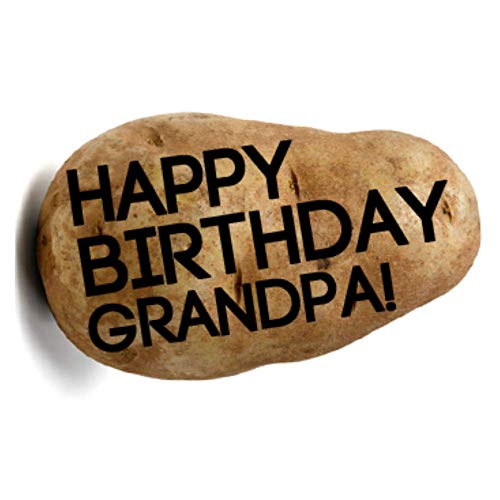 I've been looking for a fun way to jazz up the traditional card giving practices for holidays. That's why I'm so glad I found the Potato Parcel from Shark Tank. It's a potato printed with photos and a message to send to your loved ones. That's sure to turn some "eyes"!
Goodbye paper cards and hello Potato Parcel. This Shark Tank invention is the innovative and unique replacement to the standard greeting card giving. It's printable in a variety of designs and messages, making it suitable for nearly any holiday and any age recipient.
Mail a potato to your loved ones with the help of Potato Parcel!
Now you too can mail a printed potato to your friends and family with the Potato Parcel, as seen on Shark Tank. It's perfect for holidays, birthdays, and just because you're thinking of someone. I mean really, anytime you'd send a card, just reach for a potato instead.
Your potato is fully customizable, able to be printed with both images and words (or choose your preference between them). Upload your face, your dog's face, or your favorite meme. Any image (sorry no lewd ones allowed) under 7MB will work.
Add a personalized message for the recipient. It's entirely up to you of course, but I like the Potato Parcel for:
Happy Birthday wishes
Romantic poems for Valentine's Day
Get well soon notes to make folks smile
Sending memes to friends
Addressing dad jokes to the kids
Office puns for coworkers
You'll have 130 characters to come up with the perfect expressions for your intended audience.
This potato comes shipped in a gift-ready box. Up the ante by adding the special birthday package with a paper cake, balloon, and streamer. Alternatively, satisfy their sweet tooth with a snack pack filled with gummy candies.
The Potato Parcel currently only ships within the United States and is not generally available internationally. There is some limited availability to Canada, Australia, the UK, and Europe so please check when ordering if you need to send it there.
Can you eat a Potato Parcel?
While potatoes are generally an edible food, it is not recommended to eat a Potato Parcel. With the addition of the ink to the outside, and non-food safe transportation practices, eating one is probably a bad idea.
However, this potato still decomposes and is suitable in your compost pile for growing, you know, other potatoes in your garden. Now that's an eco-friendly gift!
How do you preserve a Potato Parcel?
The short answer is you can't really preserve a Potato Parcel for a long period of time. The best method of preservation is to take a photograph and have it framed. This is the only way to preserve a Potato Parcel permanently.
If you're only looking to maintain the potato for a short period of time, the easiest method is to wrap it and place it in the freezer. Defrost and share it with your family, and then dispose of it afterwards. Alternatively, allow it to sprout over water and then plant it.
You cannot set the potato in resin, as that requires dehydration to be successful, which will alter the size, shape, and appearance of your Potato Parcel. Placing it in some sort of preservative (like formaldehyde) will generally dissolve the design. I know you love it, but it's just not meant to be!
On its own, the Potato Parcel should last 3-5 weeks of enjoyment before it starts getting funky and you'll want to send it on its way.
Additional Notes
Printed on an Idaho Russet potato
Rated 4.5 stars with over 400 reviews!
You might want to grab some potato grow bags to plant some tubers after getting one of these fantastic spuds

Rouffiel Potato Grow Bags Upgrade, 2 Pack 10 Gallon Plant Grow Bag with Flap & Handles, Breathable Non-Woven Fabric Planter Pots Planting Fruit, Vegetable, Flower for Indoor & Outdoor

Don't know what they are? Learn if potato grow bags work and how to plant them at home!
Looking for more hilarious gift ideas? We love these roast beef bath salts, sure to be a relaxing soak!

Roast Beef Sandwich Bath Soak – Amber Bath Salts Luxury Bath Funny Girlfriend Gifts for Best Friends Bath and Body Gifts for Men Sea Salts Funny Spa Gifts for Men Weird Gifts Au Jus French Dip

Wrap things up in these prank gift boxes. After all, who wouldn't want a cheese printer?

Prank Pack "Cheese Printer" - Wrap Your Real Gift in a Prank Funny Gag Joke Gift Box - by Prank-O - The Original Prank Gift Box | Awesome Novelty Gift Box for Any Adult or Kid!

Before sending a gift to another country, review our helpful guide on if Customs will unwrap presents to save yourself a lot of hassle!
Make your birthday cake sweeter with these chocolate edible candles!

Let Them Eat Candles Edible Cake Decoration, Dripless, Milk Chocolate, Circle Swirls, Set of 3