Roast Beef Bath Salts – Soak in the Tub with Luxury Sea Salts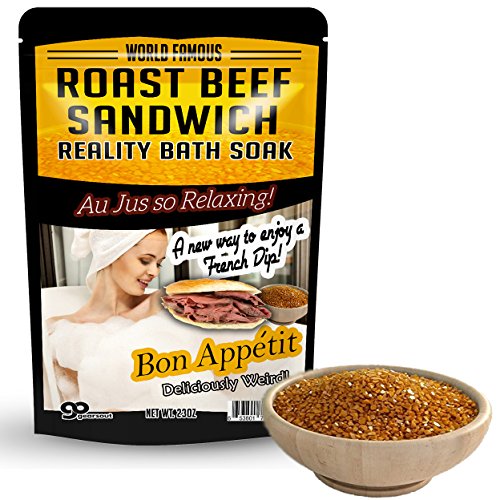 Is that the sound of you humming while you eat? I never thought someone could be so excited about a roast beef sandwich. I originally thought this was going to be a gag gift for you. Now I'm thinking that these roast beef bath salts are going to be your favorite thing ever!
A bath soak uses a scented salt-based mixture in combination with hot water in your bathtub. Bath soaks are designed to help ease aching muscles, soothe skin, and generally relax the user. They are available in a variety of scents, from fruit to floral, to novelty scents as well.
Au Jus thought we were joking about roast beef bath salts, didn't you?
It's no joke, these roast beef bath salts will take you on a journey to the deli counter as you soak in the tub. You'll become the French Dip as you sink into a bathtub filled with these luxurious bath salts. Made with real sea salt, they're designed to relax, soothe, and help you melt the stress away. You'll be as tender as slow-cooked roast beef when you're done!
Okay, so you won't come out smelling like a roast beef sandwich (thankfully). The real scent of these bath salts is an appealing brown sugar and fig scent. The packaging though, is definitely designed to fool the unsuspecting recipient. It's the perfect choice for a stocking stuffer, a white elephant gift, or for any roast beef lover in your life! The (real) scent is pleasing for both men and women, so it's perfect for anyone.
We all know being an adult is hard, so why not lighten it up with a soak in the tub and the help of roast beef bath salts? Create the ultimate spa basket or gift basket for family and friends. Or, to heck with it, just throw it in a fast food bag instead of wrapping it. Some relaxation and laughter is just what the deli man ordered!
Additional Notes
Tempting as it may be, do not eat
Contains 1.5 pounds of bath salts
A bath bomb version is also available – they smell like root beer!
Rated 4.7 stars – it's a hit!