Broth Bombs – Seasoning Mix Explosion of Fizzy Flavor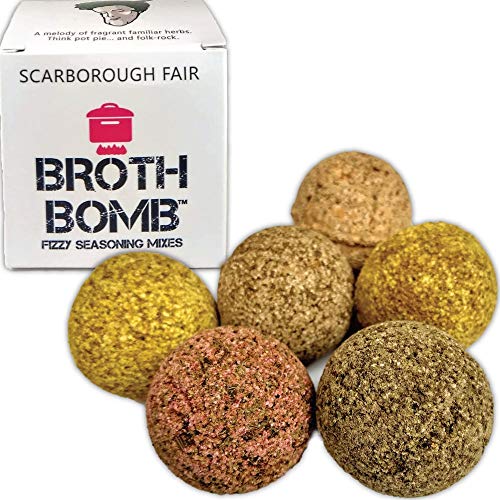 No, I'm not throwing bath bombs in the pot for dinner. Did you really think I'd try to feed you soap? These are broth bombs that are a seasoning mix. Fine, I'll agree that they look like bath bombs, but you won't find these herbs and spices in your tub. So, what is a broth bomb?
A broth bomb is a blend of seasonings or spices designed for use in cooking. While they look similar to a bath bomb, they are instead designed for consumption. Where they do share traits is in the way they work. Just drop them in the water, and they'll dissolve to release the ingredients.
Broth bombs are the ultimate meal prep helper for your busy life!
Broth bombs help you do meal prep for the week by providing a flavorful base to inspire you. Each bomb makes enough to season six 24 ounce portions of food. That's enough for the whole family for nearly an entire week! Each bomb is gluten-free, soy-free, vegan, and low sodium. Even if you have family members on restricted diets, that won't stop you from using broth bombs to make things easier. They'll even come with recipes for family meals to inspire you!
This variety pack comes with 8 different flavor bombs to get you started. You'll receive these great options:
Drops of Jupiter. This bomb is savory sage with a hint of sweetness and a kick of black pepper. It's great used in all sorts of savory soups.
Ryeless Red Rueben. A fennel and caraway base inspired by the classic deli sandwich. Perfect with cabbage or sauerkraut-based soups and stews.
Drunken Dare. Basil forward with cayenne pepper for a punch. Great in lentil stew!
Gesundheit. A mix of four spices including ginger that help reduce inflammation, pairing nicely with Asian inspired soups.
Spiced Antiquity. This warm and cozy blend features earthly, aromatic spices such as cloves, and goes great in split pea soup.
Speckled Rain. Chili base featuring cumin and a mild pepper blend.
Stone Broke Dharma. Chickpea lovers unite – this blend has curry and garam masala.
Scarborough Fair. This blend features rosemary and thyme, reminiscent of Grandma's pot pie. Perfect for white bean and kale stew.
With these savory starters, you'll create a variety of soups, stews, chilis, curries, and more! They even tenderize beans, making for a handy cooking helper. Don't worry, the broth bombs themselves will dissolve completely during the cooking process. You're left with seasoning, a touch of vinegar, improved texture, and more importantly, great taste!
Additional Notes
Stop worrying about watching over your soups and sauces thanks to this automatic pot stirrer!
Handmade in Florida, USA
Each flavor broth bomb can also be purchased individually
Achieve cooked all day flavor in under an hour!
Perfect for busy families – makes a great Mother's Day gift too
Included recipes feature canned and frozen additions to cut down on prep
May substitute other fresh ingredients of equivalent quantity, if preferred
Store leftovers or pre-portioned meals in your favorite containers (a 3 cup capacity holds 24 ounces, or one portion)
Recommended for ages 14+ (children should have adult supervision in the kitchen)
Food should be heated to at least 160F for safety
Each ball only contains herbs, spices, salt, baking soda, and citric acid
No other foods (such as legumes, beans, peas, etc) included
Average salt content is about 410 mg per one cup of prepared food
Shelf stable for 1 year, store in a cool, dry place
4.5 star rating with 40 reviews and counting!
Show that you mean business when it comes to seasoning your food with this 36 inch giant pepper grinder!