Automatic Pot Stirrer for Cooking without the Time Commitment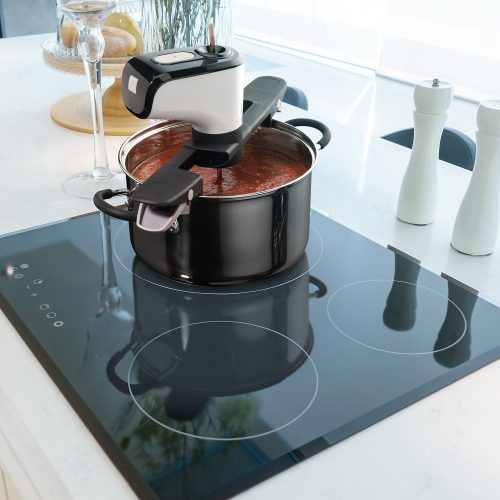 I feel like I need to grow two more hands to be efficient in the kitchen. I don't know how these chefs manage to create such perfectly timed multiple courses. Maybe an automatic pot stirrer for cooking will help, at least when it comes to soups and sauces.
An automatic pan or pot stirrer works to provide you a helping hand in the kitchen. Simply clamp the arms on the side of your pot, adjusting to fit as needed. Then, turn the stirrer on and watch it work. It stirs your sauces and soups to prevent burning, while you stay hands-free.
This automatic pot stirrer makes great sauce, and with no family drama!
Thankfully, this automatic pot stirrer is a kitchen helper, not the family member who makes you break out the wine. The Saki is designed to stir items in your kitchen pots and pans, leaving your hands free for other things.
Use the Saki automatic pot stirrer for:
Soup
Stew
Sauces
Porridge or oatmeal
Risotto
Pudding or custard
Gravy
Reductions or glazes
Anything else needing constant or frequent stirring
Choose from two different speed settings – to find the one that's just right for what you're cooking!
This pot stirrer features adjustable arms, so it fits a variety of sizes of pots and pans. Any vessel from 6 to 10.2 inches in diameter and 4 to 8 inches in height is compatible!
Since the Saki features a BPA free plastic blade, it won't scratch any finish on your nonstick or glazed pots. So, take the time to go chop some veggies or work on the rest of dinner. Your sauces are under control!
Now that things are way easier in the kitchen, I'm going to start working my way through the 65 best fall soups. I'm sure we'll find a winner there!
Additional Notes
Cordless and rechargeable; full charge requires about 4 hours
Charging cable requires AC 120V (US) power supply
These broth bombs are a quick and easy way to get your soup base started
With all this soup creation, learn why you should invest in a Dutch oven. You'll thank me!
While this pot stirrer is a must have in my house, there are a lot of other great kitchen utensils to explore. Check out the essential kitchen tools every home cook needs to fill out your kitchen repertoire!
Serve up your soups and stews with an adorable Nessie ladle set. There's also a colander and a tea infuser – a whole meal's worth of fun!
There's nothing better than fresh herbs to garnish your soups and sauces with. Just because summer is over doesn't mean you can't enjoy them. Start an indoor herb garden and take your cooking game to the next level!