Ninja Foodi Dual Zone Air Fryer: The Ultimate Review!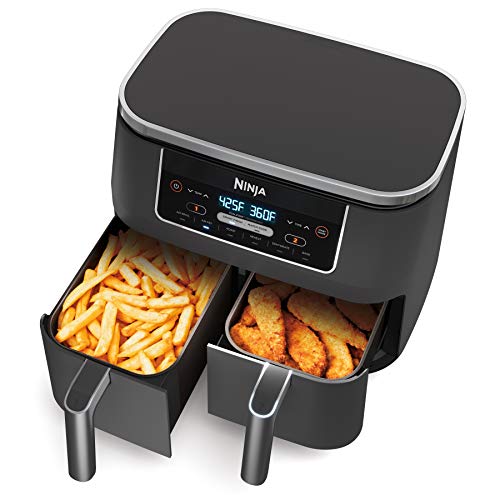 I heard the hype about air fryers and always wondered if they were as amazing as everyone said. The Ninja Foodi Dual Zone Air Fryer is actually the second air fryer I have ever owned. After learning from the first one, I knew what features would really help take my cooking game to the next level!
In this comprehensive review, I'll cover everything you need to know about the Ninja Foodi Dual Zone Air Fryer, including its standout features, performance, ease of use, cleaning, and more.

on Amazon
This 6-in-1 air fryer can also dehydrate, roast, bake, and more with Smart Finish Technology
Introduction to the Ninja Foodi Dual Zone Air Fryer
The Ninja Foodi Dual Zone Air Fryer (model DZ201) is an 8-quart multi-cooker that allows you to air fry, air broil, roast, bake, reheat, and dehydrate.
What makes this air fryer unique is the dual zone technology with two independent 4-quart cooking baskets. This allows you to cook two foods at once without flavor transfer.
The Ninja Foodi Dual Zone Air Fryer features 1500 watts of power and can heat up to 450°F. It comes with a 6-in-1 cooking functionality, nonstick crisper plates, and an easy to clean basket design.
If you're cooking for a larger family, Ninja also makes a 10 quart version of the Dual Zone air fryer with two 5-quart baskets.

on Amazon
With two 5qt air fryer baskets and Smart Finish Technology, you can cook foods for the entire family
Overall, the Ninja Foodi Dual Zone air fryer is perfect for quick weeknight meals, full family dinners, and crisping up your favorite fried foods with 75% less fat. Keep reading for my full review!
Unboxing the Ninja Foodi and First Impressions
When my Ninja Foodi Dual Zone Air Fryer arrived, I was excited to unbox it and see the quality first-hand.
Right away, I could tell this was a well-built appliance made of solid construction. The components feel sturdy, from the stainless steel body to the thick crisper plates.
Inside the box, you get the air fryer unit, two nonstick 4-quart cooking baskets, two nonstick crisper plates, and an instruction booklet with recipes. No complicated assembly required!
I was surprised by the heft of the appliance. At nearly 18 pounds, it has a solid feel and stays put on the counter while cooking. The footprint is quite large at 15.63 x 13.86 inches, so make sure you have enough counter space.
One thing I appreciated was the sleek modern design. Most air fryers are bulky plastic eyesores, but this Ninja dual zone model has a nice stainless steel finish that looks great on my black countertop.
Upon taking the Ninja Foodi out of the box, I was very pleased with the quality and design. Next it was time to put it to work!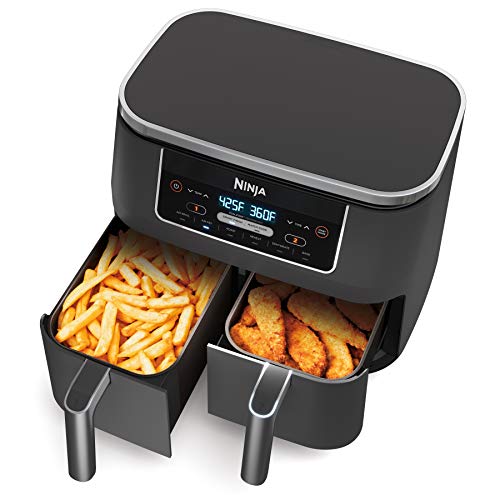 Key Features and Benefits
Here are the standout features that make the Ninja Foodi Dual Zone Air Fryer a cut above the rest:
Dual Zone Technology – This is by far the biggest benefit. The two independent cooking zones allow you to cook two foods at once. You can air fry in one zone, while baking a side dish in the other.
6-in-1 Functionality – This multitasker can air fry, air broil, roast, bake, reheat, and dehydrate. That covers all your air frying and more!
Match Cook Setting – Easily sync cooking settings across both zones with the touch of a button.
Smart Finish – The Smart Finish feature automatically adjusts cook times so both zones finish at the same time. Have hamburgers and french fries ready at once with no more guessing!
1500 Watts of Power – Strong air frying performance for fast, crispy, golden results.
105°F to 450°F Temperature Range – Precise temperature control for perfect cooking.
8 Quart Capacity – Two 4-quart cooking zones provide plenty of room for cooking mains, sides, and appetizers simultaneously.
Easy to Clean – The nonstick crisper plates and baskets go right in the dishwasher for quick cleanup.
As you can see, the innovative Dual Zone technology really makes this Ninja air fryer stand out. Now let's see how it performed in real world cooking tests.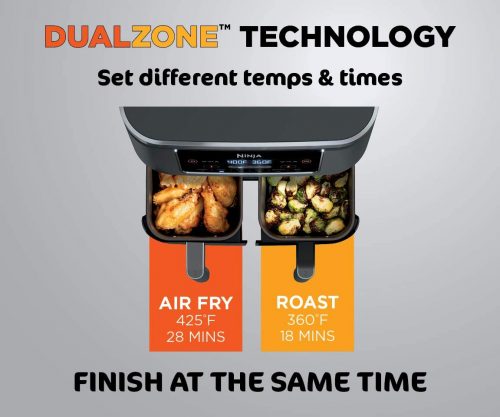 Testing Out the Ninja Foodi Dual Zone Air Fryer
I couldn't wait to fire up the Ninja Foodi and put it to work cooking up some tasty recipes! Here are some of the dishes I whipped up:
Crispy Chicken Wings & French Fries – This classic duo is an air fryer staple and came out amazing! I tried both fresh and frozen wings, but I did frozen first. The frozen chicken wings got deliciously crispy in 10 minutes. Meanwhile, the french fries came out golden brown with that perfect outer crunch.
Steak & Veggies – I cooked New York strip steaks in one zone, while roasting broccoli in the other. Both came out cooked to perfection and ready at the same time thanks to the Smart Finish feature.
Cookies & Bacon – Just to see if I could, I was able to bake chocolate chip cookies in one zone, while cooking bacon nice and flat in the other zone. There will be bacon grease after though!
Dehydrated Herbs – Instead of throwing away fresh herbs, I dehydrated them in the air fryer. This worked out great because I learned I could dehydrated anything and create my own spice rack! Plus it's so much faster than using an oven
Pizza – I cooked a frozen french bread pizza in one zone, while reheating garlic knots in the other zone. The Smart Finish timed both items beautifully.
As you can see, the versatility of this multi-zone air fryer is outstanding. I'm able to cook quick weekday meals, fun appetizers, or full dinners with perfect results every time.
The independent zones prevent any flavor transfer, so I never have to worry about tastes mixing together. And the Smart Finish feature eliminates any timing guesswork.
Overall, the Ninja Foodi Dual Zone Air Fryer passed all my cooking tests with flying colors!
If you want even more recipe inspiration, I started looking at this article on the Best Ninja Foodi Air Fryer Recipes. Katie Vine actually uses the Ninja Foodi in all her air fryer recipes, and you can see it in action in her photos!
Ease of Use
A common concern with air fryers is that they have confusing controls and a steep learning curve. I'm happy to report the Ninja Foodi dual zone model is very easy to use right out of the box!
As far as a learning curve, you get the hang of it pretty quick. I made sure to find websites I trust with their times and cooking instructions.
The touchscreen control panel is intuitive, with simple buttons to choose your cooking function, adjust time and temperature, or turn zones on and off.
I like that each zone has its own display, so I can monitor both cooking baskets independently. The digital displays clearly show cooking time remaining, temperature, and selected function.
Programming the Smart Finish feature is a breeze – just press Sync on both zones. The air fryer automatically calculates the times so food finishes together.
Most foods I've cooked require simply setting the time, temperature, and pressing Start. For example, frozen fries take 8 minutes at 400°F.
Clearly labeled buttons and simple programming make this one of the most user-friendly air fryers around. Within a few uses, you'll have the controls mastered!
Ninja Foodi Dual Zone Air Fryer Cleaning and Maintenance
Many air fryers suffer from being difficult to clean, but Ninja tackles this problem head on.
The nonstick cooking baskets and crisper plates easily wipe clean with a paper towel or soft cloth.
If you do cook something that leaves grease, I like to wash it by hand. I find it's easy to do after the Ninja Foodi cools down as long as I don't let it sit for too long after. For more cleaning tips, I found this guide on how to clean a Ninja Air Fryer helpful.
Both baskets and crisper plates are dishwasher safe, so I can simply pop them in with my regular dishes for easy cleanup.
One recommendation is to line the cooking baskets with parchment paper or aluminum foil. This prevents any baked-on debris, and the paper gets thrown out after cooking. It does prevent air circulation though, so your food might not cook as fast.
The stainless steel body can be wiped down as needed to keep the exterior looking shiny and fingerprint-free.
Overall, cleanup is quick and painless. The nonstick components do their job well and prevent any caked-on mess.
I really do recommend giving the crisper plates a good scrubbing with soap and water after every use to keep the nonstick performance optimal. It sounds like a lot of work, but it's really much easier than waiting until food gets caked on the trays!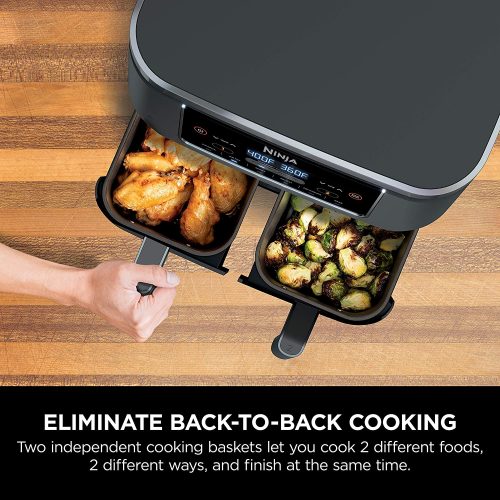 Ninja Foodi DZ201 Pros and Cons Breakdown
Here is a quick pros and cons breakdown of the major benefits and potential downsides of the Ninja Foodi Dual Zone Air Fryer:
Pros:
Dual cooking zones allow you to cook 2 foods at once
Smart Finish feature for perfect cook timing
6-in-1 functionality from air frying to dehydrating
Dishwasher safe nonstick cooking baskets & plates
Intuitive touchscreen control panel
High-quality construction and components
Large 8 quart cooking capacity
Modern and sleek stainless steel design
Cons:
Expensive $200 price tag
Large footprint takes up significant counter space
Basket dividers limit cooking capacity per zone
No internal light to view cooking progress
As you can see, the pros far outweigh the cons with the Ninja Foodi. The dual zone technology plus smart features make this an extremely versatile and convenient air fryer.
Is the Ninja Foodi Worth the Price?
With an MSRP of $199.99, the Ninja Foodi Dual Zone Air Fryer sits at the higher end of the air fryer price range.
However, given the innovative dual basket design and cooking performance, I believe it's worth the investment for the right user.
This air fryer will appeal most to couples or larger families who want to cook main dishes and sides simultaneously. The two zone technology is a total game changer for efficient cooking.
The size and power of this air fryer make it a workhorse. Seriously, compared to some other air fryers, this Ninja air fryer really packs a bunch. If you need to cook large quantities quickly, the Ninja is up to the task, and you can continuously batch the food.
Considering you're essentially getting two air fryers in one, the $200 price tag is justifiable. Overall, I think the unique capabilities and quality justify the price for most households.
Useful Air Fryer Accessories to Enhance Your Cooking
Here are some great accessories to take your Ninja Foodi cooking experience to the next level:
Investing in a few handy accessories makes cooking with the Ninja Foodi even more convenient. If you don't like cleaning, I highly recommend the liners. A food thermometer is a must have in the kitchen anyway, and choose heating dishes depending on what you plan on cooking.
If you also do a lot of grilling, you might be interested in investing in a Meater Plus Smart Thermometer.
Does the Ninja Foodi Outperform Other Models?
The Ninja Foodi Dual Zone Air Fryer has some clear advantages over other popular models in terms of technology and performance:
After testing many models hands-on, the Ninja Dual Zone Air Fryer clearly provides the most cooking functionality, best performance, and top quality. The competition simply can't match Ninja's innovative design.
If maxing out features and performance is important, the Ninja Foodi is my top choice in dual zone air fryers.
If you're really interested in rotisserie functions though or don't care about dual zone cooking, then pick up one of the larger appliances.
Who Is the Ninja Foodi Best Suited For?
The Ninja Foodi Dual Zone Air Fryer is a great fit for:
Families – The 8 quart capacity and dual zones can cook family-sized portions fast.
Fried Food Lovers – Get that crispy, golden fried texture with 75% less fat.
Multi-Taskers – The dual zones allow you to cook two foods at once and save time.
Meal Preppers – This can roast veggies and proteins in bulk simultaneously.
Fans of Smart Gadgets – People who appreciate advanced features like Smart Finish.
Cooks with Limited Space – Dual zones give you two appliances in one!
This air fryer covers a lot of bases with its versatility. But families who want to cook large batches fast will benefit the most from the Dual Zone technology.
Tips and Tricks for the Best Results
Here are some top tips I've learned for getting the best cooking results from the Ninja Foodi:
Always use a thermometer to check the doneness of your meat. Insert it in thicker cuts of poultry, beef, pork etc.
Try air fryer liners to make cleanup a breeze. They also prevent sticking.
Refer to a cooking chart for guidance on times and temps. It provides great starting points.
Spray or brush a bit of oil on foods to get extra crispiness. A light coating prevents drying out and will give you the desired golden brown look.
Flip or shake foods mid-cycle to ensure even browning. Use tongs for easy handling.
Preheat the air fryer for an extra crispy exterior on things like fries, nuggets etc.
Cook greasy foods on a foil-lined tray. It helps contain mess and is disposable.
With a bit of trial and error, you'll have the Ninja Foodi cooking like a pro in no time! Take advantage of the accessories and digital tools to get perfect results.
Where to Buy the Ninja Foodi Dual Zone Air Fryer
The Ninja Foodi Dual Zone Air Fryer is sold through various retailers online and in-store:
Direct from Ninja
Check all the retailers to find current deals and availability for the Ninja Foodi Dual Zone Air Fryer model you prefer. Enjoy those quick and easy air fried meals!
Frequently Asked Questions
What's the difference between the 8 quart and 10 quart model?
The 8 quart model has two 4-quart cooking zones, while the 10 quart version has two 5-quart zones. Get the 10 quart for larger families or big batches.
Is the Ninja Foodi loud when running?
It produces a dull fan noise, but I wouldn't call it loud. The sound is comparable or quieter than most air fryers when cooking.
How do you know which zone is zone 1 and 2?
Zone 1 is the left cooking zone, and Zone 2 is the right cooking zone. The control panels are marked 1 and 2 to eliminate any confusion.
What settings should I use to air fry frozen foods?
Most frozen items like fries, nuggets, etc. cook great at 390°F for 10-15 minutes. Add a few more minutes for larger frozen batches.
Can you bake cakes and pizzas in the Ninja Foodi?
Yes, the Ninja does a wonderful job baking. Use the bake function at 350°F and watch closely until done. Refer to the recipe book for guidance.
How long does the dehydrate function take?
Dehydrating times vary based on food size and thickness. Fruits and veggies take around 3-6 hours. Beef can take around 2 hours.
Do you need to preheat the Ninja Foodi?
Preheating is not required, but I recommend it for foods you want extra crispy like fries. Preheat 5 minutes at your cooking temp before adding food.
Verdict Ninja Foodi Dual Zone Air Fryer: A Must-Have Kitchen Appliance
Over the course of testing, the Ninja Foodi Dual Zone Air Fryer has absolutely won me over. It's transformed cooking in my kitchen for the better. I literally use it every day now!
The dual zone technology opens up so many possibilities that other air fryers simply don't offer. I can cook a main and side together, saving time and hassle.
Ninja absolutely nailed the controls and programming features. Smart Finish ensures my food finishes at the same time. The cooking charts take the guesswork out of settings. And cleanup is quick thanks to dishwasher safe parts.
From the solid construction to nonstick performance, this is a quality appliance built to last. And it will thoroughly cook anything you throw at it with ease.
I highly recommend the Ninja Foodi to any household that enjoys fried flavors but wants that crispy texture without all the fat and oil. It delivers on healthy air frying like no other unit I've tested.
This has become my new go-to appliance for everything from weekday meals to full family dinners. I can't imagine my kitchen without it!
If you're considering the Ninja Foodi Dual Zone Air Fryer, I hope this detailed review helps inform your decision.
More Innovative Cooking Appliances to Explore
While the Ninja Foodi Air Fryer is an excellent multi-purpose cooker, there are lots of other unique and innovative kitchen appliances on the market for specialty cooking tasks:
The world of kitchen gadgets goes far beyond basic appliances. Give one of these clever cooking inventions a try for a fun new way to get creative in the kitchen!