Bear Greek Yogurt Maker – Homemade Yogurt, Cheese & Drinks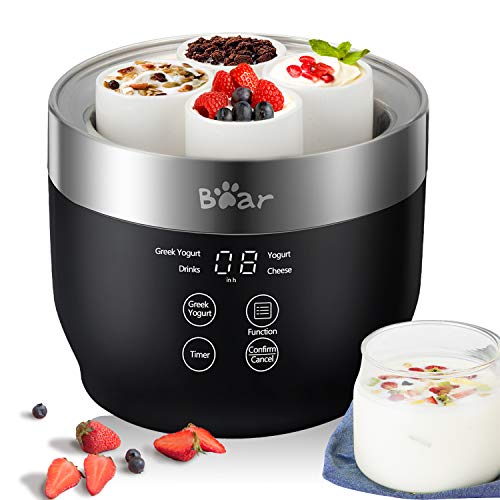 I thought I just bought a pallet of yogurt the other day, but we're all out again. Yinz kids are like little yogurt garbage disposals! Next week when I go grocery shopping, I'm picking up ingredients to make my own yogurt. We have this new Bear Greek Yogurt Maker after all, and homemade food is always cheaper than prepackaged items.
It is cheaper to make your own Greek yogurt by 60 – 80%, depending on the products you purchase. The average cost of a gallon of 2% milk is $3.52, which is equivalent to $0.88 per quart. Conversely, a quart of Oikos Triple Zero Greek yogurt costs $4.34, meaning you'd save $3.46 per quart.
Save money and eat delicious yogurt at home with the Bear Greek yogurt maker!
The Greek yogurt maker by Bear is a multi-functional kitchen appliance. You can make fresh yogurt, Greek yogurt, cheese, and fermented wine all in one digital and temperature controlled machine. The well-made stainless steel interior helps keep constant temperatures inside the device. An intelligent heating control consists of a clear touch panel and has an auto shut-off function with a sound alert. The auto temperature controls of the Bear Greek yogurt maker makes it energy saving, and the of natural ceramic allows for easy cleaning.
Included with the yogurt machine are four 4.2 ounce ceramic cups, two 33.8 ounce food-grade BPA-free glass jars, a strainer, and a user manual. The strainer is used to filter out whey and create the creamy decadence Greek yogurt is known for. The four ceramic cups offer the capacity to make four different cups of yogurt at one time. This way each family member can add their favorite toppings!
Can I use Greek yogurt as a starter for yogurt making?
Whether you're making regular or Greek style yogurt, they all require a starter culture to mix with the milk. You can use Greek and regular style yogurt as the starter for new yogurt making. As long as the container indicates that the yogurt contains live cultures, it will work.
If you don't have any yogurt on hand, then a starter culture will do the trick. Once you've created your first batch at home, you can set aside some of the yogurt to use as a starter in future batches.
It's easiest to use plain, unflavored yogurt as a culture. This allows you to add any flavors you'd like to the yogurt you're making without interference. If you're making a batch and intend to save a starter, just don't flavor that particular yogurt pot.
How do you make Greek yogurt?
The Bear yogurt maker can handle both regular and Greek yogurt, largely because they're made similarly. To make Greek yogurt, simply fill the interior container with milk and add starter culture. Use the Bear to heat the milk on the Greek yogurt setting for 10 hours.
Once the heat cycle has completed, remove the milk container and store in your refrigerator for 3 hours. Then, remove it and use the included strainer to remove the whey. Once it has been strained, return it to the refrigerator for another 8 hours until set.
You'll have delicious Greek yogurt ready to enjoy. Just add your favorite fruits, granola, or other toppings.
If you're a health-conscious consumer, you'll be amazed by the foods you can create with the Bear yogurt machine. Apart from regular and Greek yogurt, it can also make soft cheese or fermented wine! The probiotics contained in fermented food and drinks are beneficial for improved digestion, immunity, and even weight loss. It won't be long before everyone in your family comes up with flavor combinations to try. Let your creativity run wild!
Additional Notes
For more great ideas for your kitchen, check out our guide to essential kitchen tools for beginners to home chefs!
Rated 4.6 stars and ranked #6 in Amazon's Yogurt Makers category
Product Dimensions:  7.6 x 7.6 x 7.3 inches
Item Weight:  7.28 pounds
Includes lids for both 33.8 and 4.2 ounce containers
Never add water or other liquid to inner pot
Don't let food contact inner pot directly
The Force is strong in your kitchen when you cook in a Star Wars Stormtrooper instant pot!
If you're looking to eat healthy, check out our picks for the best smart kitchen scales based on your needs!
Need to feed your sweet tooth? Use this gummy maker to create homemade gummy bears, worms, and fish candy!