Lick Mat and Slow Feeder for Dogs to Keep Your Pets Happy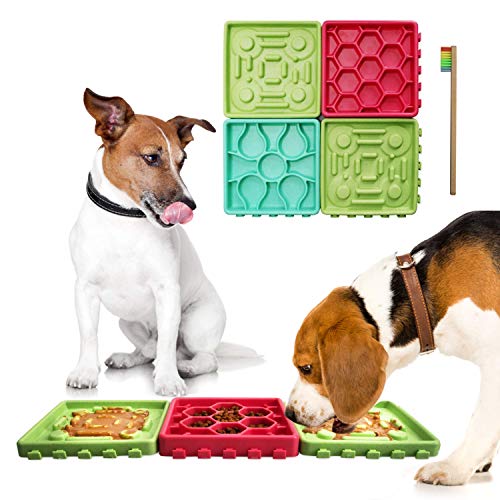 Dang it Spike, would you hold still? You rolled in something stinky outside, not me. You're getting this bath now whether you like it or not. If you'd stay still, this would be over a lot sooner. I know, let's grab your slow feeder lick mat to keep you distracted. A little peanut butter goes a long way in taking your mind off a bath!
A lick mat is a device to encourage slow eating and to help reduce boredom in pets. Simply place it on the floor or stick it to the wall. Fill it with your dog's favorite foods, such as xylitol-free peanut butter, cream cheese, mashed bananas, yogurt, or other similar thick foods. You can even freeze the lick mat with its contents to make it last even longer. Your pet will then enjoy working for the treat in the mat, being occupied while you bathe or groom them. It can also keep a pet left home alone occupied for hours.
This slow feeder lick mat keeps your dog happily distracted when you need it most!
This slow feeder lick mat is a 4 in 1 solution to keep your pup happy and occupied! The set of four trays includes two licking pads and two slow feeders. They can be used individually or snapped together for different kinds of treats or for multiple dogs. On the bottom of each mat, you'll find four 1.7" diameter suction cups. These cups ensure that your mats do not skid across the floor. You can also use them to attach your lick mat to various wall surfaces. The suction cups work best on tile, bathtub fiberglass, or glass for wall attachments. Wetting them slightly before pressing on will give you a nice, firm seal.
Each lick mat is made from food safe materials, with a combination of thermoplastic rubber and ABS plastic. The slow feeder plates are designed to work with dry dog foods, and compatible with dogs of any size. The licking pads hold any sticky treats, such as a dog-friendly peanut butter. Mats come with a cleaning brush and wash up easily with soap and water.
Licking mats make the perfect distraction for your pet. If you have a pet that doesn't like to be brushed, or hates getting a bath, distract them with some snacks!  It's also very effective for trimming nails, keeping your dog happily occupied. Simply fill the tray up, stick it to the wall, and let your dog happily lick while you go about your business. You can also freeze the contents of the lick mat to keep your dog occupied longer. If you want to enjoy movie night free of distractions, keep your dog occupied with a nice frozen treat. Does your dog suffer from separation anxiety? If he has a couple hours of frozen peanut butter to occupy him, he'll think about it less.
The slow feeders work to assist your dog into slowing down as they eat. This helps to prevent digestive issues that arise from eating too fast. It's a great way to make your pets slow down a little at mealtime. It can also help if you have one dog that eats faster than another in order to steal food!
Whether you have one or multiple dogs, this slow feeder lick mat can help make your life a little easier. Grab a set, and keep your pup happier and healthier, and you stress-free!
Additional Notes
Best seller in Dog Slow Feeders on Amazon with a 4.5 star rating!
Two lick mats are green, the slow feeders are one blue and one red
Each square is 5.9" per side and .78'" thick