Furbo Dog Camera | Treat Tossing, Full HD WiFi Pet Camera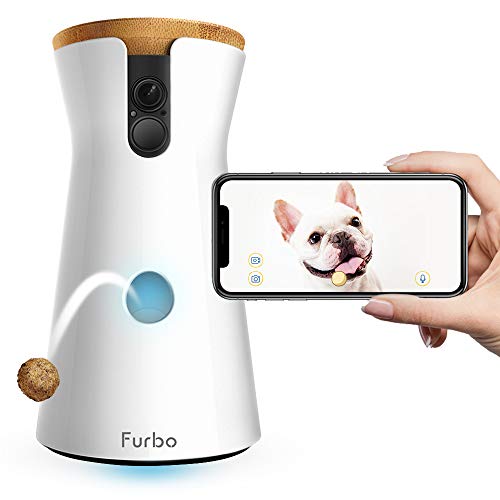 If yinz are going out on the town, but you feel guilty leaving little Fido alone for the evening, this Furbo dog camera has you covered.  Just don't let Fido get ahold of the app to start tossing his own treats!
The Furbo dog camera is a treat tossing machine!
The Furbo dog camera features a 1080p full HD camera with nightvision so that you can monitor your pet on your phone, day or night! Great for dogs who have separation anxiety. You can easily check in on your pet sitter or remind your dog he is in fact the bestest boy!
In addition to the video feed, it also offers a treat tossing function which you can use via the free iPhone/Android app. Just fill Furbo with your dog's favorite treats, and launch away!
Setup of the Furbo dog camera is easy – just plug it into an outlet, download the free app, and connect it to your Wi-Fi. A stable internet connection will net you the best performance on video quality.
The Furbo was featured on the Ellen show and is currently one of the hottest gifts for your own pet or the pet lover in your life! If your heart breaks every time you have to shut the door and go to work, then the Furbo can help make sure you don't miss your furry friend all day! It's also an important safety device – with a bark detector that will alert your phone. Hundreds of pets have been saved from a fire or home invasion situation thanks to the Furbo!
Additional Notes
Ranked #1 in Pet Cameras & Monitors on Amazon, and 4.4 stars with over 10,000 ratings!
Voice control is available if you own a screen Alexa device (such as Echo Show)
The Furbo dog camera comes with a 90-day free trial of Cloud Recording, Smart Alerts and a daily Doggie Diary. Please note that after the 90 days you lose these functions unless you subscribe.
Furbo's subscription is optional and can cancel anytime – you can still see, talk, toss treats, and receive Barking Alerts even without a subscription.
The Outward Hound dog tornado treat puzzle is a fun way for your pet to explore and find tasty snacks!
Keep your pets occupied and happy during dinner thanks to this set of slow feeder lick mats! It helps to encourage slow eating in pets.
The IQZoo pet food dispenser is the perfect gadget to give a dog with separation anxiety as they can remain occupied with their food puzzle while you're away!
Schedule up to 12 meals thanks to this PetSafe automatic feeder! Works with dry pet food only.