SmartyKat Hot Pursuit Cat Toy – Purr-fect In Depth Review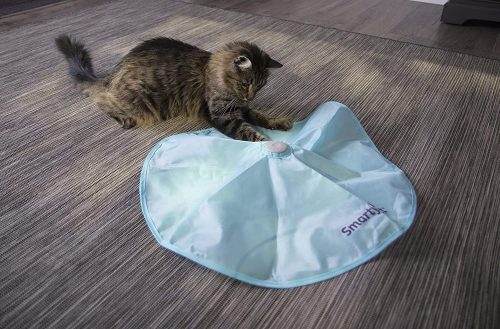 I recently picked up the SmartyKat Hot Pursuit cat toy for our cat. While I feel it's a great toy overall, there are also some drawbacks to it, depending on your cat. After all, cats are known to be a bit difficult to read!
So, I want to share with you my take on this popular cat toy, and you can better decide if it's a wise choice for your favorite feline!
What is the SmartyKat Hot Pursuit?
The SmartyKat Hot Pursuit (or maybe that should be "purr"suit) cat toy engages your cat's natural predator instincts for interactive play. In short, it's a round piece of nylon fabric that sits over top of a motor. 
Two arms attach to the central motor column and spin around under the cover, creating a concealed motion.
Feathers or other enticing attachments are secured to the arms, drawing your cat's attention as they travel around. Your cat is supposed to chase, pounce, and paw at these objects, creating engaging play.
Features of the Hot Pursuit
4 speed options: slow, medium, fast, and variable
Interchangeable toy attachments including a mouse tail and fur/feathers
Runs on 3 AA batteries
Pros and Cons: Things to Know About the Hot Pursuit Cat Toy
Positive
Great for exercise
Suitable for cats of all ages
Easy to assemble
Moving lights are enticing
Cats truly seem to enjoy it
Works on all floor types
Negatives
Cats may "catch" and destroy the toy heads
Won't hold up to really rough play
Wands don't stick out very far, so cats may take a while to "warm up" to it
Very lightweight; gets batted around easily
Can be noisy, particularly if a cat "pins" the arm
On/off button is on top of center and may be accidentally pressed by cats
Movement stops during flashing lights phase, so cats may lose interest
Are There Different Versions of the Hot Pursuit Cat Toy?
Yes, there have been several different versions of the Hot Pursuit. The differences are:
Number of speed settings (ranging from 1-4)
Automatic motor stop when wand is obstructed
Self turnoff when not in use
Integrated flashing lights
None of these features change the way it works per se, but can offer some quality of life improvements depending on the model you get. I like the 4 speed for the variety, but my cats would be just as happy with one or two I believe.
Frequently Asked Questions About Hot Pursuit
Are replacement wands available for the SmartyKat Hot Pursuit?
Yes, there are replacement wands available for the SmartyKat Hot Pursuit. However, they don't seem to be readily available.

I found these replacement wands, but at time of writing they are out of stock.
How do you clean the Hot Pursuit?
Spot clean the Hot Pursuit as needed with a damp cloth. Never submerge the unit in water.
What are the instructions for Hot Pursuit?
1. Use a screwdriver to remove cover on battery compartment under base
2. Add 3 AA batteries, then replace cover 
3. Flip motor over and place on flat surface
4. Screw wand into the nub extending from motor hub
5. Add attachment to end of wand, if not already attached
6. Stretch hole in center of cover open with your fingers
7. Slide over top of motor
8. Place on floor where cat can access
9. Turn top dial to desired speed selection
10. Press button on center of top to toggle on/off
Similar Products to Hot Pursuit
Here is how the SmartyKat Hot Pursuit cat toy compares to similar products:
Hot Pursuit vs. Cat's Meow
Compared to the Hot Pursuit, the Cat's Meow toy:
Has a slightly lower price point
Only features 3 speeds (instead of 4)
Shuts off automatically after 30 minutes
Does not have lights
Uses 3 C batteries
In short: While the Cat's Meow is slightly cheaper, you'll spend more over the lifetime of the toy in replacement batteries. While the auto shutoff is nice, it lacks additional speed features. With the lower price, the quality seems noticeably lower as well, so it likely won't last as long.
Hot Pursuit vs. Mystery Motion
Compared to the Hot Pursuit, the Mystery Motion cat toy:
Is slightly more expensive
Features 4 speeds (the same)
Uses 3 AA batteries (the same)
Does not have lights
Feathers come off wand more easily
In short: The Mystery Motion is pretty comparable, but you'll pay slightly more for the unit, and likely have to replace the wand heads more often. In addition, the lack of flashing lights isn't a deal breaker, but cats who are engaged by the appearance will find this less appealing.
Our Overall Ratings of the SmartyKat Hot Pursuit
SmartyKat Hot Pursuit
From the human perspective, I wish it came with a remote, and that the battery cover didn't require a screwdriver to access. However, the cats really enjoy the toy, so the pet side of things gets high marks.
Bottom Line
If your cat is bored or lonely and in need of exercise, then I think the SmartKat Hot Pursuit cat toy is a great option. Like most toys, your cat will become bored with it after a while so I recommend using this as part of a rotation with other engaging toys. 
Make sure to give your cat's nails a trim before setting it out. Choose a speed appropriate for the age of your cat (younger = faster) to keep them interested. Best of all, it won't break the bank. I always appreciate that!
Where to Buy
If you're ready to buy the Hot Pursuit, here are some different options for price comparison:
Related Products
Here are some other products you might be interested in:
This snake cat toy features realistic slithering motion and even has object detection and motion sensing capabilities!

Ntrjtrss Electric Snake Toy, USB Realistic Simulation Smart Sensing Snake Toy, Cat Interactive Toys, Halloween Tricky Prank Props
A flopping fish cat toy appeals to natural instincts with its realistic flopping motion!

Potaroma Electric Flopping Fish 10.5", Moving Cat Kicker Fish Toy, Realistic Floppy Fish Dog Toy, Wiggle Fish Catnip Toys, Motion Kitten Toy, Plush Interactive Cat Toys, Fun Toy for Cat Exercise
The Jackson Galaxy butterfly ball toy mimics prey that your cat can swat, bat, and chase to their heart's content!

Petmate 32046 Jackson Galaxy Butterfly Ball
Tired of pointing the laser pointer at the wall? The automatic cat laser toy can do it for you! Keep cats entertained without tiring out your arm!

Yvelife Cat Laser Toy Automatic,Interactive Toy for Kitten/Dogs - USB Charging,Placing Hign,5 Random Pattern,Automatic On/Off and Silent (P01), White, Medium
SmartyKat Hot Pursuit Electronic Concealed Motion Pet Toy for Cats & Kittens, Includes 2X Extra Wands, Spinning, Battery Powered, Fun & Engaging Play, Encourages Exercise - Blue, One Size
3 used from $18.90
Free shipping
as of September 23, 2022 7:00 am
Features
EXCITES & ENTICES CATS: The SmartyKat Hot Pursuit mesmerizes cats by replicating the erratic movements of hidden prey and encourages healthy activity through the fun of play. The feathered wand flits and zips underneath a rustling fabric, unpredictably changing directions!
COMBINES PLAYTIME WITH EXERCISE: This cat toy is designed to mimic the thrill of the hunt and encourage even inactive cats to transform playtime into exercise time, featuring moving lights and a teasing feather tail to entice cats to chase, pounce, and bat.
DESIGNED TO ENDLESSLY ENTERTAIN: This battery-powered electronic concealed motion toy features multiple speeds to stimulate your cat's desire to hunt and keep your cat entertained for hours.
When using cat toy, pet hair and fuzz could get caught in wheels, causing mouse to stop moving. To fix, turn mouse over and use small tweezers to remove debris from wheels or motion mechanism.
TESTED FOR SAFETY: SmartyKat always makes safety a priority, which is why we design products to meet child safety standards. They do not contain small parts, long cords, or other hazards, ensuring kids in the home are safe, whether they are two-footed or four-pawed.