Glow in the Dark Light Up LED Dog Collar for Pet Safety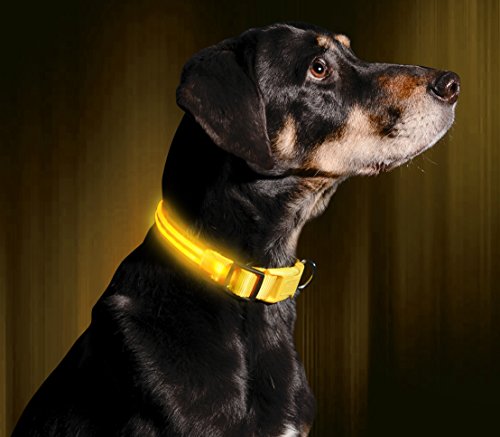 It's 3pm during the winter in Pittsburgh, so of course it's pitch black outside. I also assume, of course, that this is when you'll want to go out for a walk. We better put on your glow in the dark light up LED dog collar just to be safe. Increased visibility at night is always important!
A light up LED dog collar is a safe and easy way to improve visibility walking your dog at night. The LED light will not bother dogs at all. In fact, based on positioning around their neck, it's likely they won't even see it. However, others will, and that's the important thing.
Walk safer at night when you put a glow in the dark light up LED dog collar on your pup!
This Illumiseen light up LED dog collar could save your dog's (or your own) life! If you're out walking at night, make sure you'll be seen by traffic well in advance with these bright collars.
There are options for steady, rapid flashing, or slow flashing light patterns, so you have customization options for how you'd like to light the night! Speaking of customization, this light up dog collar comes in 6 great colors:
Yellow
Red
Blue
Green
Pink
Orange
You're sure to find the right color to look great, even if you pick a color your dog can't see. This glow in the dark dog collar is also available in six different sizes and should fit dogs with neck sizes from 8.6" all the way to 27.5". That would even fit a small horse or alpaca in a pinch!
The collars are weatherproof (not waterproof) so you'll be able to safely use it on a dark and rainy day as well! Since these are rechargeable LED dog collars, there are no pesky batteries to replace. They're entirely reusable – just recharge and go.
Lighted collars are not only perfect for your own dog, but they also make a gift for a dog lover in your life!
Illumiseen LED dog collar instructions
Here are the instructions for using an Illumiseen LED dog collar:
Charge the collar using any USB device, such as a laptop, outlet, portable battery pack, or car charger
The collar end of the charger fits into a receiver next to the battery pack. This is located under the nylon webbing near the receiving end of the buckle
Once the collar is charged, place it around your dog's neck
Secure with the buckle and slide the adjustment until the collar is snug
Press the power button to activate the light. This is located on the nylon webbing under the battery pack, facing your dog's neck
Short press the button again to cycle through the different light modes
Make sure to turn it back off when not in use to conserve battery life
As a rechargeable LED dog collar, you can expect to get 5 hours of lighted walking before you need to plug it in again. Once charged, simply clip it on your pet, and you're good and go! There is an included USB cable for easy charging, and a full charge takes about 1 hour to complete.
Should you lose your charger, replacements are available separately.
Are light up collars safe for dogs?
Yes, light up collars are safe for dogs. They have no impact on their vision or any documented adverse health impacts. In fact, one could argue that they're even safer than a traditional collar due to the increased visibility.
The collars may be used in addition to a regular collar or harness, or used as the sole collar for your dog. If you have a particular worry about using a standard collar, then just add it on for the light source, but hook into your harness instead.
How do you clean a light up LED dog collar?
To clean a light up LED dog collar, use a damp cloth or a toothbrush, along with soap and warm water. Do not submerge the battery pack, as it is not entirely waterproof.
The battery is sewn in for safety, so it cannot be removed for machine washing. Additionally, make sure to remove the collar if your dog will be swimming, as it is not designed to be fully submerged.
Additional Notes
Rated 4.2 stars with over 21,000 ratings!
Matching LED leashes are available as well
At only a few ounces, these collars are comfortable no matter the size of your dog!
Help illuminate yourself more with a lightweight LED light vest 

Tracer360 Visibility Vest (Medium/Large)

With a pocket leash, you can walk your dog and carry along a ball, water bottle, smartphone, and more!

WAGNETIC Dog Leash with Built in Storage Pockets | Durable 4 ft Nylon Leash with Nickle Plated Snap Hook with 360-Degree Swivel |Loop Handle (RED/Black)

Going for a run with two dogs? This hands free dog leash will free you up to exercise safely with both pets!

SHINE HAI Retractable Hands Free Dog Leash with Dual Bungees for 2 Dogs, Adjustable Waist Belt, Reflective Stitching Leash for Running Walking Hiking Jogging Biking Black

Prevent your excited pet from choking on walks with a no pull dog harness 

Dog Harness No Pull Reflective Adjustable Pet Vest with Handle for Outdoor Walking- No More Pulling, Tugging or Choking(Black,M)

When bad weather hits, attach this dog umbrella to your pet's collar or harness and protect them from the rain!

Pet Life Pour-Protection Umbrella w/ Reflective Lining And Leash Holder in Pink/White Handle

The Pet Life Pour-Protection Performance Pet Umbrella Features a Leash or Harness Connector Chain Piece at the bottom of the Umbrella. This Umbrella also Features Reflective Lining all across the border edges an essential safety component while dog walking during those dark rainy nights....