Wagnetic Pocket Leash – Store Everything You Need for a Walk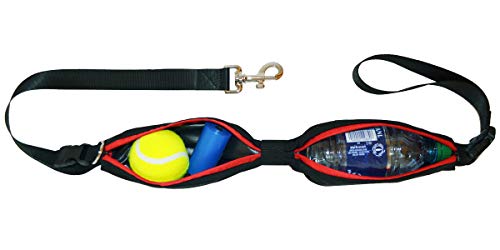 Come on Sparky, let's go for a walk! I've got your leash, your doggie bags, and your tennis ball. I have my water bottle, but wait where are my keys? Sparky, we have way too many things to bring with us. There has to be a better way. I know, I'll order us a pocket dog leash. This will help keep us organized for sure!
If you want to organize your dog's stuff, you might have a bin for toys, food storage, or something similar for your home. While out for a walk, you might consider a bag to carry, or if you prefer a hands-free option, look for a leash with storage pockets. A pocket leash contains compartments to fill with toys, treats, clean up bags, and stuff for humans too.
You'll WAGnetic your tail for this pocket leash!
Wagnetic brings us this awesome multi-functional pocket leash. This 4 ft nylon leash features a nickel-plated snap hook on a 360-degree swivel, making it a sturdy and practical leash. It also includes two zipper pockets that offer expandable storage built right into the leash! These pockets offer space to store things you'd most often need on a walk with your dog.
These stretchable nylon storage pockets measure approximately 8" x 4" each. That's big enough to fit a tennis ball to play with at the park, plus some treats to reward your best buddy! Human counterparts can store keys or other personal items. Bring along some some pet waste bags for cleanup duty. The leash pockets are large enough to pack a water bottle for hydration, important for both dogs and humans!
Going to the pet park? Remove the storage pockets from the leash and clip them to a belt loop instead. Use the pockets to store the leash while your pup runs and plays! You'll have both hands free to throw that tennis ball with this great leash feature. The zippers and pouches are also splash resistant, so no need to worry about a little mud or a light rain. You can still play! So treat yourself and your furry friend to this great pocket leash today!
Additional Notes
Available in solid black or black with red accents
Weighs 4.8 ounces empty
Leash is 1" width and 48" in length
Best seller in Standard Dog Leashes on Amazon
A newer product but has received only 5-star ratings so far!
Embrace Bluetooth technology with the PetKit smart dog leash!

PETKIT Smart Dog Leash with Ultra Comfortable Grip, Led Light System, Lock & Release Mechanism, 4ft Replaceable Leash with Hook, Dog Walking Leash

Need to go for a walk or run with 2 dogs? Try out this hands free running dog leash!

SHINE HAI Retractable Hands Free Dog Leash with Dual Bungees for 2 Dogs, Adjustable Waist Belt, Reflective Stitching Leash for Running Walking Hiking Jogging Biking Black

For extra feisty dogs on a walk, wearing a no pull dog harness is a must for their safety!

Dog Harness No Pull Reflective Adjustable Pet Vest with Handle for Outdoor Walking- No More Pulling, Tugging or Choking(Black,M)

For late night walks, give your dog this glow in the dark light up dog collar 

ILLUMISEEN LED Dog Collar USB Rechargeable – Bright & High Visibility Lighted Glow Collar for Pet Night Walking – Weatherproof, in 6 Colors & 6 Sizes (Green Large)

When the weather outside simply won't cooperate, use this dog umbrella to take your pet out in the rain!

Pet Life Pour-Protection Umbrella w/ Reflective Lining And Leash Holder in Pink/White Handle

The Pet Life Pour-Protection Performance Pet Umbrella Features a Leash or Harness Connector Chain Piece at the bottom of the Umbrella. This Umbrella also Features Reflective Lining all across the border edges an essential safety component while dog walking during those dark rainy nights....