Dog Umbrella with Leash – Protection when Walking in the Rain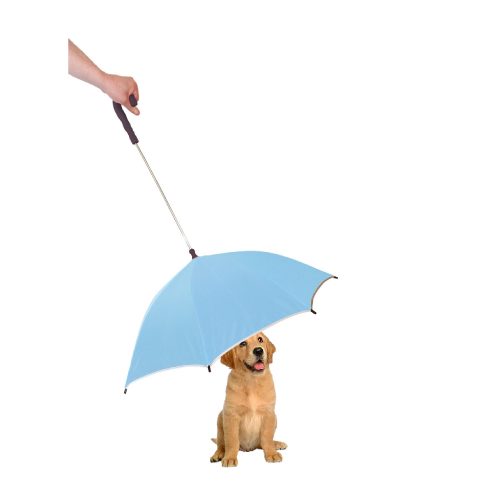 I know you don't want to go outside for a walk in the rain, Sparky. Thankfully this time, I've got a dog umbrella just for you, to keep you dry! I bet you didn't know there is an umbrella for dogs!
Thankfully for your pup, an umbrella for dogs is now a reality. A dog umbrella is a smaller scale version of the human accessory. The leash attaches to the umbrella itself for ease of use during walking. It's designed to keep your dog shielded from both wind and rain.
This dog umbrella is just further proof that things really have gone to the dogs!
That's right, the furriest family member now has their own dog umbrella, designed just for canine use. Trust me, this is a welcome change from trying to stick a raincoat on my dog. That was an ordeal I'd prefer to not repeat.
I don't have to, thanks to this awesome umbrella for dogs. It offers over the head rain protection for your pup and doesn't require putting anything on!
In fact, this umbrella has a comfort grip handle for the human. Inside the umbrella dome, you'll find a connector chain to attach a leash or harness. Simply hold the handle, and the umbrella holds itself in place over your dog. How convenient!
Designed with collapsible metal hinges, this umbrella is sturdy and designed to hold up to wind and weather. However, it's incredibly easy to fold down for transport as well. It folds into a 2 inch diameter stick that may be stored in your car, backpack, or easily carried.
If you're walking at night, a reflective strip around the outside edge of the umbrella offers additional visibility. I know dark and rainy nights mean low visibility, so why not make sure you and your dog are both easier to see?
Additional Notes
Open dimensions: 29" high x 32" diameter
Available in pink, blue, black (pictured), or orange colors
Humans need umbrellas too! I love the Kisha smart umbrella because it alerts me to the weather and if I happen to leave it somewhere
Heading out in fairer weather? Enjoy this hands-free dog leash that allows you to run, bike, and more!
Need a new harness? Check out this no pull dog harness that helps prevent choking!
If being seen at night is important for you, grab an LED dog collar for additional visibility
When hitting the water for the day, leave the umbrella at home and grab a shark dog life jacket instead. Your pup will be adorable and easy to spot!