Adjustable No Pull Dog Harness – Pet Vest to Prevent Choking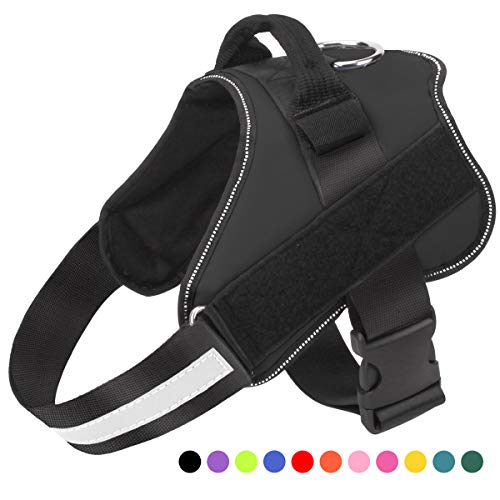 I know you are excited to go to the dog park Spike, but you have to stop pulling on the leash! You're going to choke yourself if you put that much pressure on it. I've had enough of this. When we get home, I'm ordering a no pull dog harness. That will make these outings more comfortable for both of us!
If you've ever struggled to get your dog to stop pulling on walks, you might consider a no pull dog harness. This style of harness is designed to discourage pulling, which prevents choking in your dog, as well as stress on your arm. No pull harnesses cross the dog's chest, then pass under their legs and across their back. Your dog steps in, and the harness is secured easily with a buckle. This design allows maximum distribution of pressure, creating a safer walking experience.
A no pull dog harness makes every day a walk in the park!
Bolux brings us this no pull dog harness which is designed with safety and utility in mind. This harness is designed to maximize pressure distribution which prevents pulling and choking. It has an adjustable chest strap and fastens securely with a plastic buckle. The chest strap allows enough room for your dog to grow, so they won't constantly outgrow this harness when they're young. Sizes available range from X-Small to XXL and can fit dogs between 10" and 30" neck size! You're sure to find a size that works regardless of your dog's breed.
A Bolux no pull dog harness comes in 11 different colors, plus two holiday themed prints! In addition to looking great, they also feature a reflective patch on the chest strap. This ensures that you're seen when walking at night. Fashionable and safe, you can't go wrong! The no pull harness features a D ring on the back to attach a leash, but also a nylon handle. This handle allows you greater control in crowded areas, near traffic, other dogs, or just when you need a little more control. It also works well as a handle for a service dog!
Speaking of service dogs, this comfortable and breathable vest is ideal for service dogs too! It features two side strips to attach Velcro patches. Patches are sold separately, but include options to indicate a Service Dog, Therapy Dog, a sign not to pet, and more!
Additional Notes
#3 best seller in Dog Vest Harnesses on Amazon!
Pair with a matching padded leash for additional control and comfort
4.3-star rating with over 5,000 reviews – people love it!
Dimensions and weight will vary based on size selected, see size chart for full details before ordering
Use Bluetooth technology to track your walks with the PetKit smart leash!

PETKIT Smart Dog Leash with Ultra Comfortable Grip, Led Light System, Lock & Release Mechanism, 4ft Replaceable Leash with Hook, Dog Walking Leash

Carrying a ball, water bottle, or more is no problem with this pocket leash for dogs!

WAGNETIC Dog Leash with Built in Storage Pockets | Durable 4 ft Nylon Leash with Nickle Plated Snap Hook with 360-Degree Swivel |Loop Handle (RED/Black)

This hands free dog leash will give you freedom to run with up to 2 dogs at once!

SHINE HAI Retractable Hands Free Dog Leash with Dual Bungees for 2 Dogs, Adjustable Waist Belt, Reflective Stitching Leash for Running Walking Hiking Jogging Biking Black

Keep your pets safe during walks at night with a light up LED dog collar 

ILLUMISEEN LED Dog Collar USB Rechargeable – Bright & High Visibility Lighted Glow Collar for Pet Night Walking – Weatherproof, in 6 Colors & 6 Sizes (Green Large)

When bad weather hits, protect your pet from rain with this dog umbrella which attaches to a collar or harness

Pet Life Pour-Protection Umbrella w/ Reflective Lining And Leash Holder in Pink/White Handle

The Pet Life Pour-Protection Performance Pet Umbrella Features a Leash or Harness Connector Chain Piece at the bottom of the Umbrella. This Umbrella also Features Reflective Lining all across the border edges an essential safety component while dog walking during those dark rainy nights....