Hands Free Dog Leash – Walk or Run with 2 Dogs at Once!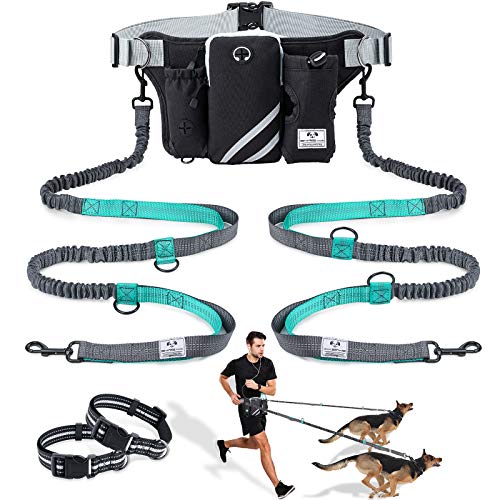 Are you two ready to go for a walk? Now, let me just grab your leashes and my phone for emergencies. Where am I going to put this water bottle? We really need a hands free dog leash built for two dogs. I just can't manage everything otherwise!
Hands free dog leashes are good for those who need their hands for other activities but still want to walk the dog. They're ideal for running, hiking, biking, and other activities. These leashes allow you the freedom to drink water, use your phone, or ride a bike while your pets stay secured.
Enjoy more outdoor activities with your furry friends when you use a hands free dog leash for two!
This versatile hands free dog leash is the perfect tool for taking your pups outdoors. The base of this system is an adjustable waist belt, which fits an adult with a 24" to 43" waist measurement. It secures with a sturdy plastic clasp against your back, offering easy access to the front.
Across the front of this dog leash belt, you'll find three compartments in total designed for carrying your essentials. A zippered pocket with two interior compartments holds your phone and keys. It also has a hole allowing headphones to pass through, so you can listen to music or audiobooks on your walk! A drawstring compartment is designed to hold cleanup bags for your dog. The third pouch is designed to hold a water bottle, so you and your pets stay hydrated!
The real joy of this running belt system is that you can safely secure your dogs hands free. Two leashes with a bungee system clip to two D rings, located on either side of the front pouch. Each hands free leash can safely hold a dog up to 150 pounds! The leash is 60" long unstretched, but flexes up to about 72" with the elastic. Two built in grab handles allow you to take more control. One is located near your dog's neck, and the other is close to your body. Simply grab the first, then secure the second, reeling your dog in if needed.
With durable cross stitching, rest assured these lines are secure. They're ideal for allowing hands free walking of your dogs, so you can walk, run, bike, push a stroller, and more. The leashes even have reflective stitching to help keep everyone safe at night!
Additional Notes
Waist bag overall is 7" tall and about 12.6" across
#14 best seller on Amazon in Dog Hands Free Leashes
Can also be used with one dog if your situation changes
Rated 4.5 stars with over 1,000 reviews – two paws up!
Track your steps, time, path, and more with a PetKit smart leash!

PETKIT Smart Dog Leash with Ultra Comfortable Grip, Led Light System, Lock & Release Mechanism, 4ft Replaceable Leash with Hook, Dog Walking Leash

Looking for a more traditional leash but still need storage space? Check out this pocket leash!

WAGNETIC Dog Leash with Built in Storage Pockets | Durable 4 ft Nylon Leash with Nickle Plated Snap Hook with 360-Degree Swivel |Loop Handle (RED/Black)

If your dog gets a little too excited on walks, then a no pull harness will keep your pet safe and secure

Dog Harness No Pull Reflective Adjustable Pet Vest with Handle for Outdoor Walking- No More Pulling, Tugging or Choking(Black,M)

Rain or shine, your dog still needs to do its business outside, so pick up this dog umbrella with a leash to attach to your pet's collar!

Pet Life Pour-Protection Umbrella w/ Reflective Lining And Leash Holder in Pink/White Handle

The Pet Life Pour-Protection Performance Pet Umbrella Features a Leash or Harness Connector Chain Piece at the bottom of the Umbrella. This Umbrella also Features Reflective Lining all across the border edges an essential safety component while dog walking during those dark rainy nights....

After a long day running or walking, let your pet cool off on an outdoor dog bed and canopy!

SUPERJARE XLarge Outdoor Dog Bed, Elevated Pet Cot with Canopy, Portable for Camping or Beach, Durable 1680D Oxford Fabric, Extra Carrying Bag - Silver Gray