Triple Bunk Bed with Slide is the Bed of Your Child's Dreams!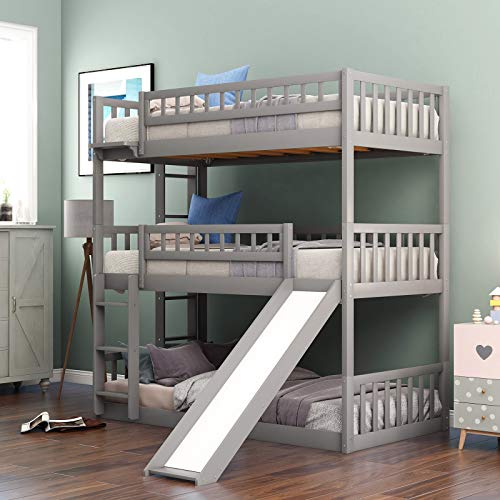 What's all the commotion going on up here? Yinz are busy fighting over who gets the top bunk? I thought we bought the triple bunk bed with a slide so you two wouldn't fight anymore? One of you gets to have the slide tonight, and one of you gets the top bunk. Don't worry, we measured so you won't hit your head on the ceiling.
When picking out a bunk bed or triple bunk bed, it's important to measure your available space. Unlike a traditional bed, it's vital to take height into consideration with bunk beds. Ensure there is plenty of room available on the top bunk so you can comfortably sit up without bumping the ceiling.
Bring the fun to your children's bedroom thanks to this triple bunk bed with a slide!
Bunk beds are so 1980's! Now, children get to enjoy a triple bunk bed with a slide! This design (which is growing in popularity) adds versatility to your child's bedroom. Harper & Bright actually designed this bed to split into 3 separate twin beds should your children desire a standard bedroom setup.
Don't think that you need to have triplets to enjoy a triple bed setup. You can be an only child or room with a sibling and still prefer a triple bunk. The topmost bunk could actually double as an additional shelf in the room. Place toys or stuffed animals on this bed which is still easily accessible to the children.
Made of a sturdy pine frame, this gray triple bunk bed with slide will absolutely be the centerpiece of your children's room. The benefit of a bunk bed is its ability to have a smaller floor footprint while simultaneously taking advantage of available vertical space.
Is a triple bunk bed safe?
A triple bunk bed is just as safe as a double bunk. It's important that your frames are made of a solid and sturdy material (mostly wood or metal), and guardrails on the upper bunks are also important. This will help prevent children from accidentally rolling out of bed.
This Harper & Bright triple bunk bed also features easy access ladders to the second and third bunk. These ladders sit on the side and head of the bed frame to allow your child to climb in and out of bed. What child in the second bunk is going to pass up a chance to slide out of bed though? Moms and dads will have to refrain themselves!
Will a triple bunk bed fit in a room with an 8 foot ceiling?
Always measure the height of your triple bunk bed and try to leave between 25" – 28" of clearance for your head. It's important to take the top mattress into consideration when estimating. Some triple bunk beds will be too tall for an 8 foot ceiling even without clearance.
This particular triple bed stands at 77.6" (6.5') at the top guardrail. In a room with an 8' ceiling, this bed will certainly fit within the room. Head space on the top bunk will be more limited though. Luckily 9' ceilings have become the standard in homes, and with this space, you should find no issues.
Additional Notes
Who says the kids get to have all the fun? Add some style to your bedroom with this wave platform bed!
Alternatively, this low profile platform bed features a LED headboard!
Your child can also enjoy LED lights in their bed with this X Rocker Twin Cosmos gaming bed inspired by Esports!
Motherly by Storkcraft delivers a 5 in 1 convertible crib playhouse that grows with your child. From crib to full size bed, this piece of furniture will last for years!

Each bed requires a twin size mattress (not included)

No box spring is necessary

Functions as a three tier bunk bed; double bunk bed and single twin; or 3 twin beds

Measures

78.1″L x 40.4″W x 77.6″H

Weight Capacity of bottom and middle beds: 275 lbs

Weight Capacity of the top bed: 175 lbs

Ships in two separate boxes which may arrive on separate dates

The slide and side ladder interchangeably fit on the left or right side of the middle bunk bed to better suit your room design

Also available in a

white triple bunk bed with slide