Princess Castle Loft Bed with Slide, Stairs, and Tent Tower!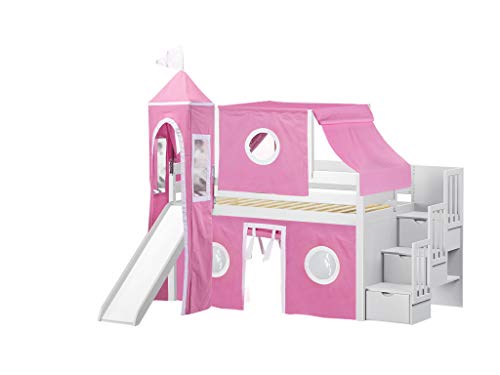 You want to live in a castle? Well, I think that might be a little difficult. How about we start with a princess castle loft bed and go from there.
Your child will feel like a little prince or princess in a castle tower loft bed. Hide safely inside your castle, climb the turrets, and slide into action with this fun bed. It's a place for sleeping, playing, reading and so much more. The only limits are your imagination!
You'll be king or queen of the castle in this princess castle loft bed!
A princess castle loft bed is the perfect place for sleeping and playing pretend. In fact, this versatile bed offers tons of features to keep your little royalty entertained.
A white wooden Pine frame forms the base of the structure. Four stairs lead up the side of the bed frame for access to the loft. Three of them offer pull out drawers for storage. Wooden slats provide the base for a mattress (not included) to be added for a sleeping area fit for a queen!
Pink curtains fit over the structure to add to the castle feel. A canopy over the sleeping area has a small porthole for peeking out. The lower curtains have a door that rolls and ties open, for access to the castle "dungeons". If your kids don't like pink, a blue castle loft bed is alternatively available.
On the other side from the stairs, the curtains form a turret, complete with a white flag on top. The best part? There's a slide to get down from the turret to the ground. There's nothing cooler than being able to slide down out of bed in the morning!
The ladder and slide are able to be placed on either side of the bed. If your kids have a preference or if the shape of the room means different configurations are needed, no worries.
Additional Notes
Recommended for ages 6+
Maximum weight limit 175 pounds
Bed measures 87.5" H x 98" W x 84.75" D and weighs about 213 pounds
Loft bed space accommodates a standard twin mattress, maximum 9" thickness
Fort area under bed is about 32" H x 75" W x 38.25" D
Assembly required, instructions and hardware included
Impressive 4.7 star rating with over 150 reviews!
This is a single loft bed, not a bunk bed
If you do need a bunk bed, check out this triple bunk bed with slide as an alternative!
Kids outgrow the castle? How about an X Rocker Cosmos gaming bed instead?
Add a pop up bed tent to any existing bed to turn it into a fun fort!
If you worry about your child falling out of bed, then let the ocean help with this octopus bed guardrail!
What princess room would be complete without an inflatable unicorn bed! It's perfect for when you have extra guests!
Treat your kids (or yourself) to a good night's sleep with a copper infused memory foam mattress
Take the castle playtime outdoors in the summer with this jungle gym climber