Limited Edition Tesla Decanter – 750ml Bottle and Stand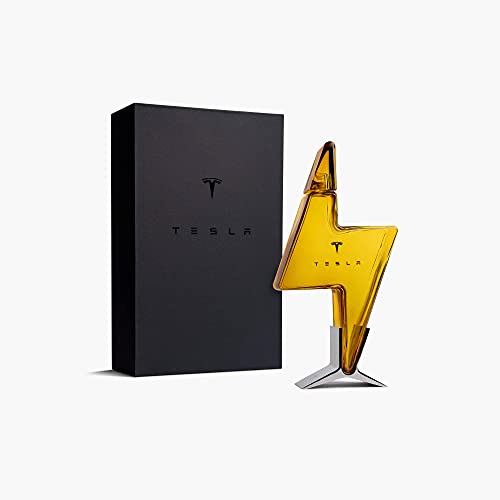 I may not be able to put their car in my driveway, but I'll put my liquor in this limited edition Tesla decanter. That's the next best thing, right?
This glass Tesla decanter is inspired and officially commissioned directly from Tesla. While you won't be able to get from place to place in it, it does make a stunning collectible for display. This decanter is eye-catching and suitable for storing a variety of hard liquors for display.
Power up your home bar with this limited edition Tesla decanter!
Nowadays, it seems that everyone is eager to show off their new Tesla cars. Whether you're a fan, collector, or an owner yourself, the Tesla decanter is another way to add a little modern flair to your life.
This gorgeous decanter bottle is made from hand blown amber-colored glass shaped like a lightning bolt. It perches atop a special polished chrome stand, which keeps it perfectly in balance. The front of the bottle contains the word Tesla and the T-shaped logo, printed in black ink.
At the top, a triangular shaped piece serves as the cap for the decanter. Simply remove it and use a funnel to pour up to 750ml of your favorite liquor into it for storage.
While decanters may be used with a variety of liquors, the most common choices are:
Whiskey
Bourbon
Rum
Tequila
Vodka
Just remember that the glass of the decanter is already amber, so this will affect how you perceive colored drinks through it. I personally like a clear alcohol, with a small light behind it for maximum effects.
This decanter is officially commissioned by Tesla, but thankfully you don't have to own one of their cars to bring this unique piece home. It comes in a sleek, modern black box that's perfect for gifting or just for creating the perfect backdrop for your stylish decanter on display.
Additional Notes
Liquor not included
Limited edition production item
Rinse clean with hot water as needed
If you're more into sports than cars, consider a football decanter instead
Or, take your drinks to a galaxy far, far away with this Stormtrooper decanter
The avid traveler can take a sip around the world with this whiskey decanter globe
Use a bullet whiskey stave to impart new flavors while your liquor conditions in your decanter
A UFO round ice mold creates the perfect craft ice for enjoying your libations
This insulated whiskey glass helps keep things colder longer, so you never have to drink warm whiskey again!