Stormtrooper Decanter – Glass Barware for the Star Wars Fan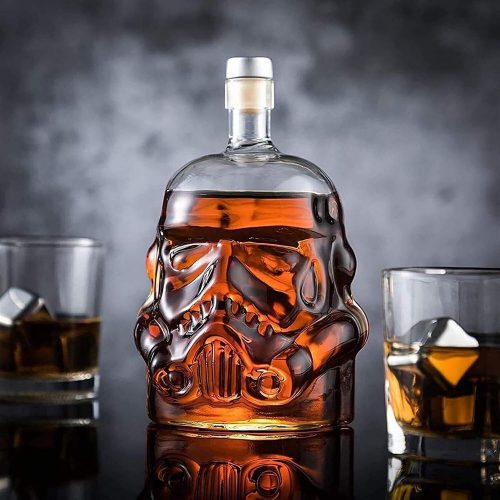 These are not the droids you're looking for. Now, go search somewhere else so I can enjoy my glass of whiskey, straight from my Stormtrooper decanter glass bottle. I bet Darth Vader never had this many problems enjoying a night cap!
A decanter is a large vessel, most often made of glass, designed to hold alcohol. It's a storage container for hard liquors, such as whiskey or brandy, which are not affected by oxygen. They also work as a serving vessel for wines, as a temporary container.
Take your liquor cabinet on a trip to the Dark Side with this glass Stormtrooper decanter bottle!
This unique Stormtrooper shaped decanter bottle is the perfect place to display your favorite alcohols. A decanter in and of itself is simply designed to add to your décor, providing an interesting aesthetic over a regular bottle. This Stormtrooper variant is the perfect choice for any Star Wars fan.
The beautiful glass decanter is based on the original 1977 Stormtrooper helmet from the Star Wars universe. It's designed to hold up to 25 ounces of liquid, or the equivalent of a 750 mL bottle. It comes with two matching tumblers as part of the set. The tumblers are also glass, and have the same helmet outline molded into the interior wall of the glass. This keeps the exterior walls smooth, while making it easier to grab. Each glass has a 5 ounce (150 mL) capacity, perfect for enjoying your favorite drink.
In the case of both pieces, the glass is clear. This allows for the natural beauty of your chosen spirit to shine through!
What alcohol goes in a decanter?
Most decanters do not provide an oxygen seal, meaning that your alcohol will be exposed and affected. As such, the best alcohols in a decanter are those that react slowly to oxygenation. This prevents flavor from being altered or deteriorated. Here are some examples of good decanter alcohols:
Whiskey
Brandy
Scotch
Vodka
Rum
Cognac
While you can technically store wine in a decanter, remember that the oxygen will alter the taste. Often in the case of red wine, this oxygenation is actually desirable. Wine should be left in the decanter for no more than 3 days. Though, if your family is anything like mine, I don't think that will be a problem!
Additional Notes
Decanter is 4.5" W x 7" H
Comes with a faux cork stopper attached to a round silver topper
Tumblers are 4.1" W x 4.5" H
Perfect Father's Day or office gift!
Not a Star Wars fan? Check out this globe whiskey decanter instead!
If you're a huge sports fan, then this football decanter can set you up for a winning touchdown drink!
They may not come from a blaster, but these whiskey bullet stones are a fan favorite for chilling alcoholic drinks!
Keep your drink at the perfect temperature thanks to this insulated whiskey glass
Looking for more great Stormtrooper themed items for your home? This Stormtrooper instant pot is sure to help you prepare dinner for the whole Death Star.
Also check out this Stormtrooper pen. It's the perfect addition to your office, and will coordinate perfectly with this decanter set!