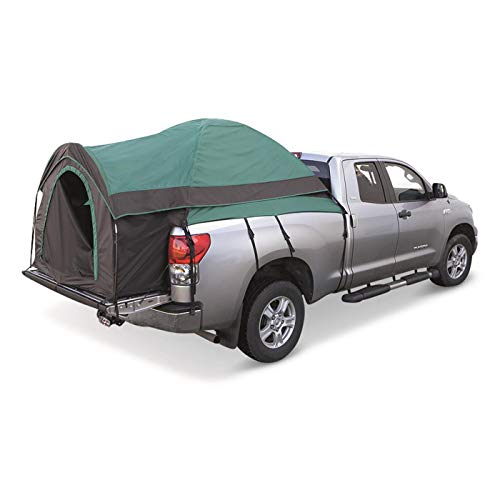 You want to go camping this weekend? I don't know, I don't think I want to sleep in a tent on the ground. It's uncomfortable, not to mention the bugs! If you bring the Guide Gear truck tent will that change my mind? Yes, I think it might!
A truck tent is a smaller tent that utilizes the bed of your pickup truck as a base. Being off the ground generally keeps them cleaner and safer than a traditional tent. Truck tents work by popping open and being secured over the sides of the truck bed. The entrance is over the tailgate.
Set up your full size truck tent camper bed in just minutes, so you can get to relaxing sooner!
This truck tent is designed to make your camping experience even better. It assembles in minutes alone, and even faster with the help of a second person. There are only four fiberglass poles required to pop up the camper tent. Just thread them through the openings, and secure them into the sides of your truck.
Once the poles are in place, secure the adjustable straps. There are 4 nylon straps on each side that fit around the truck bed, and 3 on the back that secure to your tailgate. Finish your setup off by attaching the included rain fly to make sure you stay dry! The entire tent is made from polyester with a water resistant coating, so you'll stay snug even on rainy camping days. Plus, since this tent is off the ground, there's no sogginess and mud to worry about.
The tent fits nearly any standard size pickup truck with a 79-81" bed (measured with the tailgate down). This is a common size for Toyota, Chevy, Nissan, Ford, GMC, and more. It sleeps two people comfortably and folds down into a compact storage bag when not in use. You'll have plenty of room for the tent alongside all your supplies until you're ready to unpack.
Ready to hit the road? Check out the 11 best tent camping spots in the US. With the truck tent in tow, you're ready to road trip and camp all summer long!
Additional Notes
Weighs only 9 pounds
Top 10 best seller in Truck Bed & Tailgate Bed Tents on Amazon
Rated 4.5 stars with over 1,500 reviews – happy camper approved!
Do not drive vehicle while tent is pitched, as it may damage the tent
Zippered panels included for both windows and door
Fits a full-size air mattress, if you'd like to add one for additional comfort
Don't forget to pack a camping lantern for use inside the tent and around the campsite
Bring some magical flames along for the coolest campfire on the block
Speaking of the fire, everyone needs some roasting sticks for hot dogs, marshmallows, and other camp foods!
Keep those weenies chilled with the help of a 12v car fridge freezer combo. It'll keep things nice and cool, and can be refreshed by using your vehicle's battery for power.