12V Car Fridge Freezer Combo – Tailgate, Camp, Fish, & More!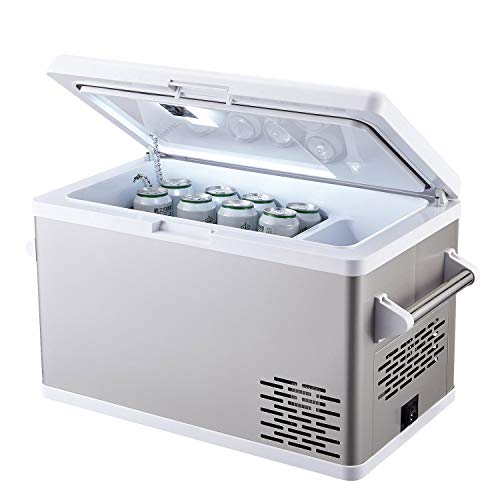 Are yinz going to the game today?  I'm planning to tailgate all day; you should join us for some good eats. Will I have cold Iron City? Of course I will! I'm bringing my Aspenora 12V car fridge freezer combo to keep the food and drinks chilled all day!
A 12V car fridge freezer combo is both a refrigerator and freezer that runs off a 12V battery. They plug into the outlet that most vehicles come equipped with, using the car battery to provide power. Fridge freezers are worthwhile if you need to keep food chilled when away from home.
This portable 12V car fridge freezer combo will keep your beer cold, your food chilled, and your belly happy!
Aspenora brings us this fantastic portable 12V car fridge freezer combo for all your food storage needs. This 37-quart capacity fridge freezer has all the space you need for a family's worth of food!
A 6" wide refrigerated section is perfect for cooling cans of your favorite beverages. The remainder of the unit is a large, deep freezer ready to store all your other perishables! This unit comes equipped with a soft close lid that prevents pinching. That's perfect for little fingers, or even distracted adults!
An LED touch control panel on the top of the car fridge freezer makes programming everything a breeze. The easy-to-read backlit display lets you set the perfect temperature, and then lock it to prevent accidental changes. You can toggle between Fahrenheit and Celsius, for use anywhere in the world.
You can also check the battery levels to make sure you're on track. Best of all, this panel comes with a USB charging port, so you can plug in your phone or other USB device for easy charging. It's perfect for tailgating, fishing trips, camping trips, or a day at the park!
How long can a car battery power a fridge?
A car battery can power this fridge for approximately 15 hours. This assumes a standard car battery of 50Ah. The time may increase or decrease slightly depending on the number of times the fridge freezer combo is opened as well.
Worried about your car battery? This Aspenora fridge freezer comes with an intelligent battery protection design. If your car battery ever gets too low, it automatically shuts off to prevent over-drainage.
However, even without power, this 12V car fridge keeps your foods chilled for up to 10 hours! If you're using it at home or at a facility with power, this unit also comes with an AC adapter, for use with a normal 110V outlet.
How much power does a 12V fridge draw?
This 12V fridge draws about 40 Watts of power. How often it will use this power is based on the temperature it is set to, and how often it is opened.
On this particular 12V fridge freezer combo, the frozen zone can be set between -4°F to 68°F. The refrigerated zone is based off of the freezer setting – it is 32°F when the freezer is -4°F.
Additional Notes
Also available in 44 quart and 54 quart models if you need additional space
LED light inside the cooler lid for night use
Measures 27.8 x 14.4 x 15.2 inches with handles on, weighs 39.9 pounds empty
Best seller on Amazon in Automotive Interior Coolers & Refrigerators
4.2 stars with over 500 ratings!
Plug a Zus smart car charger in to charge your devices, monitor vehicle health, and locate your parked car!

nonda ZUS Smart Car Charger, Car Charger with App to Save Car's Location and Monitor Car Battery, 2 Ports Car Charger with Led for iPhone XS/Max/XR/X/8/7/6/Plus (ZU33BKRN)

Use a SubSafe to keep those hoagies from becoming soggy in the cooler!

SubSafe Sub Sandwich Container – This Reusable Sandwich Container Keeps Your Sub Safe, Not Soggy – Ideal Boating Accessories and Cooler Accessories – As Seen On Shark Tank, Makes a Great Gift

Going camping? The truck tent is an easy way to set up your tent off the ground

Guide Gear Full Size Truck Tent for Camping, Car Bed Camp Tents for Pickup Trucks, Fits Mattresses 79-81", Waterproof Rainfly Included, Sleeps 2

If you're heading to the tailgate, pack this collapsible tailgating table for an easy way to snack!

Mind Reader TAILGABLE-BLK Collapsible Folding Table with Insulated Cooler, Food Basket, and Travel Bag for Barbeque, Picnic, Camping, and Tailgate, Black

Enjoy cold drinks in style at home with this Pac-Man Pixel Bash arcade and mini fridge combo! Play games and enjoy your beverage all at once!

Namco Pac-Man's Pixel Bash Chill Home Upright Game