Alolan Pokemon Origami Book – 10 Different Pokemon to Fold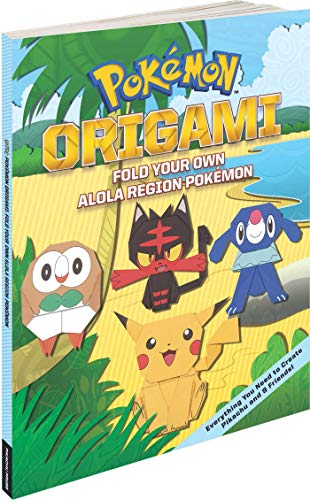 I'm not giving you the scissors after last time. Look, if you're trying to do paper crafts today, I think you should break out the Alolan Pokémon origami book. Fold your way to some adorable Pokémon!
This Pokémon origami book guides you through 10 different creations, including Pikachu. Joined by 9 other Alolan Pokémon, you'll have a variety of different characters to explore. Both a step-by-step instruction guide and paper is included, as well as an origami care guide.
If you enjoy audio books, try Amazon's Audible Plus for free!
This Alolan Pokémon origami book teaches you to fold Pikachu and friends!
Paper crafts have never been as much fun as with the Pokémon origami book. This 80-page paperback book offers a step-by-step guide to creating your own paper Alolan Pokémon!
In this book, you'll find:
Walkthroughs on how to fold each origami figure
Enough origami paper to make each Pokémon
Full-color examples of the finished character
Care instructions for paper origami
If you're prone to messing up, or want to make additional characters, just grab some additional origami paper. I'll be over here making my own shiny Pokémon versions!
Which Pokémon can you make with the Pokémon origami book?
The Pokémon you can make with this Pokémon origami book include:
Pikachu
Rowlet
Litten
Popplio
Exeggutor
Pikipek
Togedemaru
Mimikyu
Note that this version is for Alolan Pokémon, featured in the Sun & Moon series. They boast an island-style vibe over their traditional counterparts. If you're looking for the more original Pokémon, check out the classic Pokémon origami book instead.
What age is the Pokémon origami book good for?
The Pokémon origami book is recommended for ages 7-10, or grades 2-5. Younger children may still enjoy it, with adult assistance.
Of course, the love of Pokémon knows no age limitations, and as an adult I still get enjoyment from folding these creations!
Additional Notes
Rated 4.6 stars with over 200 reviews!
Also try out gardening with your Pokémon thanks to these adorable Bulbasaur planters 

2pc Set 4'' Bulbasaur Planters - Great for Poke Fans, Succulents, Houseplants, Echeveria, Jade Plant, Air Plants | Small Size Double Pack Mini Flowerpot Planter 10cm Tall

Hit the kitchen and turn out creations from the Pokémon cookbook!

The Pokémon Cookbook: Easy & Fun Recipes (Pokemon)

Bring home an interactive Pokémon toy with My Partner Eevee 

Pokemon Electronic & Interactive My Partner Eevee - Reacts to Touch & Sound, Over 50 Different Interactions with Movement and Sound - Eevee Dances, Moves & Speaks - Gotta Catch 'Em All , Brown