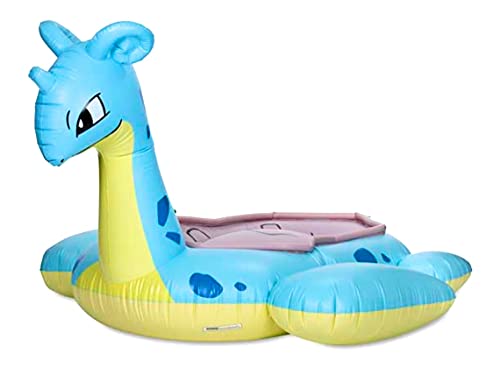 Summer is here and it's time to make a splash! If you're a Pokémon fan like I am, then the best way to do that is with this amazing Lapras pool float from Pokémon Center. This giant inflatable Lapras pool float lets you lounge on the water while embracing your inner Pokémon trainer.
Keep reading for my in-depth review of this fun and functional summer pool toy!

on Amazon
Become a Pokémon master in the pool this summer by riding a Giant Lapras Pool Float!
Overview
The Lapras pool float is part of the Pokémon Center's Pokémon Sunset collection. True to its Water and Ice typing, this float provides a way to relax and coast through the water on a colorful Lapras design.
This inflatable pool float is a hefty 72.5 x 80 x 53 inches when fully inflated. The large size means it can hold up to 440 pounds, so adults can ride along with kids. Despite the spacious seating area though, it is still portable enough to take to the pool, lake or beach.
Made from durable PVC, the float is rugged enough for outdoor use. It resists punctures and UV damage better than standard floats.
Two points of inflation on the neck and tail make it easy to inflate this oversized pool toy. For fastest inflation, an air pump is recommended but not included. The air valves also allow for quick deflation for storage or transport.
I HIGHLY recommend getting some type of air compressor for this as it's a big float!
Overall, this officially licensed Pokémon pool float provides a fun way to relax and float on water as you embrace your inner Pokémon trainer!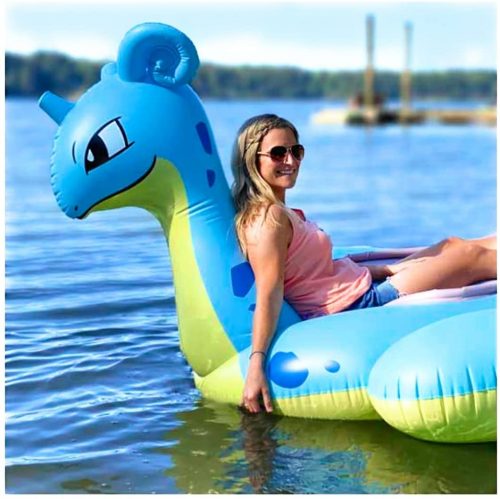 Features & Benefits
Beyond just looking like Lapras, this giant inflatable pool float actually provides some nice benefits:
Spacious seating area – With room for up to 440 pounds, kids and adults can ride together on this sturdy float.
Comfortable ride – The inflatable Lapras design floats steadily, allowing riders to relax and coast in comfort.
Portable fun – Weighing just 7.5 pounds deflated, this is easy to take anywhere there's water.
Durable construction – Made from rugged PVC that resists punctures and UV damage from sun exposure.
Quick inflation – The two inflation points allow for fast inflation with an air pump (not included).
Easy deflation – Air valves make deflating quick for off-season storage.
Officially licensed – An authentic, high quality Pokémon pool toy kids and adults will love!
With great construction, charming design and ample seating, the Lapras pool float makes summer lounging fun for any Pokémon fan!
Sizing & Specifications
Before you add this giant float to your Pokémon training regimen, here are the key details to know:
| | |
| --- | --- |
| Specification | Description |
| Product Dimensions | 72.5 x 80 x 53 inches (184.1 x 203.2 x 134.6 cm) |
| Item Weight | 7.49 pounds |
| Materials | PVC |
| Weight Capacity | 440 pounds (200 kg) |
| Recommended Age | 6+ years |
The generous dimensions provide plenty of space for kids and adults to lounge comfortably. Just be sure to have an adequately sized pool or body of water to accommodate the large float size.
With ample cargo space, you can load up your float with all kinds of summer fun gear. Bring along drinks, snacks, water guns and other pool toys to make a day of Pokémon play.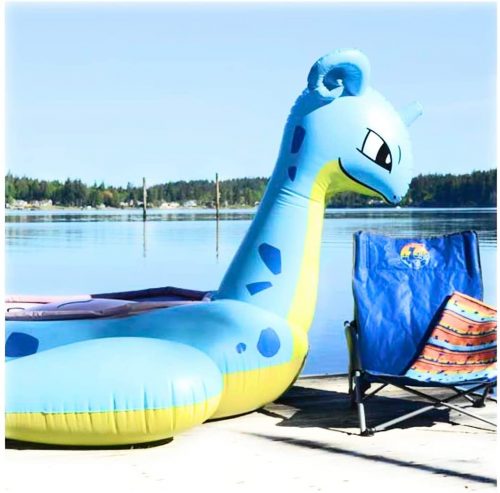 Lapras Pool Float Set Up & Use
Becoming a great Pokémon Trainer takes time and practice. Floating around on an inflatable Lapras is much easier. Just follow these simple steps:
Find a flat clear area – Unfold the deflated float and lay it out on a flat, clean surface away from anything sharp.
Check for leaks – Before inflating, do a quick leak check by gently squeezing areas around seams and valves.
Inflate the float – Use an air pump (not included) connected to the inflation valves to fully inflate the float.
Close valves – Once fully inflated, close the valves to prevent air leakage.
Take it to the water – Carry or wheel the inflated float to a pool, lake or beach.
Climb aboard your Lapras – Have fun lounging, floating and playing on your new giant Pokémon pal!
Dry thoroughly before deflating & storing – This helps prevent mold or damage.
Be sure to monitor riders and keep your Pokémon training safe. This float is not a safety device – active adult supervision is required.
When playtime is over, open the valves and deflate the float completely. Allow it to fully air dry before folding up. Store away from heat, moisture and sharp objects.
Pros & Cons
As with any Pokémon, this Lapras float has its strengths and weaknesses. Here are the key pros and cons to consider:
Pros
Officially licensed Pokémon product
Large size holds kids and adults
Fun Lapras design for Pokémon fans
Floats steadily for relaxing lounging
Durable PVC construction
Resists punctures and UV damage
Fast inflation and deflation
Portable – easy to transport
Cons
Does not include air pump for inflation
Not a safety floatation device
Requires active supervision
Large size may not fit some pools
Avoid sharp objects that could cause punctures
Requires thorough drying before storage
While this Lapras pool float has limitations like any inflatable, its charming design and quality construction make it a great choice for Pokémon fans.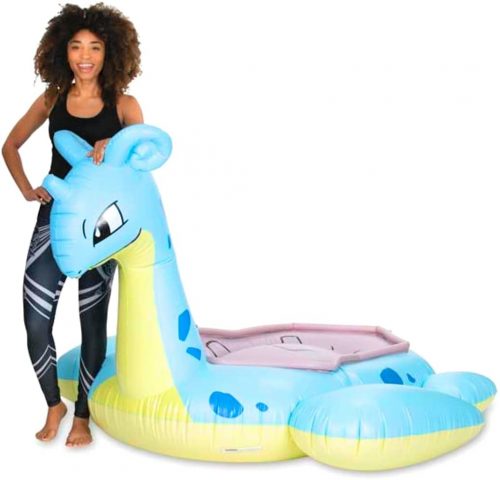 Who Is This Product Best For?
This giant Lapras pool float is a must for Pokémon lovers young and old who want to float in style. Here are the best buyers for this summer pool product:
Pokémon fans who want to float on an iconic Water-type Pokémon
Families with kids who want a fun and rugged summertime water toy
Adults who want a comfortable and stylish pool lounge float
Those with large pools or bodies of water that can accommodate a sizable float
People seeking an inflatable pool float that can hold more than one rider
Anyone seeking a durable and high-quality inflatable pool float
This officially licensed Pokémon pool float provides the ultimate summer lounging experience for fans. Kids and adults alike will love floating on this timeless Water-type Pokémon.
Giant Lapras Float Price & Where to Buy
The Lapras pool float typically sells for around $99, but with various deals and discounts on Amazon or other sites, prices may fluctuate. Don't underestimate out of season sales too as this raft is clearly geared towards summer.

Also, note that there may be different manufacturers of the Lapras pool float using different materials, so make sure you're picking the raft that best meets your standards and needs.
However, keep in mind cheaper listings may not ship free to your address. Additionally, make sure to purchase from reputable sellers in new condition with adequate buyer protection.
FAQ
How long does it take to inflate the Lapras pool float?
With an electric air pump, it takes about 20-30 minutes. Manually inflating will take hours as this is an extremely large inflatable.
Can adults go on the Lapras float?
Yes, it has a 440 pound capacity so it can easily hold 1-2 adults.
Is assembly required?
Minimal assembly is needed. Just inflate, close the valves, and head to the water.
What if it gets punctured or deflated?
Clean and dry the area thoroughly first, then apply a repair kit patch to the area.
Where is the best place to store it?
Once completely dry, store in a clean, dry place away from heat, humidity and sharp objects.
Can a PVC float be cleaned?
Wipe down with a damp cloth and mild detergent. Do not use harsh chemicals.
Pokémon Alternatives & Accessories
If you can't get your hands on the prized Lapras pool float this season, here are some alternative Pokémon-themed and novelty pool float options to consider:
Pikachu Towel

Franco Kids Bath and Beach Soft Cotton Terry Hooded Towel Wrap, 24" x 50", Pokemon Pikachu

Bulbasaur Planters

2pc Set 4'' Bulbasaur Planters - Great for Poke Fans, Succulents, Houseplants, Echeveria, Jade Plant, Air Plants | Small Size Double Pack Mini Flowerpot Planter 10cm Tall

Pokémon Cookbook

The Pokémon Cookbook: Easy & Fun Recipes (Pokemon)

Pokémon Waffle Maker

Pokemon Poke Ball Waffle Maker
Pair your Lapras float with other fun Pokémon gear for the ultimate summer of Pokémon training and water play!
After lounging, relax with a:
Verdict
Overall, the giant Lapras pool float is a must for any Pokémon fan wanting to float in style this summer. With its fun, detailed Lapras design and durable construction, it provides a sturdy inflatable lounging experience kids and adults will love.
The ample seating space comfortably fits multiple riders. Portability makes it easy to enjoy at the pool, lake or beach. When playtime is over, it deflates for convenient storage until next summer.
While an air pump is not included, fast inflation makes getting this pool float ready for water fun a breeze. Just be sure to have an adequately sized pool or body of water to accommodate the sizable float dimensions.
Minor drawbacks aside, the Lapras pool float is a great choice for relaxing summer lounging and embracing your inner Pokémon Trainer. Grab one for your family today before they disappear!
Learn about above ground pool costs from installation to maintenance to top pool choices in our detailed guide!