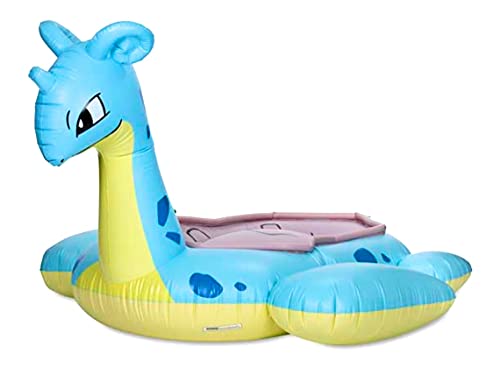 Bye Mom, I'm taking my Pikachu and venturing out into the world to catch 'em all! Fine, so I'm just going to the backyard to use my Lapras pool float in the pool. If I'm going to be a Pokémon master, I'll have to master all the types eventually – why not start with water?
This giant Lapras pool float lets you embrace your inner Pokémon trainer, whether you're a kid or an adult. As an ice and water type, it'll be right at home floating in the backyard pool. Don't worry about navigating the spiky shell. This Lapras inflatable is made for coasting and relaxing on.
Embrace the melody of the sea from your giant inflatable Lapras pool float!
Thankfully, you don't have to be a Pokémon master to enjoy this giant Lapras pool float. This huge ride-on Pokémon inflatable is designed for any child or adult up to 440 pounds. The thick PVC material design keeps you happily floating, while resisting punctures and UV damage. I'd still watch out for those pesky Qwilfish though.
Two points of inflation on the neck and tail make blowing up your large Pokémon companion easy. For the most convenience, an air pump is recommended (but not included). The air valves also allow for quick deflation, for storage at the end of the season. It's also highly portable, so feel free to bring it along for a day at the lake or beach.
While you're sure to want to practice your water gun move on fellow trainers, this float does not have cannons on board. You could ask Blastoise nicely, or just pack along some water blasters to help get soaked.
Additional Notes