Snorlax Hoodie – Plush Oversized Pokémon Blanket Sweatshirt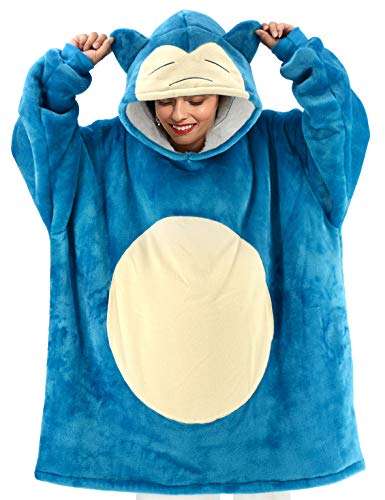 Come quick, there's a Snorlax taking a nap on our sofa! I didn't think they were real! Oh, well you really fooled me. You're just snoozing in your Pokémon Snorlax hoodie blanket with ears. Here I thought you were the real deal.
This plush Snorlax hoodie with ears is a wearable blanket that keeps you warm and snuggly. You'll perfect your naps, just like the Kanto Pokémon it's modeled after. From cosplay to costume to pajama parties, this blanket hoodie will keep you warm and adorable.
This Snorlax hoodie blanket with ears lets you embrace your inner
Pokémon

for a snuggly good time!

The Snorlax hoodie is a wearable blanket perfect for all your lounging needs. The soft blue body has a tan tummy accent, just like the real Snorlax Pokémon. The hood on top comes complete with adorable ears. It's available with an open smile or a sleepy frown face, so choose your favorite!

Since this blanket slides over your head like a hoodie, it leaves your arms completely free. Simply extend them through the sleeves and you can do all sorts of tasks. Change the channel, catch some Pokémon in Pokémon Go, play video games, eat a snack, or cheer for your team!

This hoodie is made from plush flannel, Sherpa fleece, and cotton, so it keeps you cozy and warm. It's perfect for camping, concerts, tailgates, and staying warm on cool nights. The loose design allows it to be pulled on quickly over your other clothes. I love an instant nap kit!

If you're not feeling like a Snorlax today, check out some of the other great Pokémon blanket hoodies, such as:

They're fun for the whole family, so feel free to mix and match and get the whole gang together!
Additional Notes
One size fits most – 35" long x 70" wide, arm circumference 17"
Weighs about 2 pounds
Machine washable
Top 15 best seller in Wearable Blankets on Amazon
Impressive 4.7 star rating with nearly 300 reviews!
While you're busy napping and playing with your Pokémon, don't forget to hatch your eggs! Check out our guide on how to hatch eggs in Pokémon Go to free up your time.
This giant Snorlax bean bag chair makes the perfect napping spot while you're in your new hoodie!

None/Brand 2020 Snorlax Plush Toy Large Size 100/150/200cm Snorlax Plush Anime Cover with Zipper for Girlfriend Birthday Gift

Dry off wet hair quickly thanks to this microfiber Snorlax hair towel!

Hair Towels Wrap Super Absorbent Quick Dry Cute Hair Turbans Twist Hair Towels for Women Anti Frizz

Your favorite Pokémon is also helpful around the house. Get a load of this Snorlax Google Home holder. He keeps your home assistant safe and sound!

Snorlax Google Nest Mini Stand - Works with 1st and 2nd Generation Google Home Mini & Nest Mini

If you feel a spooky chill on your neck, let your favorite ghost Pokémon warm you up with this Gengar beanie!

Bioworld Pokemon Gengar Embroidered Cuff Beanie Cap Hat One Size Licensed New Purple

Everyone knows Snorlax doesn't want to swim. If you're looking to hit the water, grab a Lapras pool float instead

Lapras Pokémon Sunset Pool Float

We're pretty sure he doesn't have a green thumb either. Luckily, these cute Bulbasaur planters have things covered

2pc Set 4'' Bulbasaur Planters - Great for Poke Fans, Succulents, Houseplants, Echeveria, Jade Plant, Air Plants | Small Size Double Pack Mini Flowerpot Planter 10cm Tall

If you got lost in the wrong fandom, perhaps a Chewbacca blanket with sleeves was what you were looking for? No, that was just the droids?

Disney Star Wars, "Being Chewie" Adult Soft Throw Blanket with Sleeves, 48" x 71", Multi Color