Zus Smart Car Charger – Charge, Locate, & Monitor Your Car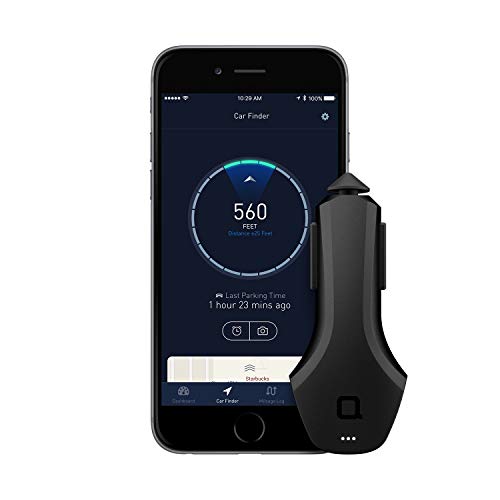 I'm sorry to tell you this, but I don't remember where I parked the car. I know I should have gotten that Zus smart car charger and then we wouldn't have this problem. Guess I'll get to walking for now!
The Zus smart car charger is able to locate your parked vehicle, using the map or compass in the app. Not only that, but it charges your phone while driving, and even monitors your car battery. Plus, it can keep track of your meter time and mileage. Now that's useful!
Charge your phone, locate, and monitor your car all with the Zus smart car charger!
Finally, a way to charge my phone that helps out with life too. This Zus smart car charger also helps to find my parked car, make sure I don't come out to a dead battery, and more. That's especially important on really cold days!
The unit is made from German Bayer polycarbonate which is designed to withstand both hot and cold extremes. Seeing as my car feels like the surface of the sun when I get in on a hot day, this is great!
Two USB connectors are on the sides, making it easy to rotate to fit your devices anywhere. It plugs into the cigarette lighter (or equivalent 12V outlet) of your car. LED lights on the front even make it easy to locate in the dark!
This makes the nonda Zus car charger an indispensable tool when parking in major cities, at theme parks, in large garages, and at the airport.
What phones is the Zus car charger compatible with?
The Zus car charger is compatible with iPhone, iPad, and iPod Touch with iOS 8.0 or later, and Android 4.3 or later with Bluetooth 4.0 Low Energy support or newer technology. Your device should also have a proximity sensor module (compass).
It is considered a fast charge device and can fully charge two iPhone 6 phones in under 2 hours. Note that to achieve that effect, you must use a fast charge compatible cable as well (not included).
What other functions can the Zus smart car charger perform?
In addition to charging your phone, Zus smart car charger has a few other great functions:
Car battery monitor, which tracks voltage to alert you to potential issues ahead of time
Automatic car finder, so you can locate your parked car
Parking time alert, to remind you to feed the meter and avoid a parking ticket
Mileage log, which is great for business travel recordkeeping
All of these functions may be accessed via the Zus app on your smartphone. You'll probably have it with you anyway, freshly charged and ready to go.
Note that the Zus is not a GPS tracker and cannot be used to recover a moving vehicle. It only marks the location when you park, to return you to that point later.
How do you use the Zus smart car charger?
To use the Zus smart car charger, follow a few simple steps:
Download the applicable (iOS or Android) Zus app
Plug the charger into your car
Pair the device to your phone using the Bluetooth connection
Add the device in your Zus app
Blinking lights on the front of the Zus indicate that it's ready to connect. They will light steadily once it has successfully connected via Bluetooth.
Make sure to keep the app open in the background. Once you've arrived at your destination, turn off the car, which cuts power to the Zus. This prompts the app to record the location at that time. When you're ready to return to your car later, the app will guide you back to where you left it.
Additional Notes
Charger output voltage is 5V DC, while the output current is 4.8A (2.4A each USB port)
4.2 star rating with over 1,600 reviews!
No additional subscription fees required
Requires GPS signal to record location; may not work in deep subterranean garages
Compatible with most cars, though users report BMW ports to be too small to accommodate
Deck out your car for the tailgate or camping with this 12V car fridge freezer combo

Aspenora 37-Quart Portable Fridge Freezer 12V Car Refrigerator Car Fridge with Compressor Touch Screen for Vehicle Truck RV Camping Travel Outdoor Driving, -4℉ ~ 68℉, 12/24V DC and 110V AC(37-Quart)

Keep it smelling fresh with this USB car air purifier 

Car Air Purifier 3in1 Premium Stainless Steel Air Filter Ionizer w/Dual USB Quick Charge 3.0 USB-Eliminate Allergens Odor Smell, Smoke, Pets, Pollen Mold Bacteria w/Anti-Microbial Deodorizer

Bring along a helper for your holiday shopping with the Grinch buddy inflatable 

Gemmy Airblown Car Buddy Grinch w/Scarf-Dr. Seuss

Help keep your car cool and protected when parked with this car umbrella tent 

Semi-Automatic Car Umbrella,Car Tent Sun Shade Canopy Folded Portable Car Umbrella With Remote Control 4.1X2.25 M

Never worry about a mess of cords again with this self winding magnetic charging cable!

KUULAA 3Pack Magnetic Charging Cable USB C,3A Fast Charging/Data Transmission with 3 in 1 Charging Tips Nylon-Braided Phone Cable Compatible for iProduct/Type C/Micro Device(3.3ft/3.3ft/3.3ft)

If you find yourself often losing your keys, remotes, and other smaller items, pick up the Wosports item tracker!

Key Finder,WOSPORTS Item Tracker Wireless RF Item Locator with Loud Beeping Sound,100ft Support Remote Control,Upgrade Long Lasting Batteries, Mini Key Tracker with Anti-Lost Tag and Keychain